5 flashpoints of Razgatlioglu and Rea's fierce rivalry
Wednesday, 27 April 2022 05:21 GMT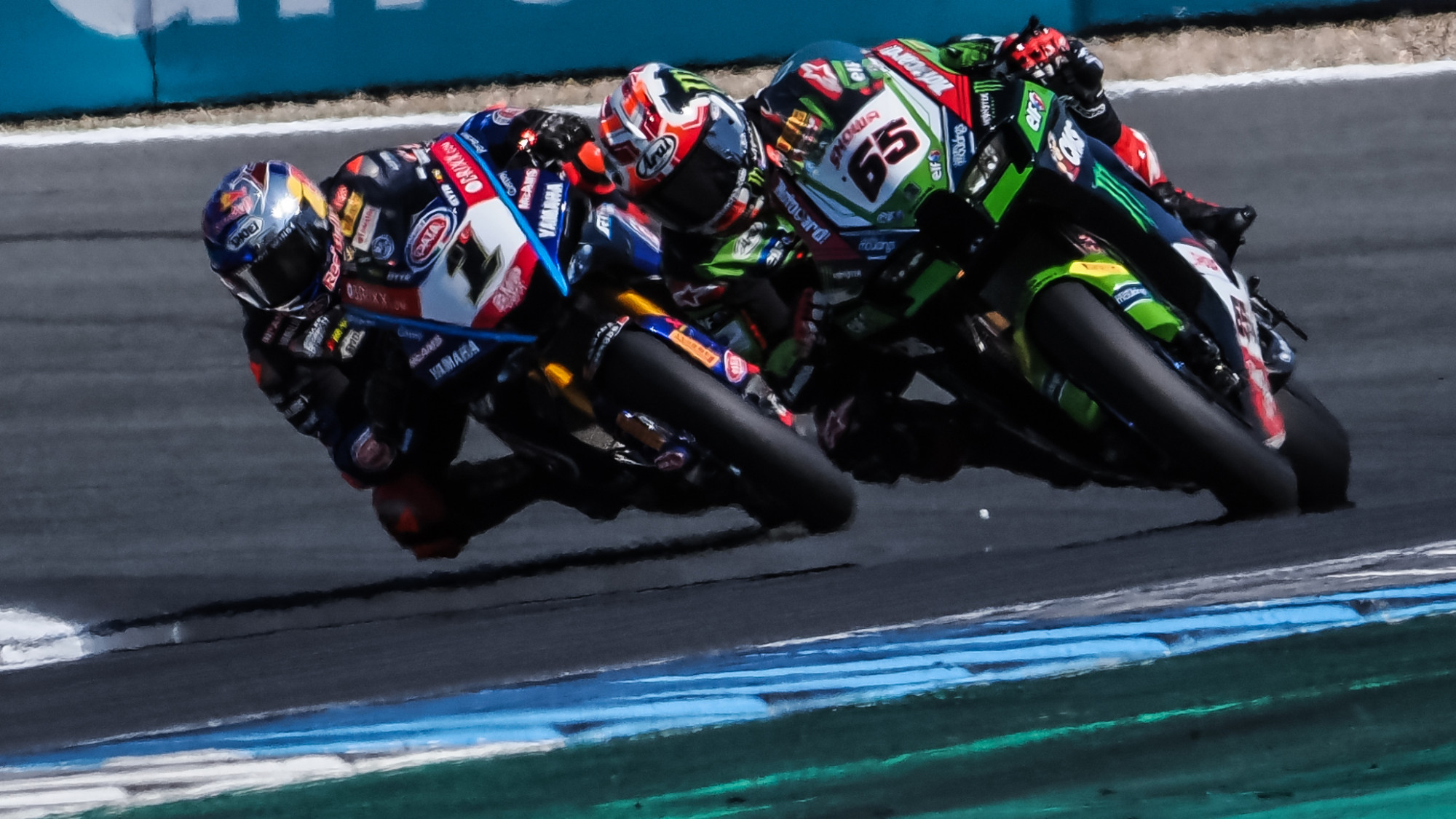 After the latest clash of the WorldSBK titans, we look back at a rivalry that's been one of WorldSBK's greatest, with plenty more still sure to come
Remarkable. Spectacular. Suspenseful. Gripping. Use any synonym of 'dramatic' and that's what you get when you think of Toprak Razgatlioglu (Pata Yamaha with Brixx WorldSBK) and Jonathan Rea's (Kawasaki Racing Team WorldSBK) World Superbike rivalry. After the duel for the 2021 title, the 2022 MOTUL FIM Superbike World Championship was always going to be the same, if not more intense, and that's what happened. The latest instalment of this is the clash that resulted in a crash at Assen in Race 2. Both are at odds over the incident and whilst Championship leader Alvaro Bautista (Aruba.it Racing – Ducati) picked up the pieces to take a third win of 2022 and weighed in on the drama, the clash is just the latest in a history of hard racing which has always seen both stay on two wheels… until now. We look at five of the biggest moments from their hair-raising rivalry.
5. Pressure? Not pushing down on me: Donington Park Race 2, 2021 – media debriefs
Race 2 at Donington Park saw both Razgatlioglu and Rea escape at the front in the early stages. A moment for Toprak at Coppice on Lap 10 saw Rea slice through, but just as Toprak picked his bike up when he had a moment, Rea didn't have the chance to. A lap later, at the very same corner, Rea tucked the front and tumbled through the Donington Park gravel. However, in the media debriefs after, when Toprak was asked if he put Jonny under pressure, the Ulsterman entered into the room and was asked the same question. An unequivocal Rea stated: "No, I put myself under pressure today" in response. It was the first time in the 2021 title fight that this dynamic had been raised…
4. Banging bars in Barcelona: Barcelona-Catalunya Superpole Race, 2021 – opening lap
After a red flag in the first running, a five-lap dash for supremacy was on and right from lights out, Rea and Razgatlioglu clashed into each other as they went for the same line. Razgatlioglu led until Turn 4 when Rea got under him, before the two went side-by-side all the way until Turn 9, with the Turk hitting the back of Rea's ZX-10RR, slipping to third behind Honda's Alvaro Bautista. Eventually recovering to second, Toprak's mega final lap couldn't land him within striking distance of Rea, with the Ulsterman taking honours.
3. "This is my style; I will never change": Portimao Race 1 and 2, 2021 – media debriefs
After a thrilling opening race of the weekend which hosted some of the hardest racing between rivals ever seen, Rea and Razgatlioglu took the rivalry off-track, with Rea stating following Race 1: "I don't want to put s**t on Toprak about how he rides, because he is clearly doing a good job and he's not even at his limit. However, the guy he's passing is on their limit with the bike and tyres and the combination of everything. I don't want to complain too much; I'm ready to fight like that and I'm going to fight like that. I can shake his hand after that and not complain, but I'm happy to let the brakes off and use him as a berm. I'm not going to grumble; rubbing is racing. He can train on his kart track in Turkey, but I grew up motocrossing, and that's also hard."
Razgatlioglu responded on Sunday night, saying that previously ex-Ducati rider Scott Redding had been unimpressed with Toprak's style, whereas now it was his title rival: "Jonny started talking about my style; I say again, this is my style, I will never change. I am smiling because now Jonny starts talking, whereas normally it was Scott, saying that I ride a little bit dangerous, but this is my style. I am not scared, maybe Jonny and Scott are scared. For me, it's not a problem, but it's better to not talk and to just ride the bike in the track."
Toprak also went back to the Navarra round, where both made contact in the opening stages: "Jonny was touching me in Navarra, but I didn't talk. He's started talking but this is good because it means he's very angry for the Championship. I don't like the talking because this is my style and it's never changing. Every race weekend, I'm fighting like this. I'm not scared, maybe he and Scott are. For me, no problem."
The other irony of the whole situation was that in Race 1, Toprak celebrated by getting sweeping brush, cleaning the green area outside of the track's kerbs on the exit of Turn 5, in reference to a previous incident at Magny-Cours. In Race 2, Rea took honours and celebrated by dirtying the exact same patch of green that Toprak had previously cleaned. The theme of same corner antics had already been seen when Rea crashed out at Turn 15 in Race 1, whilst the same happened to Razgatlioglu in Race 2, with his due to a front mudguard failure.
2. Tension and tempers with track limit: Magny-Cours Superpole Race, 2021 – final lap
In another thriller, it was a last lap to remember at Magny-Cours in the Superpole Race, as Rea passed Toprak at Turn 11 on the final lap. Razgatlioglu then got back ahead down into Lysee at Turn 15, holding on to cross the line in the lead. However, at Turn 10, Toprak marginally touched the green, something spotted by Jonathan Rea and his Kawasaki team. Following a late-in-the-day penalty, Rea was given the win for the final lap infringement by his rival, with the Turk demoted to second and thus being denied what would have been his first triple. Pata Yamaha with Brixx WorldSBK team manager Paul Denning didn't mince his words come the end of the day, whilst KRT boss Guim Roda released a statement the following day.
1. "One time, it had to happen": Assen Race 2, 2022 – Lap 6 and media debriefs
After countless fights and battles right the way through their four years racing together and in particular, their title fight in 2021, Razgatlioglu and Rea's hard racing eventually ended in the gravel. Razgatlioglu went wide but stayed on track whilst Rea kept to his racing line, with both converging, colliding and crashing. Both have given different versions of events, with Razgatlioglu recommending that Rea should watch the crash again, whilst Rea stated that he 'expected more room' as Toprak moved back onto the racing line. After Bautista had his say on the whole thing, two sets of galleries emerged of the incident: the first with a camera at Turn 2 as the crash unfolded, and the second (linked above) with the point of impact from the inside of Turn 1's exit.
And the next round? Estoril – where Rea crashed in 2020's Race 2, colliding with Toprak, the Turk just staying on. Watch it all with the WorldSBK VideoPass!