PART 1: "It's been a challenge" – Muir on 2022 so far, 'takes on board' Redding's power comments
Tuesday, 10 May 2022 08:30 GMT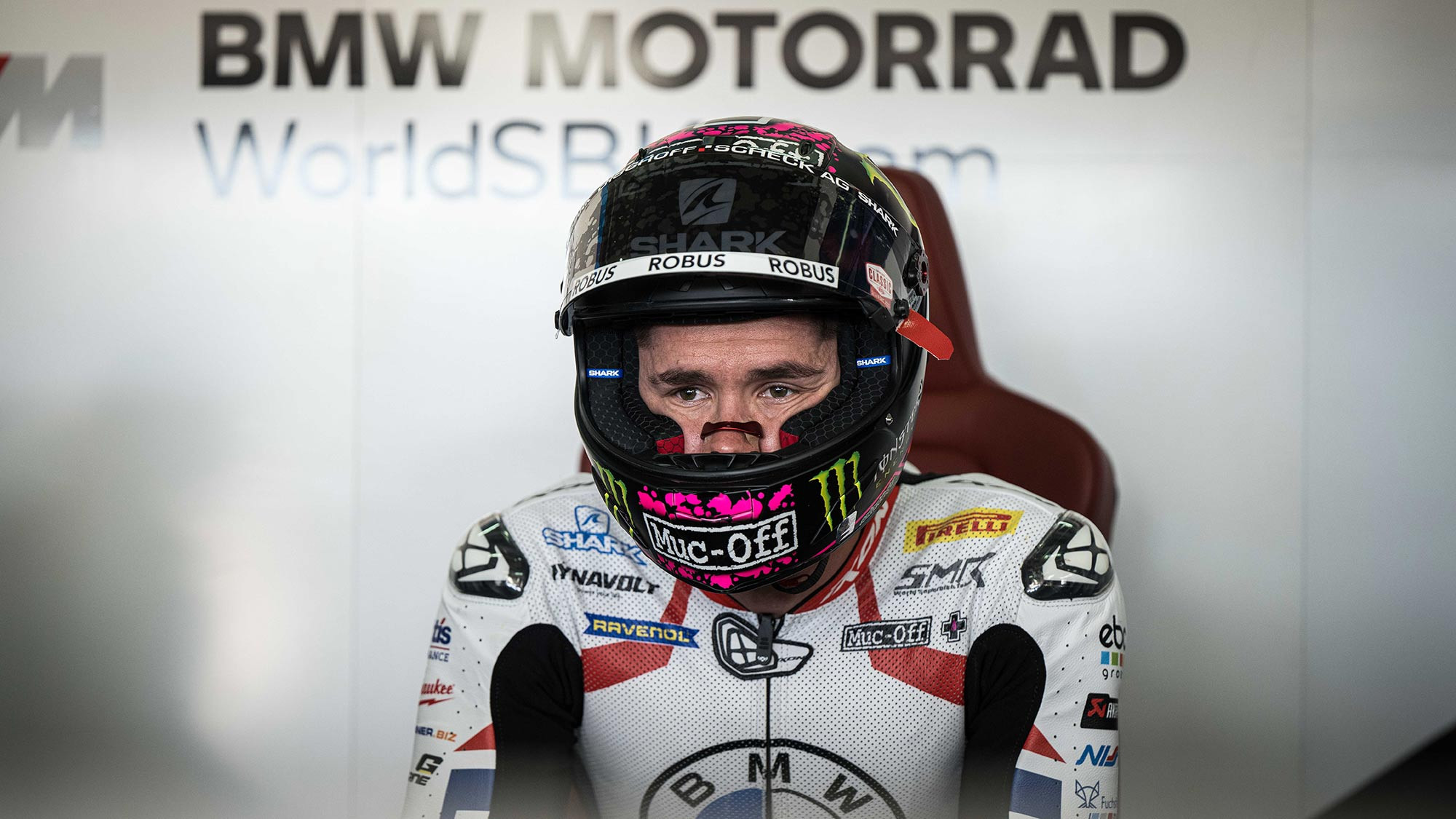 "We need to do more work" was the order of the day as Shaun Muir talks about 2022 so far, his riders' performance and where they could end up come the end of the season
The 2022 MOTUL FIM Superbike World Championship has seen four manufacturers on the podium in the opening two rounds, with only one missing out. The BMW Motorrad WorldSBK Team, fielding Scott Redding and Michael van der Mark, have had a tricky start to 2022, with Redding taking time to adapt, whilst van der Mark is coming back from a leg fracture injury. We caught up with team principal Shaun Muir and in the first of a two-part interview, he discusses the season so far, his riders' feelings and moving forward, where the project can find itself in the Championship standings.
THE FIRST TWO ROUNDS: "a lot of work behind the scenes… we'll quickly see that gap close down"
Summing up the opening two rounds, Muir commented on the struggles: "It's been a challenge, there's been quite a good level of improvement from the BMW M1000RR, and we've made some good steps, but equally, the competition has made some good steps so it's always interesting to see where we sit with that. Without doubt, having four riders now is having a good benchmark but not having Michael fully fit has been difficult for us to not understand the level. At the same time, we have the polar opposite to that, and Scott's joined the team having never ridden an inline four-cylinder high revving bike like this for quite a long time. It's been a steep learning curve for him, where we still haven't found that perfect setup for him, but that work continues."
A tricky Aragon but a step at Assen, Muir says that the team has the potential for top five in the Championship: "Well, from my perspective, I think we could easily be top five in the Championship, irrespective of the top five in the races. We know that there's a top three that are stand-out and we know we have to close that gap, but first and foremost, we think we can be in the group behind. That's our immediate challenge and our immediate goal; that's where we should be, fourth to sixth. From that, we can start closing the deficit to the winning position. That's been slightly frustrating for us, but I don't think we have had a straight run at that."
"If we'd had slightly different circumstances with Michael fit from the beginning, then it'd be a slightly different discussion. Scott has been our focus in the official team, but we haven't found that setting yet, which has been frustrating for him and we all know that it's a long, multi-year programme so we need to be a bit more patient. We're doing a lot of work behind the scenes, so I think we'll quickly see that gap close down. I think we should be more fifth, sixth, seventh in the Championship, not just with one result."
TOO MUCH POWER: "we take on board Scott's comments…"
Addressing comments Redding made to the media about having a lot of power, Muir responded: "I think it's quite right that Scott has made that comment but equally, Michael has jumped on the bike at Assen, and he doesn't have that feeling. He's characterised himself on the bike over the last 12 months, so for him, it's quite normal, with how the bike reacts with the high-revving engine we now have, whereas Scott's never had that. We have been pursuing an avenue with Scott where we have been taking power away from him but with the view of bringing it back as and when it becomes a requirement. That's something that's very relative at the moment.
"Scott's characteristic feeling of the bike is very new, but we take on board his comments and we are adjusting the power to suit that. What we're finding is that he's got a lot of power; we've introduced grip over winter with a lot of good chassis works, but it does give a very aggressive feeling. The front end wants to paw the air a lot more and that's where this feedback comes from about it being aggressive and fighting the bike all the time, so that's a result of having the power and torque. That's what we're trying to work on with the chassis, hence lower and longer and with a much softer electronic approach in the lower gears."
LOOKING AHEAD: "We aren't panicking… there'll be a different shape and mentality at Estoril"
Looking at the performance comparison from 2021 and 2022, Muir discussed the variables that making such a comparison difficult: "There's so many variables to take into consideration. I think it's difficult to analyse Aragon 2021 with Aragon 2022 because of the change in conditions, however, our common piece of the jigsaw wasn't even there, as Michael was unfit. There're tough parallels to draw upon, which is why we aren't panicking. We've been cautious with our approach moving forward.
"We have a test coming up where Michael will be closer to fitness and also at a circuit where Scott hasn't been. We want to control, alt and delete to reset us a little bit; it's sounds strange to say but there's good reasons. There's been a lot of laps, a lot of variables moving around, and we haven't really got our base-setting established between both of our riders, and that's something that I'm eager to see happen. I think when we get to Estoril, there'll be a different shape and a different mentality on both sides of the pit box, and that's really important.
RIDER PERFORMANCE: "I'll defend my rider in every case… we're not pleased with where we are in the Championship"
Concluding the first part talking about Redding's adaptation and improvement at Assen, Muir stated: "Scott's struggled in one area specifically and that's with his starts, with the clutch technology we have; we're trying to develop that around his needs. Quite clearly in Superpole, he was really off the pace but when you sit back and analyse that, I don't want to be too critical of it. For sure, we're not happy with it and for sure, we were gifted three places in the final race, but considering where we came from, you sit down and say, 'well how did the rider perform?', I'll defend my rider in every case.
"Scott probably used 60% of his tyre to get to the top ten, and then to take the fight to the front guys, it could have easily been a fourth," continued Muir. "The true meaning of that is that if Scott had started on the second row of the grid, then he could have been where Lecuona was and there'd have been a different outlook. Therefore, I've got to level everyone and pull them back. Let's take it one step at a time, let's understand and evaluate our true position. We were pleased with the result but no, we're not pleased with being 15 seconds from the win, we're not pleased with where we are in the Championship but with all facts considered, we came away from Assen feeling better than Aragon. We need to do more work but that's what we're targeting."
Watch the 2022 World Superbike season in style with the WorldSBK VideoPass!