Toprak's story: a kid with a dream of becoming World Champion
Tuesday, 23 November 2021 06:23 GMT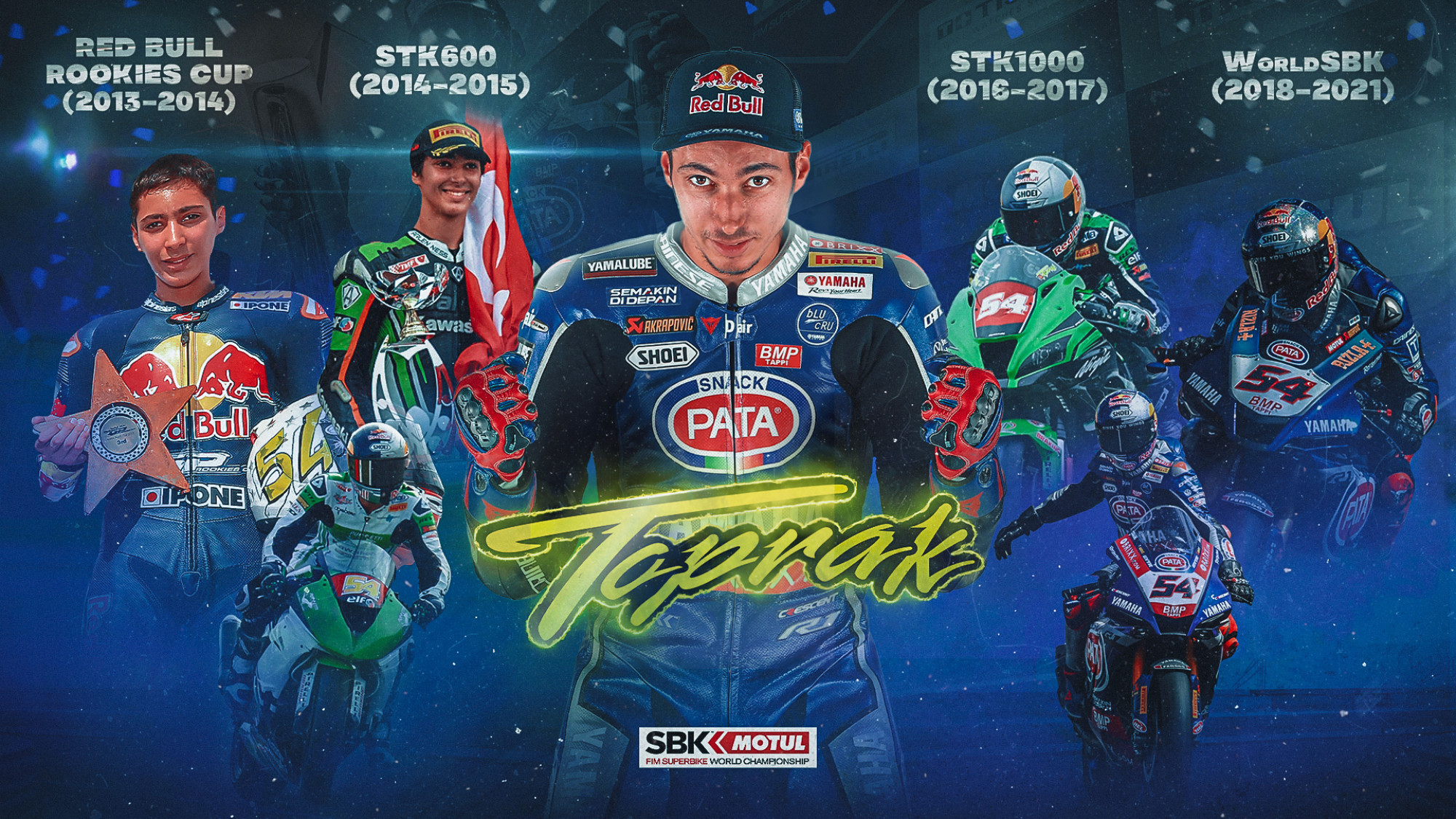 With Toprak Razgatlioglu becoming the new WorldSBK Champion and being #OnTOPrak of the world, here's the story of how he made it happen
An emotional 2021 MOTUL FIM Superbike World Championship has come to a close with Toprak Razgatlioglu (Pata Yamaha with Brixx WorldSBK) dethroning Jonathan Rea (Kawasaki Racing Team WorldSBK) to become the new World Superbike Champion. The 25-year-old Turkish rider dazzled as he leapt from victory to victory throughout the season, taking the title in Race 1 in Indonesia on Sunday, ending Rea's stranglehold on the Championship and becoming the 18th WorldSBK Champion in what was coincidentally the Championship's 18th final round title decider. Toprak's not had it all his own way in his career, and he's worked hard to become World Champion.

BORN INTO MOTORCYCLES: Razgatlioglu's off-track history
Born in Alanya, Turkey, in 1996, Toprak found himself in the motorcycle world, although perhaps not the most well-known side of the sport. His father was the famous Arif Razgatlioglu, a stunt rider. However, tragically on the 17th of November in 2017, just months before Toprak's move to WorldSBK, his father lost his life in a road accident. A huge influence on Toprak's life, Razgatlioglu said on social media ahead of the last round, "I will do my best for you this weekend dad. T.T.A." T.T.A means Tek taker Arif, what his father was known as, meaning Wheelie Arif.
Despite always being a keen motorcyclist and having been brought up around that, Razgatlioglu also has some gymnastic moves. He learnt this on the shores of Alanya where he grew up, doing trickery such as handstands and hand walking. Always seen in the paddock doing something extraordinary and often seen jumping over barriers in Parc Ferme with ease, Razgatlioglu's not just a one-trick pony, but the clown-prince of WorldSBK. The stoppies that he's become known for, the charismatic style on and off the bike; he's a showman that people love.
HUMBLE BEGINNINGS: Razgatlioglu's two-wheel journey begins
In his early years and with his dad by his side, Toprak's journey saw him start on gravel, aged five, on a 50cc motocross bike. However, despite winning four national motocross Championships, the move to tarmac and road racing journey followed, and aged 11, with his dad the driving force, Toprak moved to the kind of surface where he'd go on to be World Champion on some 14 years later. Whilst this was going on in his native Turkey, the country was also seeing national hero Kenan Sofuoglu pick up a first title in 2007. The path to the World Championship was under construction.
His skills continued to be honed, emerging as a force by racing in the IDM Yamaha R6 Cup class in 2011 and 2012, taking podiums and seventh in 2012. Moving on with his career, Razgatlioglu was etched into people's minds as he joined the Red Bull Rookies Cup programme for 2013, starting with a bang by taking two podiums in his first two races, finishing tenth overall before 2014 saw him take his first win in the class at the Sachsenring.
INTO THE WorldSBK PADDOCK: an emphatic debut
Getting too tall for KTM Moto3™ machinery, Toprak tried the European Superstock 600 Championship at Magny-Cours at the end of 2014, after Kenan Sofuoglu entered him and he really did show potential. In a combative race, he stunned to win on his debut; a sign of things to come in terms of his talent and love for Magny-Cours. That single, stunning performance unlocked a monster and Razgatlioglu stormed to the 2015 STK600 title with ease, including an iconic battle with Federico Caricasulo along the way at Imola. Toprak dominated and won the opening five races, with a third place giving him the crown at Misano. He moved to the European Superstock 1000 Championship a year later, adapting to the bigger machinery and again, it was Magny-Cours which would prove to be a special place as he took his first podium in the class at the French venue. Also in 2016, he had a brief time on the Grillini Kawasaki in WorldSBK at Phillip Island but didn't start through injury after a Free Practice fall. With two podiums at the end of the STK1000 season, he was fifth and one to watch in 2017's title battle, narrowly missing out by eight points to 2021 WorldSBK rival Michael Ruben Rinaldi despite three wins.

WorldSBK CALLS: Razgatlioglu graduates and dazzles
It was time for the big move: WorldSBK called for Razgatlioglu, and nobody expected big things. As a rookie, the pressure was off, and he was with the Puccetti Kawasaki outfit, themselves only with a year of WorldSBK experience. However, 2018 got off to a solid start, with points in his first ten races, including a top ten in Race 2 at the season-opening round at Phillip Island, whilst eighth was his best result. Donington Park was next and despite not scoring points in Race 1, Razgatlioglu cut through from eighth, beating Jonathan Rea on the last lap for second place for his and Turkey's first podium in WorldSBK. Taking another podium in San Juan in Argentina, he finished ninth overall.
2019 would be the breakthrough year for Razgatlioglu. Staying in the Puccetti structure, he was on his way to stardom. A first podium of the year came at Imola when he was third, whilst he'd then take a further eighth podiums in the next rounds, at least one at each track. But it'd be the French Round at Magny-Cours where he'd burst onto the scene as a real talent for the future; from 16th on the grid and 1.3s down with two laps to go, Razgatlioglu pushed hard, chasing down Jonathan Rea to take a first ever WorldSBK win in thrilling circumstances. He backed it up with another win in the Tissot Superpole Race before finishing the season fifth overall with 13 podiums and two wins.
Moving onto the factory Yamaha and the Pata Yamaha outfit, Toprak Razgatlioglu was hot property going into 2020, living up to all the hype by winning the opening race of the season; one of just 14 riders to win on their new-team debut. Razgatlioglu took eight more podiums and two more wins, clinching fourth overall in the Championship despite missing two races at Barcelona-Catalunya following a Warm-Up crash. Top Yamaha and taking two wins and a second in the final round at Estoril, it was a strong end to 2020 and a good platform to build on going into 2021.

THE CHAMPIONSHIP YEAR: 2021 was something special
Then, it was the big year, the huge one and perhaps, one of the biggest in the Championship: could WorldSBK's most dominant and most successful rider in Jonathan Rea be toppled? The answer was yes; Rea may have won four races from the first six, but once Toprak took victory at Misano in Race 2, the floodgates opened. Thrilling wins at Donington Park were followed by a last lap showdown with Scott Redding at Most in Race 1. The gloves then came off with Jonathan Rea at Navarra in the Superpole Race, as well as in a phenomenal final lap battle with his title rival at Magny-Cours in the Superpole Race there too. However, it'd go on to be decided off-track after a final lap track limits infringement saw Jonathan Rea take the win.
With the rivalry now at its height, more intense battling came in the Superpole Race in Barcelona, Jerez's emotional Race 1, Portimao's hectic Race 1 and San Juan's titanic Race 2. Since Portimao, Toprak's been able to slowly edge to the title and although he put himself within striking distance for Argentina, it was the Championship's return to Indonesia where he was able to finally achieve his life-long dream of becoming World Superbike Champion. He did it in style too; not holding back and playing it safe; he laid it all on the line and was going for victories right until the end.
WHAT NEXT? Enjoy, celebrate and prepare to do it all over again…
So, now he's Champion, what next for the 25-year-old Turk? Well, he'll head home to Sakarya in Turkey, where he lives with his mum and probably tell her all about it. Then, after all the celebrations have calmed, attention will turn to 2022 and making sure that he can do it all over again next year. Add in plenty of extreme sports throughout the winter, such as snowboarding and probably, some races at Kenan Sofuoglu's kart track on the Yamaha R3, and he'll be busy. Whilst being one of the most eye-catching and flamboyant on-track, Toprak is a quietly spoken and humbling star. After all, he was just a kid with a dream of being World Champion.
Watch all of the drama all over again and get ready for 2022 with the WorldSBK VideoPass!