"He's the real deal… I'll always respect him!" – Razgatlioglu and Rea's story of rivalry and respect
Wednesday, 1 December 2021 08:27 GMT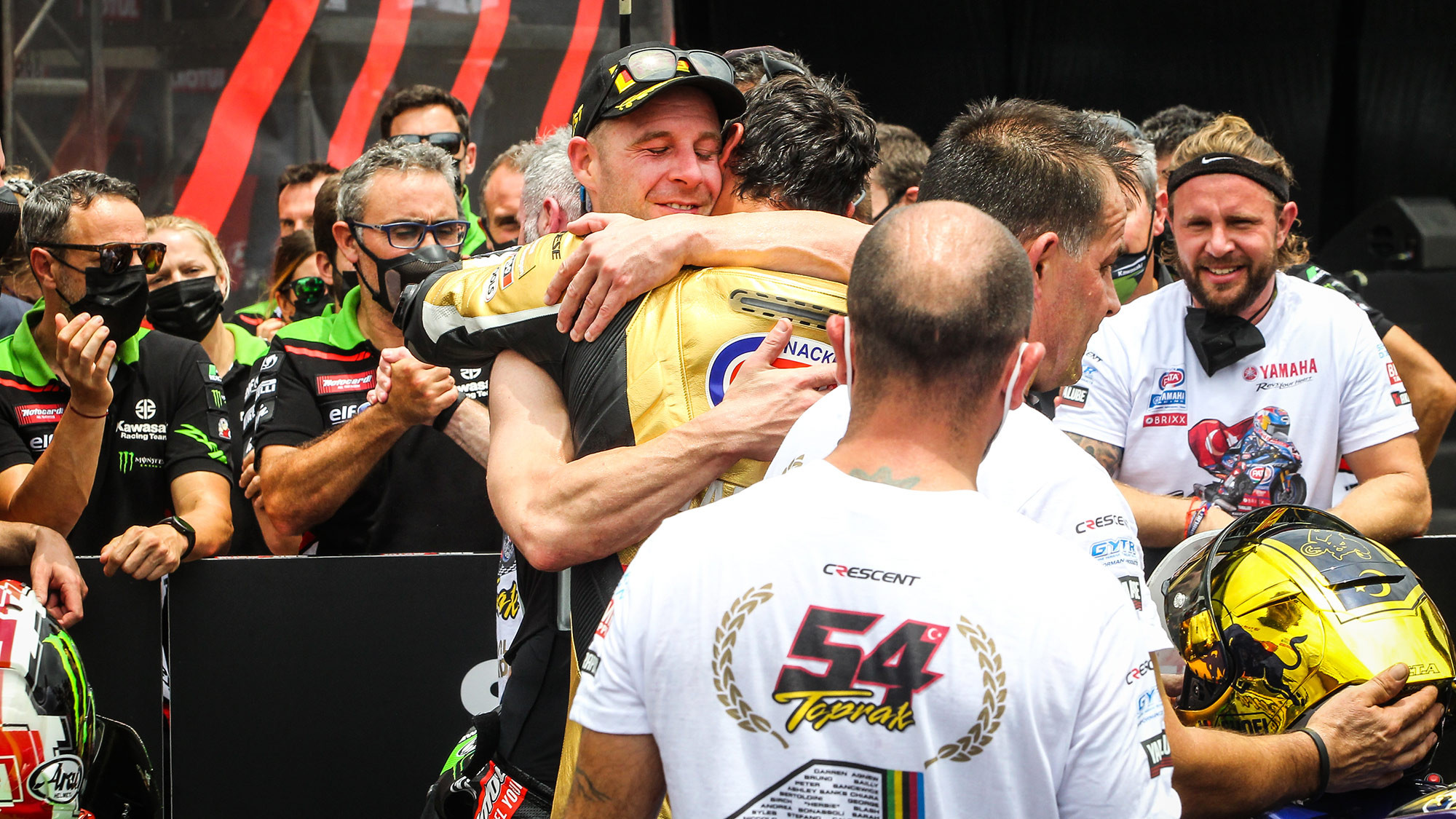 From the master vs the apprentice to hunted becoming the hunter, the tables have turned in WorldSBK in 2021, but the respect and the rivalry has never changed…
As the drama of the 2021 MOTUL FIM Superbike World Championship begins to settle down, it's time to reflect on what was a titanic season of racing and one of the greatest rivalries ever seen. Toprak Razgatlioglu (Pata Yamaha with Brixx WorldSBK) dethroned Jonathan Rea (Kawasaki Racing Team WorldSBK) and stopped the Ulsterman's stranglehold on the title, becoming the third-youngest Champion of all-time in WorldSBK. However, the rivalry has been one of the greatest, yet one of the most respectful, we've seen.

THE BACKDROP: the master vs the apprentice
Right from his first day of riding World Superbike machinery, Jonathan Rea has been there, by Toprak's side. In September 2017, Razgatlioglu got on a Kawasaki ZX-10RR, and Jonathan Rea was watching the Turk's debut, giving tips about technique. Following the test, there was a wonderful exchange on Twitter, with Randy Krummenacher's Puccetti Kawasaki crew chief Andrew Pitt expressing his feelings to Razgatlioglu's rapid pace, with Jonathan Rea commenting that he's "the real deal" and although Toprak thanked him, the Ulsterman said: "I can help but you still made the lap time mate! 43.2 for a WorldSBK rookie is great! Keep working hard!". Razgatlioglu finished the test fourth overall, less than a second behind Rea.
The Real Deal!!!! https://t.co/TkJOc4Xjlx

— Jonathan Rea (@jonathanrea) September 18, 2017
Even in his first full year, Rea was giving Razgatlioglu a helping hand, Razgatlioglu of course repaying that favour by beating him on the final lap of Race 2 at Donington Park to take second and his first podium. There's always been the feeling that perhaps, one day, Toprak will challenge Rea, and those days finally came a year later in just the Turk's second season.
2019 would be a breakthrough season for Toprak, as he emerged as one of the biggest future stars in WorldSBK. Numerous battles at Jerez, Misano and Donington Park all saw Rea have the upper-hand, but that was about to change at Magny-Cours. Razgatlioglu romped through the field from 16th on the grid to overcome a one second deficit on the final lap of Race 1 to Rea, taking the lead with four corners to go to take his and Turkey's first race win, the Puccetti Kawasaki team's first too. He doubled up in style in Race 2 before a hat-trick of podiums in Argentina gave him fifth overall.
Speaking about Toprak at the end of the 2019 season, Rea commented on his potential: "Toprak is such an incredible natural talent that it's fun to help him. I won't be helping forever though because he'll be too fast! Honestly, he's the most naturally gifted rider I've seen here in a long time. There's no doubt that he's going to be a World Champion in the next few years. I just hope that I can delay it for as long as possible!"
GETTING CLOSER: the tricks of the trade are passed on
When Razgatlioglu switched to Yamaha for 2020, he and Rea had a final lap showdown in the second race of the season, the Tissot Superpole Race at Phillip Island. Rea hit the front at the final corner to deny Razgatlioglu a double at the start of the season, whilst the two wouldn't have more battles for victory in the year. They did suffer one collision at Estoril in the last race of the year however, perhaps a sign of the closeness and competitivity to expect for 2021.
Once again speaking of Razgatlioglu after their opening round duel in 2020, Rea revealed his thoughts about his emerging rival: "I always helped him out in his first year of Superbikes – I'm kind of regretting that now! He's the real deal! I feel like I'm not done with World Championships, but I feel like he'll be the next one."
THE FIGHT IGNITES: a head-to-head battle for the title
So, 2021: the biggest and some might say best year of WorldSBK. In terms of close racing, the intense rivalry, the respect and the prospect of a final round showdown which did come to fruition, the year had it all. On-track, the racing was fierce, bars were banged and elbows rubbed – there was even a little bit of drama that spilled off-track at Magny-Cours. However, off-track, both Razgatlioglu and Rea spoke like true friends, chatting about potential tests, sunglasses and of course, the racing. Whether it was doing track walks together, congratulating one and other or sharing a front row seat flight to the San Juan and the penultimate round of the year, it's a rivalry characterized by intense fighting and genuine human respect. That's what made 2021 in WorldSBK special.
"With Toprak, even when he was riding in the European Superstock 600, I could see he was a huge talent," said Rea, speaking after Indonesia. "I was sometimes joking with journalists after media debriefs saying that after me, he would be the next Champion, but I was hoping to postpone that as long as possible. I respected him a lot, sometimes too much, because that planted seeds of doubt in my head. So, then I stand up and fight him bar-to-bar in a race and when I come out on top, I believe in myself more; I know that I'm fighting and that I can beat this guy and that gives us a good feeling as well inside the team. I know 2022 is going to be more of the same, I just hope that we can learn from our mistakes and improve."
Speaking about dethroning Rea, Razgatlioglu spoke fondly of the outgoing Champion: "Jonathan is a really strong man and also, I think in the paddock every rider's dream is to beat Jonny. It wasn't easy. In 2018, he was helping me in the WorldSBK paddock when I was riding a Kawasaki. Two years at a different brand, we are fighting on the track and he's now not happy! This season, we are fighting. Outside, I never said anything because we are friends, we are only fighting on the track. I will always respect him."
THE SIMILARITIES: where have we seen this before?
In many ways, the rivalry has huge parallels with that of Colin Edwards and Troy Bayliss, who fought for the title together in 2001 and 2002, with the latter bringing the iconic 'Showdown of Imola' and the fierce racing on-track as well as plenty of respect off it. James Toseland and Troy Bayliss also enjoyed a similar level of rivalry, with Bayliss in the twilight of his career when Toseland was at his peak in 2007. Razgatlioglu and Rea is straight away one of the best we've seen, and this is just the first part; both will be around in the future to light up Saturdays and Sundays for a little while longer.
Watch the drama of the off-season and get ready for 2022's tussle with the WorldSBK VideoPass!