Rea on Razgatlioglu: "he's the most naturally gifted rider I've seen…"
Thursday, 24 October 2019 13:36 GMT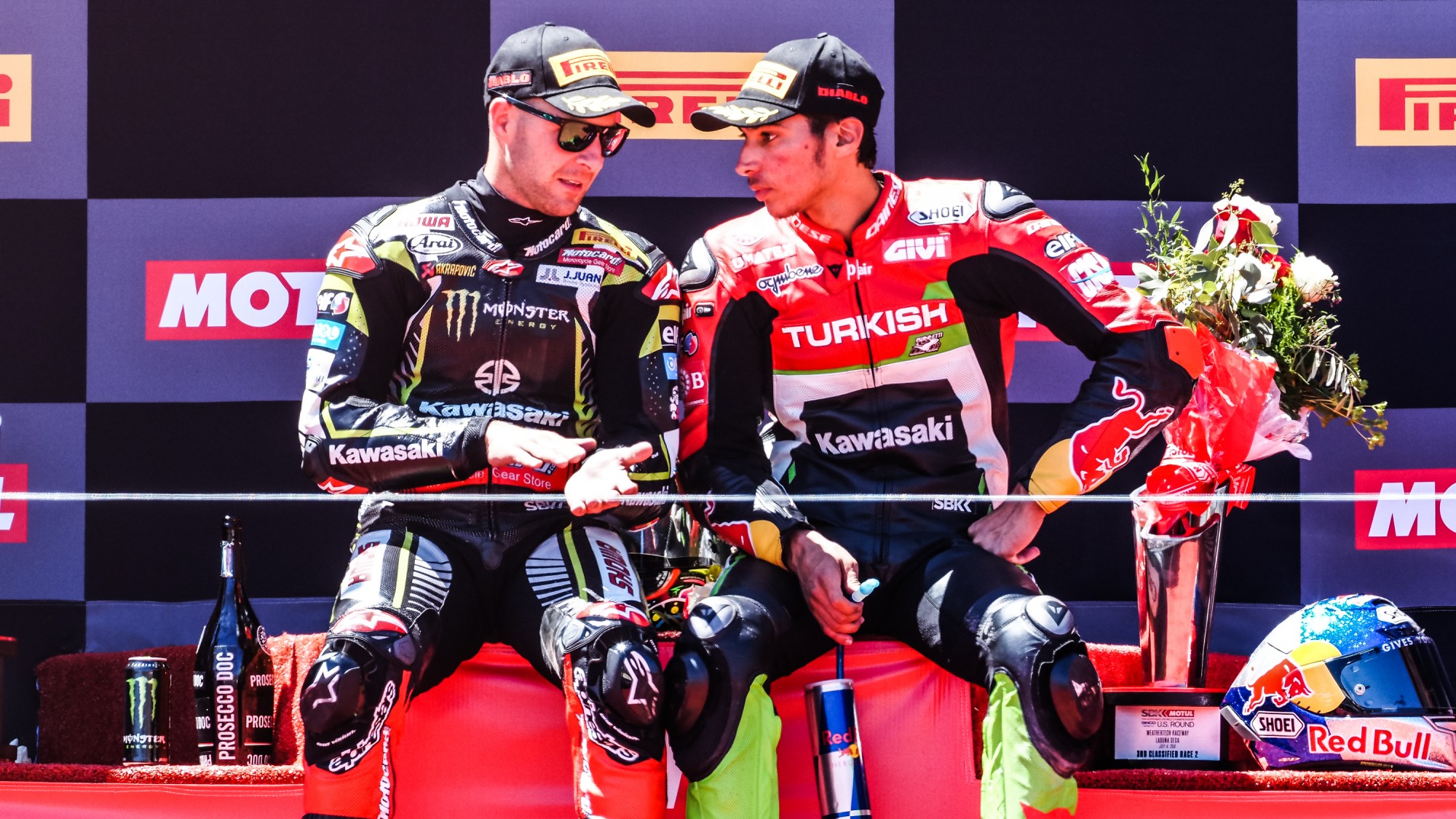 WorldSBK commentator Steve English delves deep into five-time WorldSBK Champion Jonathan Rea's mind, as the Ulsterman reveals all about Toprak Razgatlioglu…
When it became clear in 2017 that Toprak Razgatlioglu (Turkish Puccetti Racing) would be stepping up to the WorldSBK grid for the following year, Jonathan Rea was on hand to lend support. The Turkish rider has had a long-term mentor in the form of Kenan Sofuoglu, but he has also had the support of Rea for most of that time too.
At those initial tests, Rea was quizzed about helping his future rival and he said: "Toprak is such an incredible natural talent that it's fun to help him. I won't be helping forever though because he'll be too fast!"
It took until halfway through this season to truly see Razgatlioglu make the step from promising racer to contender. At Misano, we saw the youngster fight with Rea for the race victory in Race 2. It was clear that he was riding at an incredible level to challenge Rea and getting the most from his Kawasaki but his inexperience of fighting at the front meant that he wasn't willing to risk a crash with his fellow Kawasaki runner.
At Donington Park, we saw the then 22-year-old get to the front again but having made a different choice of front tyre to Rea, he didn't quite have the confidence to get through for the win. The first time to battle with Rea was positive, the second was confirmation of his pace. By that stage however the competitive animal of Toprak was ready to win; he needed to win. It took until Magny-Cours to finally stand on the top step, but it wasn't a surprise to see it happen.
Now, having fought it out for wins and podiums with his rival, how does Rea assess Razgatlioglu?
"Honestly, he's the most naturally gifted rider I've seen here in a long time. There's no doubt that he's going to be a World Champion in the next few years. I just hope that I can delay it for as long as possible! When you're a young rider there's so much learning to do. If you get on a Superbike early – like I did, or Toprak has – it can really help you, but you've got to sacrifice those first years as learning years. You don't want to get too far ahead of yourself.
"The most important thing is to try and remain uninjured. If I could talk to my 19-year-old self I would have just said, be calm. You've got to be very fortunate to keep getting opportunities like I did because I crashed a lot, learning lessons. I was racking up damage bills for teams and that's tough. Toprak has managed to learn without too much crashing. He's managed to stay healthy through his rookie years. From watching his level in the Superstock class I actually expected him to win earlier because you could see how strong his level was already. Being a Kawasaki guy, I could understand how well he rode that bike.
"I was a big fan of his and when he moved to WorldSBK, I was always offering a helping hand. In his first year he didn't gel as quickly with things, but it seems working with Phil Marron has been really good for him. The family atmosphere inside Puccetti is working well. It's nice to see him do well. He's now beaten us straight up in Magny-Cours and that was tough for me!"
For 2020, with Razgatlioglu moving to Yamaha, it will offer another test for WorldSBK's newest race winner. The riding style needed for the R1 will be different, joining a new team having been with Puccetti Racing since 2014 will be a new challenge. There's no doubt that Razgatlioglu has the talent to succeed but he'll have to learn new processes and new people in a new team. Joining any team is tough and Rea offered the comparison to when he joined KRT in 2015 from the Ten Kate Racing privateer squad.
"I remember when I joined KRT, there was a lot to learn for me. Since then, we've put a lot of structures in place at Kawasaki and I brought some of them to the team. I brought an assistant and a rider coach. It's hard when you work in a [factory] team of 40 staff. Everybody involved has to have a role or they shouldn't be there.
"KRT is a very structured team. I'm very lucky because at some of my previous teams it wasn't like that and it didn't matter if a rider lived the Rockstar life. At Kawasaki, they invest in the person, the athlete. I'm very lucky in that because most teams trust you're doing the right thing. Having the tools around you to be the best you can be. That makes a huge difference."
Rea and Razgatlioglu will look to reignite their battle under the floodlights of Losail. Watch the action with the WorldSBK VideoPass!