Manu González, in-depth: "I try to not overthink about how far I can go"
Monday, 30 September 2019 09:21 GMT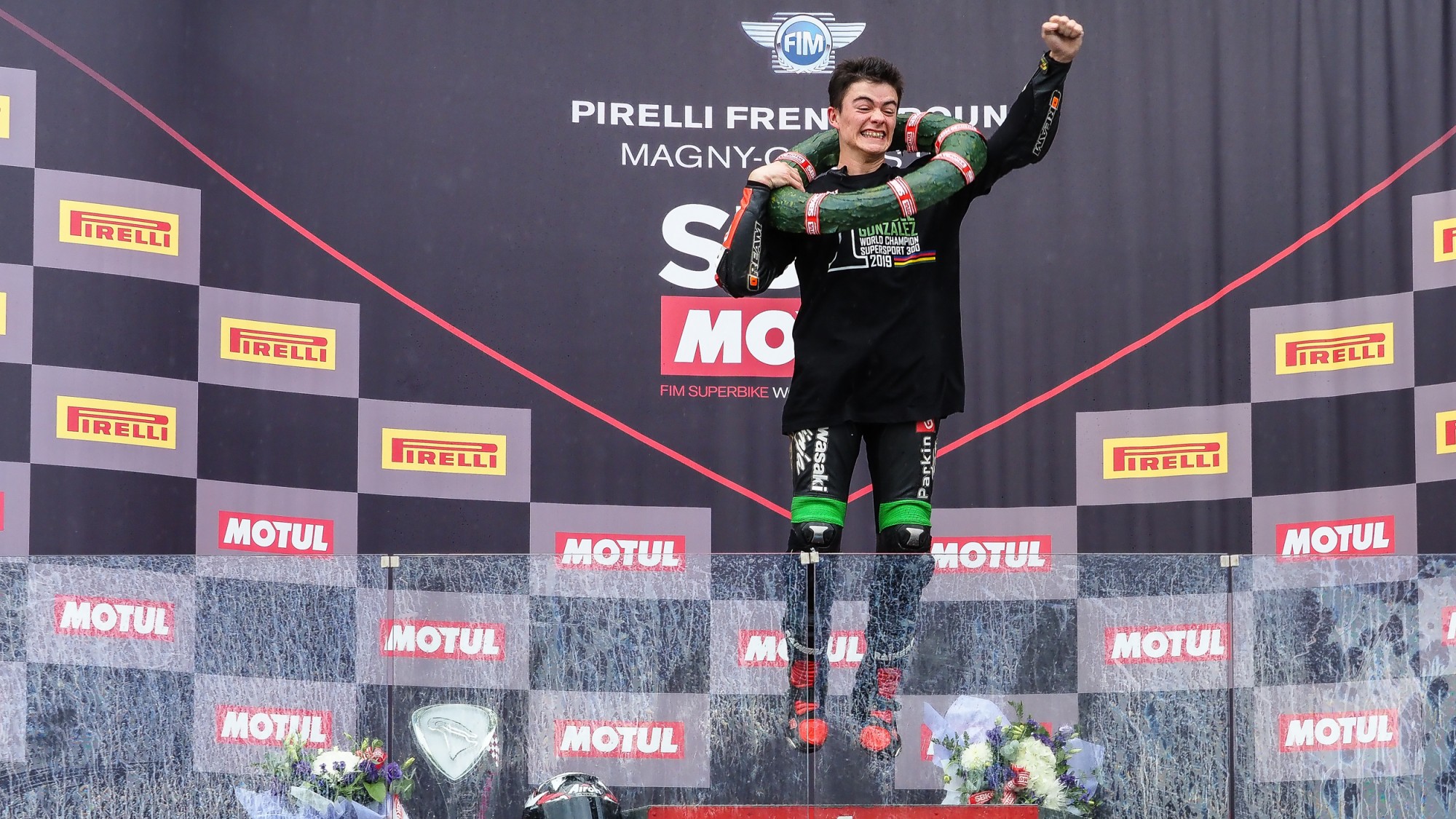 The newly crowned WorldSSP300 World champion talks about his passion for motorbikes and reviews his meteoric career... and reveals the origin of the nickname 'ManuGass.'
Manu González is an extraordinary rider and an average teenager. The first he was able to prove it with his exceptional performance on the tarmac throughout the 2019 season, while the second thing has been said by him himself while talking about his life outside the circuit, his friends and his studies.
Crowned World Champion at the age of only 17, he is likely the most peculiar "normal" guy that walks around the WorldSBK paddock.

I am a kid that loves motorbikes. They are my passion, and I always think about them. I was already sitting on them when I still didn't know how to ride them.

I was so small when I first got on a motorbike at the age of only three years old. My dad has always been interested in bikes, so for me, it was quite normal to get involved with them too. My dad was taking part in some amateur races in Spain, and I saw how life goes on at the track. In the end, the bug affects you by itself. If you are always staying at the track, you end up wanting to keep remaining there.

I am a normal teenager. I still attend lessons in high school, and I am training a lot. I am just trying to combine the two things. There is nothing special at all. With my Friends, I am only one among them, but it is true some of them get surprised when they get the news about the championship or my results, and they make some comments about that.

I think I had started taking it as a professional thing when I arrived at the Spanish Championship. I was ten years old then, and I was beginning to ride on big tracks. That is when I started to like all this a lot more, and when I realised that I had to train harder and throw myself into it more.

ManuGass came out lots of years ago. My parents say that they had that idea. I think it was when I won the Mini Moto Championship in Madrid when I was seven years old. I think it definitely came out then, but the truth is that it wasn't me who created it. They started to call me this way, and it has remained like this ever since. There are riders with nicknames that are not even known, while maybe mine has already been used too much!

Even Nico Terol used "Gas" at some point. When I met him first when I was nine, he still wasn't using that nickname, but the following year he has started using it, and it seemed a little bit strange to me. I think he took it from me, but maybe this is better not to say it, who knows! The truth is that I have been using it for a very long time… and I like it!

I think that my biggest challenge now is finishing the last year of high school than having had to fight for the championship title. I like the series a lot, and I want to stay here. School is difficult to turn it out the way I really want to, but at least I must try finishing this year as I can.

I don't know what I will do with my studies. The only thing I know is that if you want an important job in the future, you need to continue your studies, but riding has become something so professional that going to school is getting every time more difficult. My parents always push me to keep studying, but I don't know to what point I will arrive.

Different people have helped me in my career. I had spent a lot of years with the team I was with last year, and I think it is thanks to them that I could step up into the category. Then, there is also a manager I had, but the person who has been teaching me a lot is my father. He is the person that has helped me a lot to understand how to manage my racing career.

Being fast on the final lap is not the only thing you need to win in this category. You also need a bit of luck and that ability to think where you need to be at the right moment, to cross the line as first. With these bikes, we can be five riders crossing the line in just a tenth of a second. That point where luck and strategies combine is when you can win.

I think that I am a more relaxed rider than a rider with high temperament. I am not influenced by what happens around me. I prefer to think about myself and nothing else.

I am a rider that focuses more on his riding style than improving in every turn or thinking about having the perfect bike setup. I concentrate more on trying to get the most from the way I am riding, rather than consider what I can do in every corner looking for the best lines. And then, I try to figure out if anything is missing on the bike, I speak with my mechanics, and my crew chief and we try to see if we can do something about it.

The title I won two years ago (in the European Talent Cup) helped me thinking what I had to do this year. I thought about that season a lot. This year I arrived at the end with more advantage, but I think it gave me useful pieces of advice for what am I living now.
Rea or Bautista? Well, both are such great riders! I admire Rea for what he can do on his bike, for how he manages the races. The same goes for Bautista, how he can take out the most from his bike doing incredible things. Rea works a lot, and he always tries to get the maximum. Fabian Foret, who works with Rea and as well with our team, explained us how he gets ready for the races also outside the track, how he trains, and for sure I try to follow his example.
I try to not overthink about how far I can go, and instead I focus on keep doing the maximum I can where I am right now, and then we will see what next year will bring. I would like to race in World Superbike or MotoGP™, which is the best thing that could happen to me, but for now I just want to do the best I can and not think of what the next years will bring, as this can make me lose the concentration and change the way I am right now.
Catch up with all the news on Manuel Gonzalez's 2019 season in WorldSSP300 and keep yourself updated with the WorldSBK VideoPass.