Rea: "There was no chance I could come around the Ducati here"
Sunday, 25 February 2018 08:08 GMT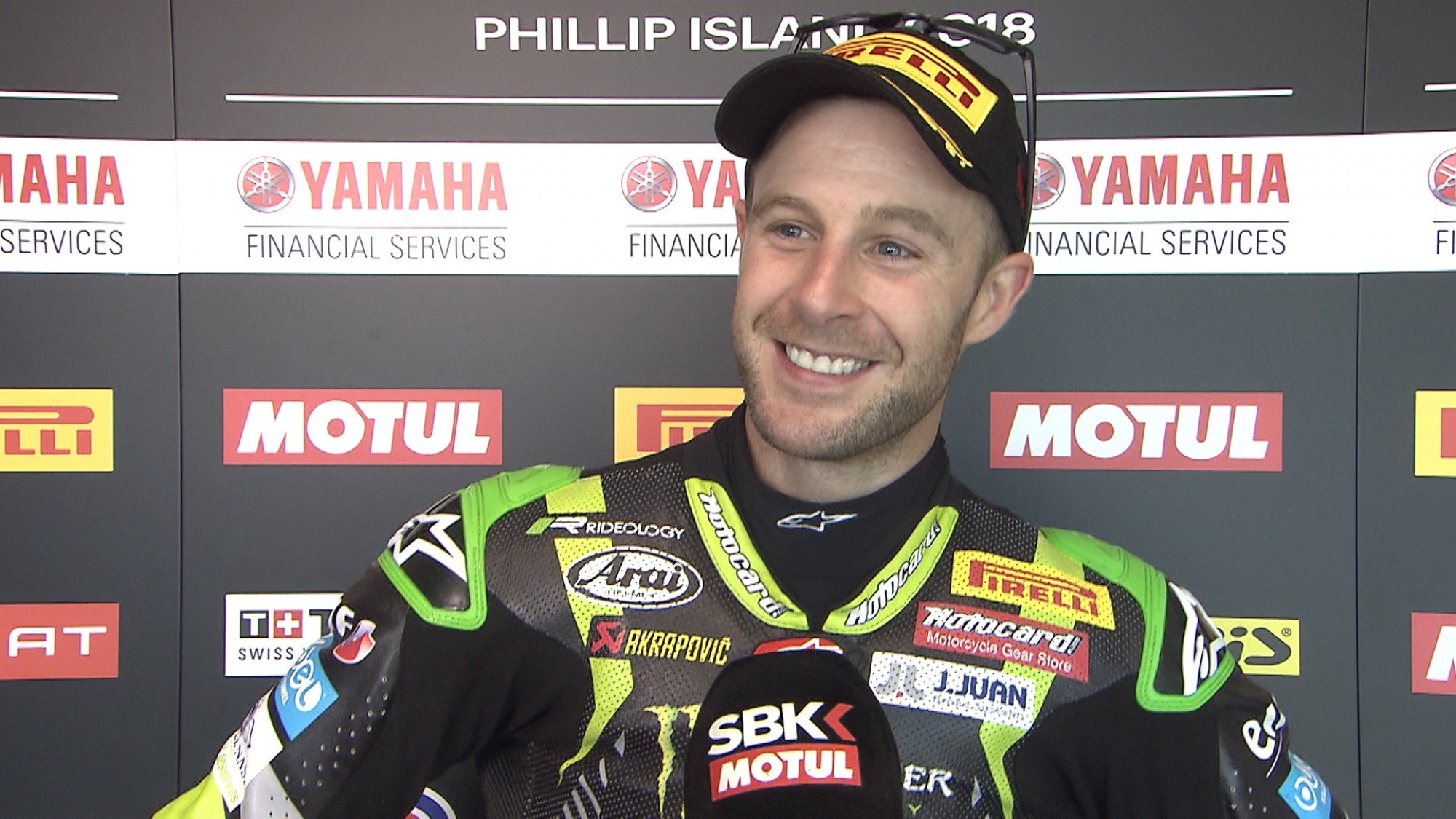 It was an incredible fight to the line, but the reigning Champion just lost out to Marco Melandri at the flag
This weekend marks the first time since joining Kawasaki Racing Team that Jonathan Rea hasn't been the Championship leader in WorldSBK, having won his first race on a green machine back in 2015 and then going on to take three titles in a row. But 2018 is off to a different start, with a tough Race 1 following some late grip issues and then a narrow loss to Marco Melandri (Aruba.it Racing – Ducati) on the drag to the line in Race 2. Nevertheless, the Northern Irishman is happy with the result – having been suffering with illness since Wednesday before the round.
"I'm really happy, especially with the way I've been feeling this week," smiles the reigning Champion. "I've been sick since Wednesday so to finish second today after what happened yesterday, I'm really happy. To finish fifth and then second and on the podium again is some damage limitation."
That it is and talking through the race, Rea explains the ups and downs of an exceptional flag to flag battle – saying he knew he what he had to try and do.
"With our exit into the straight I knew the only chance I had to win today was to lead onto the straight," begins the KRT rider. "There was no chance I could come around the Ducati here. In the beginning it felt like someone had fitted a qualifier to Eugene's bike, the pace was incredible! But once I get the rhythm I was happy, always in the top two."
By half distance then, everything was going to plan – but after a more difficult exit out of pitlane for Rea, Michael van der Mark (Pata Yamaha Official WorldSBK Team) and Xavi Fores (Barni Racing Team) to begin the second half, the mountain to climb got a bit bigger.
"I think I dropped down to about sixth or seventh," says Rea. "But then I just tried to find my rhythm, keep working and then finally I was making some moves into T1, releasing the brakes and just sending it into the wind! That was exciting. I could stay involved in the T1 and T2 area." By the last few laps, the reigning Champion was more than involved – able to begin breaking away before it boiled down to a three-way fight versus Melandri and Fores.
It wasn't quite to be, although the finish was so close that Melandri's team paused celebrations as they confirmed the Italian had taken it. So now it's time for Rea to reset for Thailand and a very different track – one that has treated him very well in the past, with five wins from the last six.
"I'm looking forward to moving onto Thailand now, improving myself, getting healthy and getting a good feeling with the bike. Aside from being sick, I haven't felt great on the bike or had a good feeling – the bike's not talking to me this week, there's not that loving relationship or that bond…hopefully we can forget this weekend, learn from it and move on."
Buriram gets in gear from the 23rd to 25th March.