Camier Gets Technical in Jerez
Thursday, 24 November 2016 11:26 GMT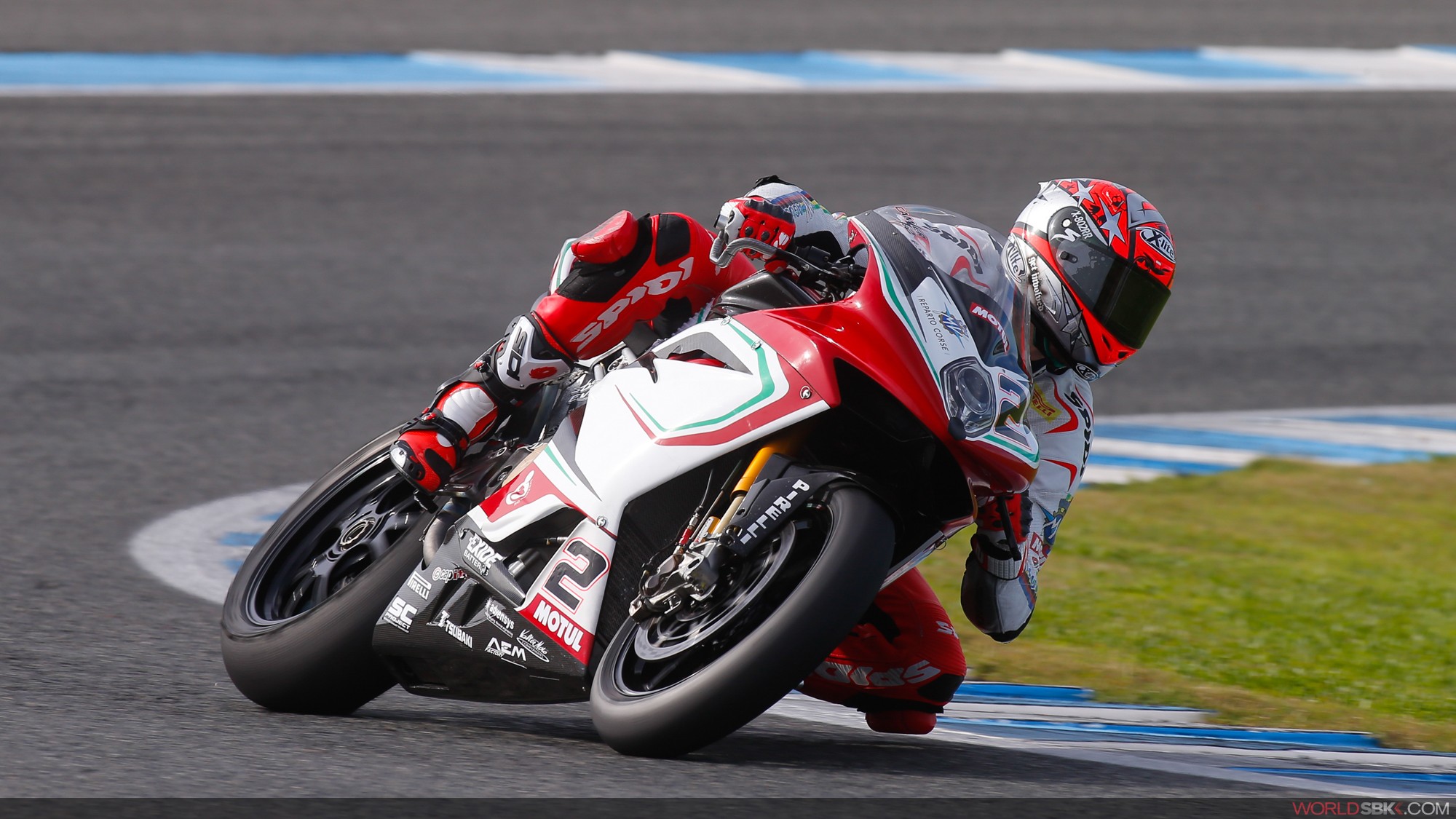 The Brit analyses changes that lie ahead in the coming season
MV Agusta began their first day of testing yesterday at the Circuito de Jerez and the team's focus on day one was to find the right direction for next year, whilst complying with the new technical regulations. 2017 sees split throttle bodies no longer allowed in WorldSBK among other changes. But with all the recent technical talk of split throttle bodies, what exactly are they you ask? Leon Camier took some time out after his first day on track to explain in plain English what the new changes are and how they are affecting him at Jerez and what it means for MV Agusta next year.
"Basically we have to use all four cylinders at all points in the corner now," explained Camier. "Before we would run with the first touch of gas and we would basically only open two throttle bodies, so effectively you're only running a 500cc bike at that point, and then bring the other two later on in the RPM. So as you stand the bike up when the tyre and the position of the bike can accept more power, you then start to open the other two.
"Having to run four now is making the bike a lot more difficult at the minute. For us, we're having to try and compensate in another way with electronics, to kill the power down low to make it smooth enough to drive off the corner. At the minute we are struggling through that, to get the connection right from zero to positive and then as soon as I stand the bike up to get a controllable power in my hand we're just not there. I think we are going to have to change the way the electronics are working to give me the feeling I need, but it's pretty difficult to do."
Surely there are advantages to having more power but as Camier further explained, in the case of MV Agusta, it could prove detrimental and the electronics are key.
"If we run the bike with no electronics, at that point there would be no control," clarified Camier. "It would just be so much power down low, you would high side at every point or lose the rear at every point. So we're just trying to find a good enough feeling with the electronics that you understand where the tyre is at all points and what I do with my hand actually translates to the rear tyre. That's the difficult part, but we'll keep working. We've got another couple of days here to try and fix it and we'll see what happens."
Another change to the technical regulations coming into effect in WorldSBK in 2017 is the introduction of smaller batteries compared to the larger lithium based batteries used this year. The change is due to restrictions on air freighting larger capacity batteries. WorldSBK teams now have to use a smaller battery that is charged by a generator to maintain the level of charge in the smaller batteries.
Riders such as Tom Sykes particularly struggled with this regulation change in testing, due to the difference in weight distribution, but Camier had other concerns.
"To be honest we haven't noticed much of a difference with the smaller batteries at the minute, that's not out biggest problem," Said Camier. "I think as the season starts and you know, we start to get the ball rolling with the new bike and new package, I think there will still be some changes that come at the beginning of the year and as soon as we start to run with the full new package for 2017 things will become clear what our bigger problems will be.
"For us I think the biggest thing will still be a similar issue to last year, with power, where we were kind of slightly limited to what we could get from the engine. At the same time, at certain tracks it's not all about power. We've got a good chassis which I think can be slightly better again next year, so we just have to keep working on the package we've got at the end of the day."
On next year's competition and whether the MV will put up an even better fight than this season, Camier confirmed, "It's going to be harder again, to be honest, but we didn't expect to do what we did this year. We can make some more improvements and we know it's pretty clear what we need to improve. So there's no reason why we still couldn't be quite competitive. I still feel there's a lot of potential with this bike, like a lot of potential, but at the moment I don't know where the actual overall limit is."
Camier will continue to work towards finding the limit on his MV over the next two days at Jerez, before his new package arrives next year.