THE MANIAC IS BACK: Iannone with Team GoEleven in WorldSBK for 2024 return
Wednesday, 18 October 2023 10:25 GMT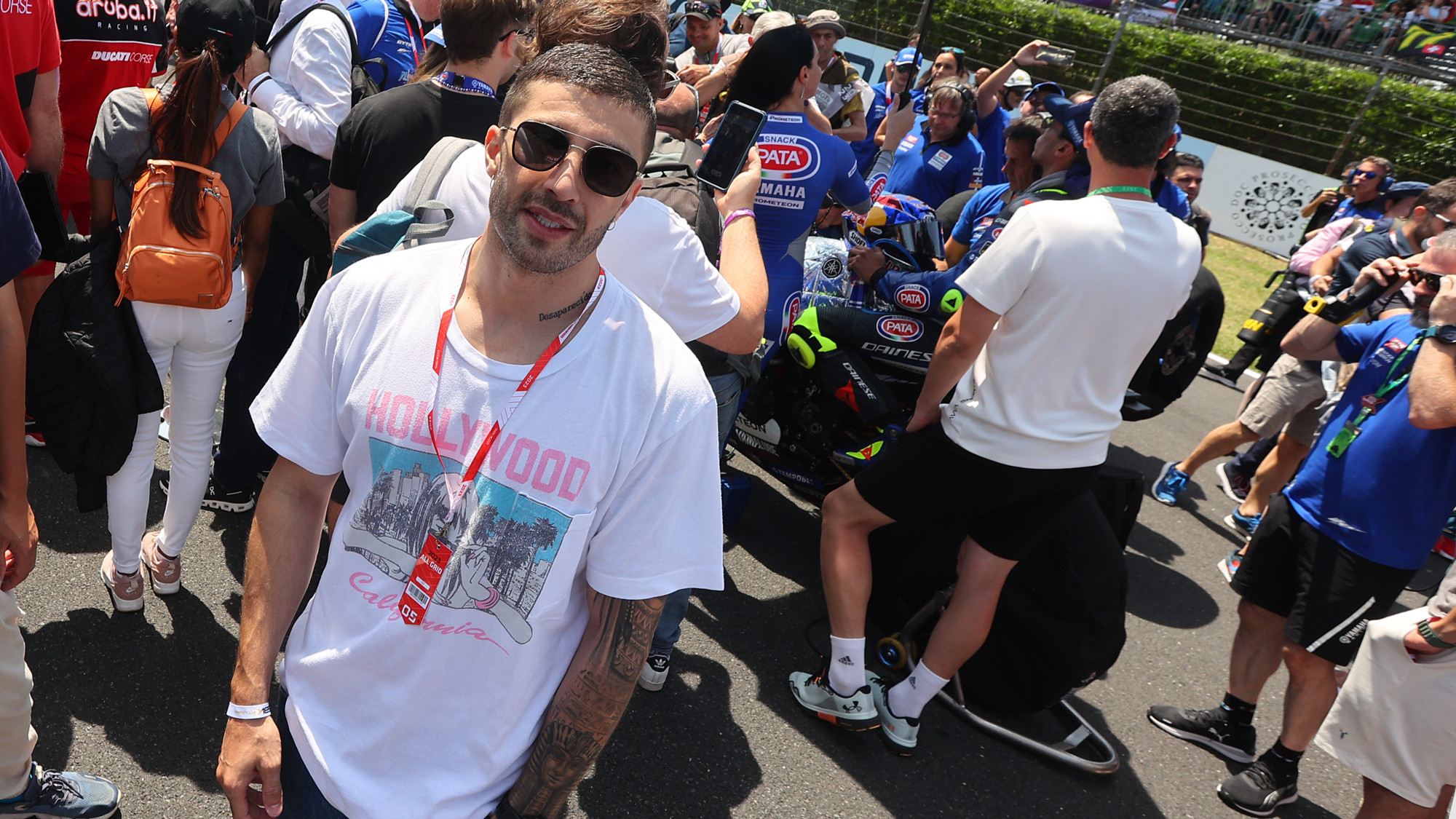 SEAGULLS WATCH OUT: Andrea Iannone is a major signing in WorldSBK, joining Team GoEleven to make his racing return
'Crazy Joe', 'Maniac Joe' or, famously and in recent times, quite simply, 'The Maniac'. Andrea Iannone WILL make his return to World Championship action in 2024, joining the MOTUL FIM Superbike World Championship with Team GoEleven, aboard a Ducati Panigale V4 R. The Italian, famous for his charismatic approach and no-nonsense attitude – both on-track and off of it – will come back to action after being out for four years but is keen to show he's still got the talent and speed.
HUMBLE START TO Moto2™ MAGIC: Iannone's rise through the ranks
Iannone's career in World Championship racing started in 2005 in the 125cc World Championship, where he scored points in his first year. A bright start to 2006 didn't translate into an overall improvement and it was much the same for 2007, but in 2008, his fourth year in the 125cc class, he really shone. A career-first win came in China whilst even further top ten finishes – and a career-first pole position at Sepang – confirmed the potential of the rising Italian star. 2009 would be his final year in the 125cc class, winning the opening two races of the year and three of the first seven rounds, before a drop in form resulted in him finishing seventh overall.
Into Moto2™ and the unquestionably talented Iannone adapted well in the first year of the class, winning on three occasions and taking a total of eight podiums for a best Championship finish of third. He'd win a total of five more Moto2™ Grands Prix, finishing third overall again in 2011 and 2012, but by now, Iannone had caught the attention of teams in the premier class.
THE BIG OPPORTUNITY: MotoGP™'s opportunity and Ducati's history maker
Moving up to Pramac Racing for 2013, Iannone started his MotoGP™ career with two top ten results, whilst a collarbone injury at the Sachsenring curtailed the first part of the season. In the second half, more top ten finishes came but Ducati's redesigned Desmosedici for 2014 would help Iannone come to prominence further. A marked improvement saw him in the battle for top five results and even podiums across the first part of the year and it would go on until the end, with every race that he finished (besides the season-ending Valencian Grand Prix) being inside the top ten.
In 2015, a big break; a promotion to the factory Ducati team as he replaced Cal Crutchlow and instantly shone with a career-first podium at Lusail. Finishing every GP in the top eight until a DNF at Motegi in Japan, 'The Maniac' was back on the podium in Australia after a fantastic fight with nine-time World Champion Valentino Rossi on the last lap – and a seagull in the opening stages. Finishing fifth and as top Ducati, 26 points clear of teammate Andrea Dovizioso – who was in his third year with the team – a lot was expected of Iannone in 2016. However, he crashed out of victory contention in Qatar in Round 1 and wiped out teammate Dovizioso at the penultimate corner on the last lap in Argentina in what would have been a guaranteed podium. Iannone was thus surplus to requirements at Ducati and was replaced by Jorge Lorenzo for 2017. He did manage one massive achievement though, ending Ducati's MotoGP™ win drought of six years during the returning Austrian Grand Prix at the Red Bull Ring.

CHANGE OF SCENERY: Suzuki first, Aprilia after
He moved to Suzuki's factory effort for 2017 but struggled to adapt to the inline four machinery, scoring his second-lowest number of points since joining the class and without a podium. In 2018, his last year with the Japanese brand, he enjoyed a big improvement with two podiums in the opening four rounds before a best of the year in P2 at Phillip Island. He finished tenth overall. Joining Aprilia for 2019, a torrid season with just two top ten finishes in the Netherlands and Great Britain, before he led the Australian Grand Prix on his way to P6. However, he was sanctioned by the Court of Arbitration for Sport (CAS) following a violation of an anti-doping rule after a positive test for a banned substance in the following Malaysian GP, coming in from December 17th, 2019.
THE COMEBACK IS ON: "I have rediscovered the enthusiasm I had as a child"
After four years away, 'The Maniac' is ready to come out and play again, with the 34-year-old's desire to succeed stronger than ever: "I've been waiting for this moment for a long time, I'm finally back on track, where I spent my life. I thank Gigi Dall'Igna, Paolo Ciabatti, Claudio Domenicali, Marco Zambenedetti and the whole GoEleven team for their trust; with their support I have rediscovered the enthusiasm I had as a child. Special thanks also to the WorldSBK family for the opportunity. I'm fully excited."
Denis Sacchetti, team manager for Team GoEleven, is also excited to welcome Iannone to the race-winning team: "We have worked hard to make this dream real; we have wanted to shout it out to the world for some time now, but creating such an important project is not easy and must be structured carefully. 'The Maniac' has decided to get back into the game, it's not for everyone, it takes guts after everything that has happened and so much time away from racing. It is a courageous choice, for some it may seem crazy, but the right amount of madness and courage can lead to great feats. Why this bet? When we started talking to him, we were impressed by his determination, grit and desire to go back doing what he loves.
"I saw in his eyes the desire and need to race a motorbike, like a child who wants to go back playing and everything that happens around him is out of his mind, because he just wants to go back playing, he has no other thoughts at that moment. We know that it won't be easy, that at the beginning we will have to suffer and work a lot and work hard, but this awareness unites us even more and stimulates us further. I want to thank Gianni Ramello for immediately accepting this opportunity, a particular thank you also goes to Paolo Ciabatti, Gigi Dall'Igna, Claudio Domenicali and Marco Zambenedetti for the support they are giving to this project and obviously thanks to Andrea Iannone for the trust in our team! Last but not least, heartfelt thanks to all our sponsors who allow us to take on increasingly important challenges every day, it is only thanks to their passion that it is possible to face new adventures!"
HUGE HISTORY: GoEleven's rise in the ranks of WorldSBK
Stepping up to World Superbike in 2015 with Kawasaki machinery after having had a strong paddock presence since 2008, GoEleven have evolved into a front-running team over the years, with top results coming ever since joining forces with Ducati in 2019. Eugene Laverty ended his season with the team with strong results in the top six, whilst for 2020, Michael Ruben Rinaldi delivered a career-first win for himself and the team. In 2021, Chaz Davies kept their podium success going before retiring from the racing aspect of sport at the end of the season. 2022 brought a fresh challenge with rookie Philipp Oettl but he was able to achieve top ten finishes, whilst in 2023, a career-best fifth has also seen a marked improvement.
Team owner Gianni Ramello reflected on the chapters that make up their story, saying: "Since its birth, GoEleven has tried to achieve increasingly important goals and with the move to Ducati we have come closer to our desire. Despite being a private team, we achieved a victory, several podiums, we won a Best Independent world title and gave world-famous riders the opportunity to defend our colors with excellent results, demonstrating that our Team has done a great job. Now we found ourselves having to take a further step and achieve another goal, a new challenge, and this time it will be harder and more challenging. A rider like Andrea has not only shown over the years that he is fast and truly talented, but he is also certainly a public character of great interest. The challenge is even more stimulating because we jumped at the chance to have Iannone return to a World Championship after four years and I can guarantee that we will work hard to get to the positions that count, we strongly want to show that we have made this decision because we believe in the potential of the rider, and we are sure that he will give his all to achieve great results.
"I can only thank Andrea for choosing our team, giving us great importance and showing that the excellent work is highly appreciated, and also because he has shown the courage to face this new challenge which is not at all simple. I thank all the Ducati management who gave us strong motivation to start this project and I thank my team who have always shared our projects for better or for worse driven by motivations that excite me. All of them want to win as I do and this, added the certain desire that Andrea will also have, will be a further boost for the 2024 season!"
Watch Iannone's return in 2024 and enjoy the rest of 2023's title race with the WorldSBK VideoPass!