Yeray Ruiz opens Yamaha R3 bLU cRU European Cup account with pole position in Aragon
Friday, 8 April 2022 13:58 GMT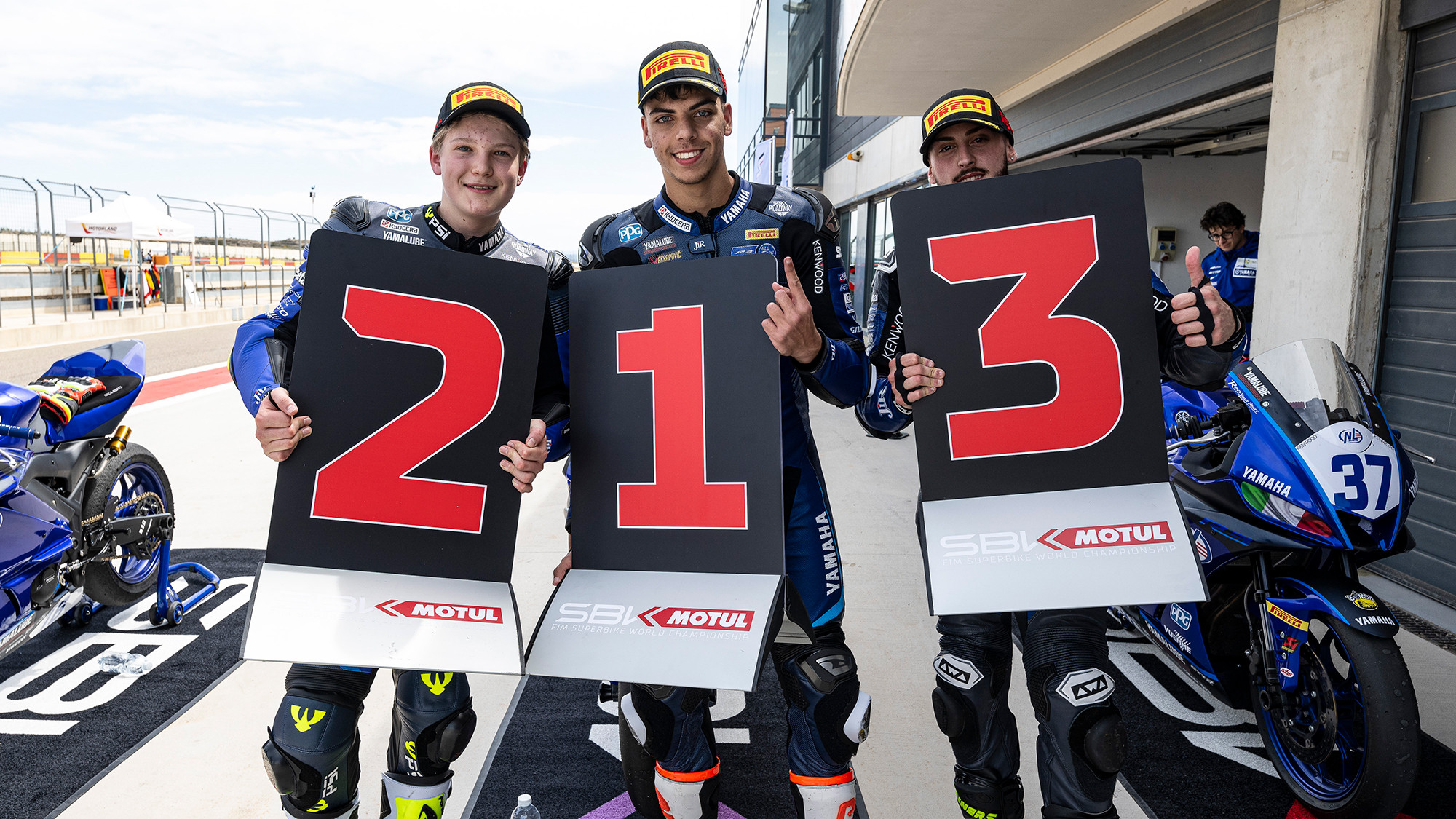 The Spanish rider started his Yamaha R3 Cup campaign in style with a commanding pole position at MotorLand Aragon
In the first Yamaha R3 bLU cRU European Cup Superpole of 2022, Spain's Yeray Ruiz scored a dominant pole position on debut, going 1.526s clear of his closest challenger Maxime Repak, with Andrea Pizzoli joining them on the front row.
Having gone second-fastest in the morning's 30-minute Free Practice session by just 0.038s, Ruiz was in a class of his own during the qualifier. The Spanish youngster, who earned his spot on this year's grid thanks to his strong performance in the 2021 Yamaha bLU cRU Masterclass event, posted four times that would have been good enough for pole, with his 2'13.425s the fastest seen so far this weekend.
Slovakia's Repak, who's already a three-time winner in the Cup, was second overall and was the only other rider to dip below a 2'15 in qualifying. Behind him came Pizzoli, who was also selected through last year's Masterclass, with the Italian making it three different nationalities in the top three.
Spain's Uriel Hidalgo was fourth fastest, pipping Brazil's Enzo Valentim by 0.013s, while Italy's Devis Bergamini will join them on the second row of the grid, having gone sixth fastest.
It was an impressive debut Superpole also for Indonesian rider Wahyu Nugroho, who will line-up in seventh, despite having to sit out the final 15 minutes due to a penalty for an incident in Free Practice. Brazil's Kevin Fontainha and Spain's Carlos Giminez join him on row three, with France's Clement Rouge rounding out the top 10.
Eduardo Burr, who set the pace in the morning's practice session, could only manage 12th, with the Brazilian - like many of the 24 riders - unable to complete a clean lap.
The first two Yamaha R3 bLU cRU European Cup races of the season will take place tomorrow, with Race 1 set to get underway at 11:45 (CET) and Race 2 at 16:15. Both races will be nine laps, with a maximum of 50 points up for grabs.
Yeray Ruiz said: "I am very happy to take the first Yamaha R3 bLU cRU European Cup pole position. It was a good lap, I was on my own and had no slipstream, so this was great for me. Tomorrow in the race, it will be a big fight in the group, I prefer to lead from start to finish, but we will see."
For Superpole results, click here.