One rider, two categories: Aegerter explains how he's fighting for two titles in 2022
Tuesday, 28 June 2022 09:54 GMT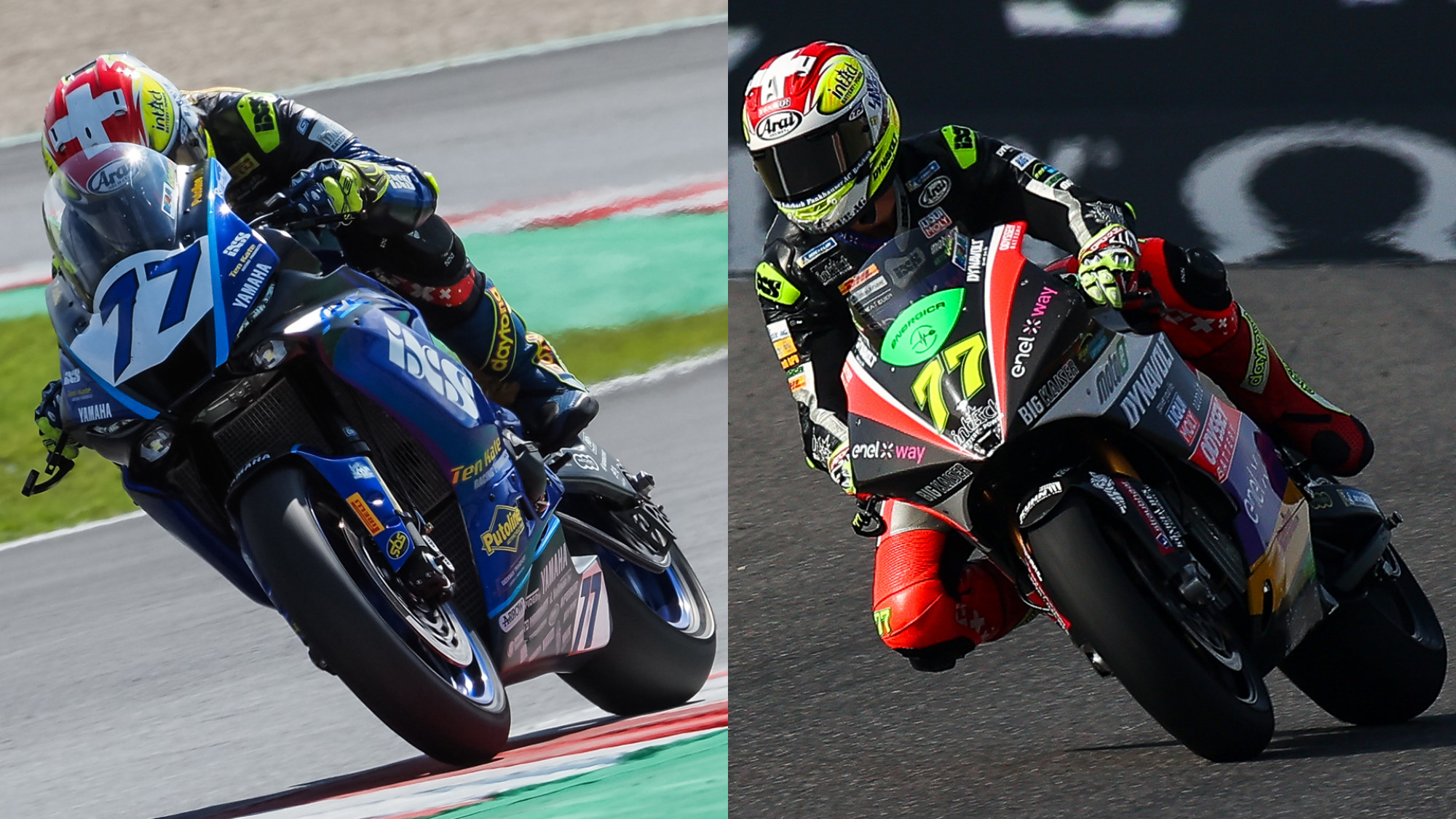 Swiss rider Aegerter is competing in both WorldSSP and MotoE™ in 2022 and leading the fight for both titles
It has been a sensational start to the FIM Supersport World Championship for reigning Champion Dominique Aegerter (Ten Kate Racing Yamaha) with the Swiss rider picking up 195 points out of a possible 200 so far and winning all but one race. He is currently leading the WorldSSP standings, but it isn't the only title fight Aegerter is involved in, nor the only one he is leading.
Like in 2021, Aegerter is also competing in the FIM MotoE™ World Cup alongside his WorldSSP commitments and, like last season, is fighting at the front of the field in both. In WorldSSP, Aegerter holds a 54-point lead over Lorenzo Baldassarri (Evan Bros. WorldSSP Yamaha Team) after eight races, with Baldassarri the only rider to beat Aegerter in a race this season. He also leads the MotoE™ standings by 34 points over Eric Granado (LCR E-Team) after the Dutch Grand Prix.
Talking about how it feels to be competing at the forefront for both titles, Aegerter said: "It's a special thing to ride in two classes, you need to always focus on different weekends. We have two different teams: the Ten Kate Racing Yamaha team and the Dynavolt Intact MotoE™ Team and two different bikes. You need to adjust your riding style and it can be difficult to handle, especially with the electric bike, I always need more laps to get used to it. I already did this last year so I can swap between them quite fast. The result is good, I have good teams who helps me a lot and it's nice to start the first half of a season like that."
There is one common trait between the two Championships in that they both have two races per weekend, although how the format runs between them differs slightly. In WorldSSP, there are two Free Practice sessions on Friday before jumping straight into Superpole and Race 1 on Saturday. However, in MotoE™, qualifying takes place on Friday before races on Saturday and Sunday.
Of course, one major difference between the two is the bike. In WorldSSP, Aegerter competes on the Yamaha YZF R6 machine; a four-cylinder, 599cc bike with a six-speed gearbox. The MotoE™ bike is currently manufactured by Energica and is an electric bike, providing around 120kW of power (approximately 161bhp) with just one gear.
The 31-year-old then went on to discuss about the training regime for both, and how there's some common ground: "The training is quite similar; you have a 35-minute race in WorldSSP and then a 12 to 13-minute race in MotoE™, so you can train slightly differently but the preparation at home and at the track is quite similar to last year. I watch the races from the previous year, look at the data from the bike. The mental training comes from whichever bike you are sat on at the time and until now, I can do it very well.
However, the super Swiss is leading both title races and he paid tribute to the teams around him for allowing him to focus on racing: "When you're leading two standings, one with 54 points in WorldSSP and then 34 points ahead in MotoE™, for sure it's nice but the season is still long. We have many races to go, always double races too with a race on Saturday and another on Sunday. Also, it's a big pressure to always stay in front. The teams, sponsors, fans, friends and journalists want the results so it's always something that gives pressure. We can handle it very well and when we have two teams like this, that help me to keep calm and to be with the bike, it helps a lot to be just focused on racing. When you have fun on the bike, you can continue like this to do good results."
Watch the 2022 WorldSSP season in style with the WorldSBK VideoPass!