Bayliss: "It felt normal once I got up there… I'm making it difficult for myself starting from pretty far back"
Wednesday, 1 June 2022 10:28 GMT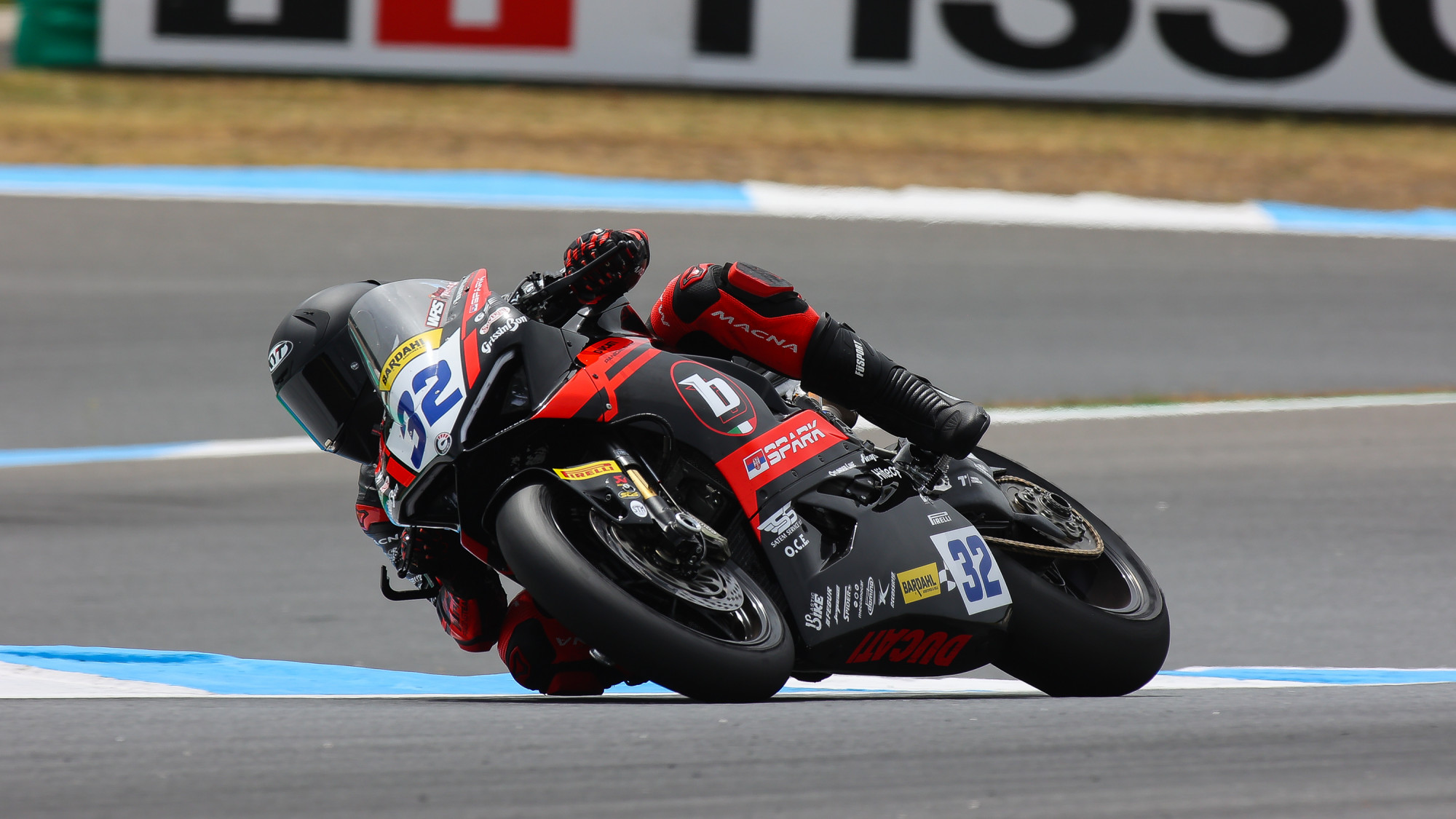 The Australian rookie battled his way to a first top-ten finish at Estoril when he claimed sixth place in Race 2 in Portugal
Last time out at the Circuito Estoril marked an important point for Oli Bayliss (BARNI Spark Racing Team) as he battled in the lead group for the first time in the FIM Supersport World Championship, finishing just one second away from a maiden podium. Race 2 was held in difficult conditions but using experience from his native Australia helped him to fight his way into the top ten and following the round, he discussed battling at the front, how this enabled him to see where he can improve as a rider and much more.
The Estoril Round was the first time that Bayliss was running in the lead group when tricky conditions in Race 2 provided some incredible racing in the WorldSSP field. Bayliss went on to finish sixth, his first result inside the top ten, as the highest-placed Ducati rider and the only one to score points after others on the Ducati Panigale V2 ran into trouble. The race was held in difficult conditions with rain falling but not wetting the track to force a change to Pirelli's intermediate or rain tyres, and it was experience Bayliss had from his days competing in Australia which he used to his advantage.
Explaining Race 2 at the Circuito Estoril, Bayliss said: "Seeing the raindrops, there's a couple of racetracks in Australia where that exact situation would happen a lot where it's kind of sprinkling but the track's not wet but it kind of plays with your head a little bit. After a couple of laps, a bit of rain going on the visor, the track didn't lose any grip itself and we kept pushing a long.
"I got a pretty good start and the lead group was I think six seconds or four seconds ahead, and I think it was out of Turn 7 where each lap I was marking where they were, and I realised I was catching them a little bit. If we can push for a good result, then that's what we're obviously going to do. I realised I'm catching them, so I put my head down. We ended up there and as soon as I got there, I thought I could calm down a little bit, but everyone started divebombing everyone. It definitely put the heart rate up a little bit, just because it's the first time I've had four guys going up my inside in one turn! It's good and I know what I need to work on for the next round and the team knows what they need to work on for the next race."
Race 2 marked the first time Bayliss fought with the lead group, which at one point stretched to 11 riders, with the Australian rookie finishing just a second away from his first WorldSSP podium. It meant Bayliss was able to get a feel for challenging for the podium on the world stage as well as see where other riders were able to find some time over him; giving the 18-year-old more things to work on as the season progresses.
Discussing this, he said: "It felt great and it honestly felt normal once I got up there. Hopefully we can keep on doing that. It was a good battle we had with, I think, seven riders or so. There was a lot of passing going on. It was a good place to be. It definitely helped me learn new things of where I can improve and where I feel I'm a little bit stronger than the other guys. Everyone's got their strong points. Everyone uses them to their advantage. I think, for me, I just struggled to open the gas at the same point. I think I have to wait a little bit longer and I'm struggling with the grip on the first initial twist of the throttle."
Despite scoring strong points finishes in his rookie season, Bayliss has had to battle his way up the field throughout races after starting in the middle of the pack. With Tissot Superpole Results of 26th, 19th and 17th, the results are heading in the right direction for the Australian as he looks to become a regular top-ten contender and he was able to explain why the Superpole sessions, the third session for WorldSSP riders, tend to be a bit more challenging and how knowing the track at Misano from a preseason test may help him and the team next time out.
Bayliss said: "Basically, it's just every track we go to, it's a new circuit for us. On Friday, we get two sessions and then our third session at that track is Superpole. We try not to rush the free practices too much because we really cannot afford to have a crash or a bike drama in those free practices. We just really use free practices to learn the track, try to get a comfortable feeling on the bike and then when it comes to Superpole, it's really the first time we start to push. Every weekend, I get a better feeling with the bike and I'm starting to learn the tracks a little bit quicker so hopefully we can keep doing that.
"We've got a good setting there. We didn't do a bad time at the test for our first time there. I'm sure when we go to Misano next weekend, we've got the setting, I know the track so hopefully we can get up to speed pretty kick and be a bit closer to the front at least, because I'm making it difficult for myself starting from pretty far back. We're making it work, but it'll be better to start a bit closer up to the front."
Follow the 2022 WorldSSP season LIVE and UNINTERRUPTED using the WorldSBK VideoPass!