Bayliss: "Every track we go to, I'm always learning… I made a bit of a step with the bike in Assen"
Thursday, 5 May 2022 12:10 GMT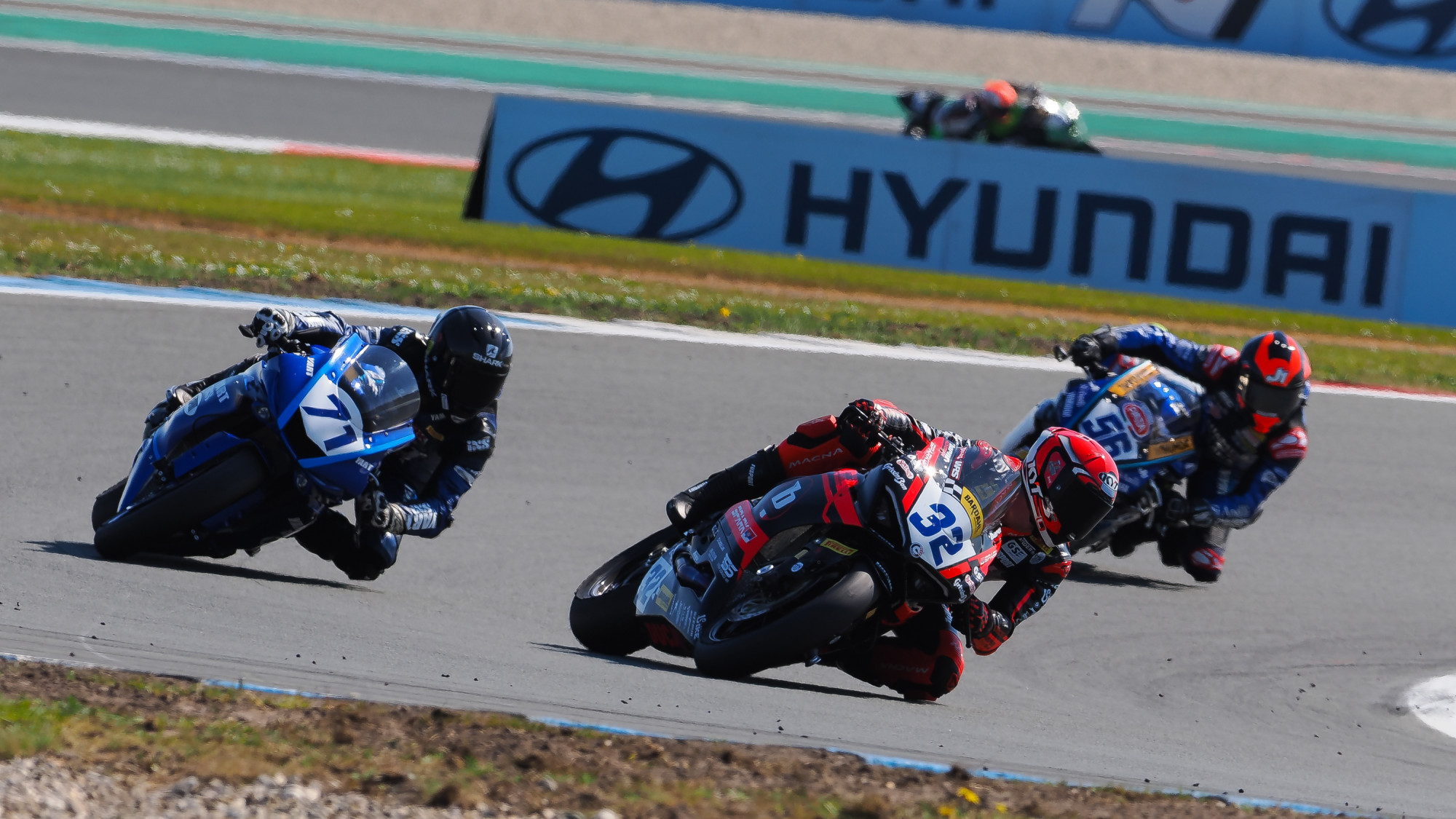 The 18-year-old made his WorldSSP race debut at Aragon and scored his first points at Assen in his second round on the world stage
The FIM Supersport World Championship entered a new era when the 2022 season got underway at MotorLand Aragon in April, with a host of new names, new teams and manufacturers returning to the Championship. One rookie making his full-time campaign debut this season is Oli Bayliss (BARNI Spark Racing Team) on the new-for-2022 Ducati Panigale V2.
18-year-old Bayliss made his first appearance on the Panigale V2 in WorldSSP trim at a preseason test at Portimao, although he only completed a handful of laps before a crash resulted in a fractured ankle. After that, he returned to the track at Misano before further tests in Barcelona and at Aragon. Racing started at MotorLand Aragon with Bayliss finishing in 21st and 19th place, before he scored his first points of the season at the Dutch Round.
Evaluating his start to the season, Bayliss said: "So far, we've had a good first two rounds of the World Supersport Championship. We've been chipping away. Every track we've been to this year has been a new circuit. Me and the Barni team are really starting to work well together. Every session we ride the bike, we feel more comfortable on it. Hopefully when we go to Estoril in two weeks' time, we can have another good weekend like Assen."
With two rounds of the 2022 WorldSSP season completed, Bayliss has seven points to his name with all of them coming at the iconic TT Circuit Assen; his first time at the 'Cathedral of Speed'. It marked an improvement from his Aragon Round results, where he was outside of the points, to finish in 14th and 11th in Race 1 and Race 2 respectively; Bayliss narrowly missed out on his first top ten finish after being overtaken by Bahattin Sofuoglu (MV Agusta Reparto Corse) on the final lap in Race 2.
Explaining the step forward in terms of results, Bayliss said: "I made a bit of a step with the feeling of the bike in Assen. It's a new bike and also, it's a new track so it's difficult for me to maintain because every track we go to, I'm always learning. I had a really good feeling on the bike from my first rollout on it at this track. We were just learning the track every time we went out. I was lucky enough that I had a good bike setup underneath me. I was feeling pretty good as well. It would've been good to get the top ten, but it doesn't really matter because we were scoring our first points and I think that's probably what our goal is and most of the races this year."
2022 marks Bayliss' first full campaign on the world stage, although he did compete in part of the 2020 Australian Round as a wildcard, meaning he has a new bike to learn alongside new tracks as he adapts to life in WorldSSP. After competing in his native Australia, Bayliss has had to adapt to new surroundings on his new adventure, which includes a new team for the Australian and the Panigale V2 which is new for everyone on the grid.
Explaining how he is adapting to WorldSSP, Bayliss said: "I'm making sure I'm doing a load of gym and bicycle training outside of the track. The fitter I am going into every round, the easier it makes it. If you're mentally fit and physically fit, it really helps be able to find some issues with the bike and it helps you learn a lot quicker. It's a big thing we're doing and we're going to keep staying fit, keep doing what we've been doing. No expectations from the team, and no expectations from anybody around me, just go out there and learn. We're going to take this year as a big learning year."
Oli Bayliss is the son of three-time WorldSBK Champion Troy Bayliss with his father present for Oli's start to the 2022 season so far, providing support for his son. Discussing how Troy is able to support him, Oli said: "The best thing about having him at the track is that he knows a lot of the tracks and has experience so when there is a spot that I need to improve he picks it up pretty quickly and can help me."
Watch Bayliss' rookie season unfold throughout 2022 in style using the WorldSBK VideoPass!