BAUTISTA'S CHAMPIONSHIP IN NUMBERS: the stats behind the success of #TheReturn
Tuesday, 15 November 2022 11:34 GMT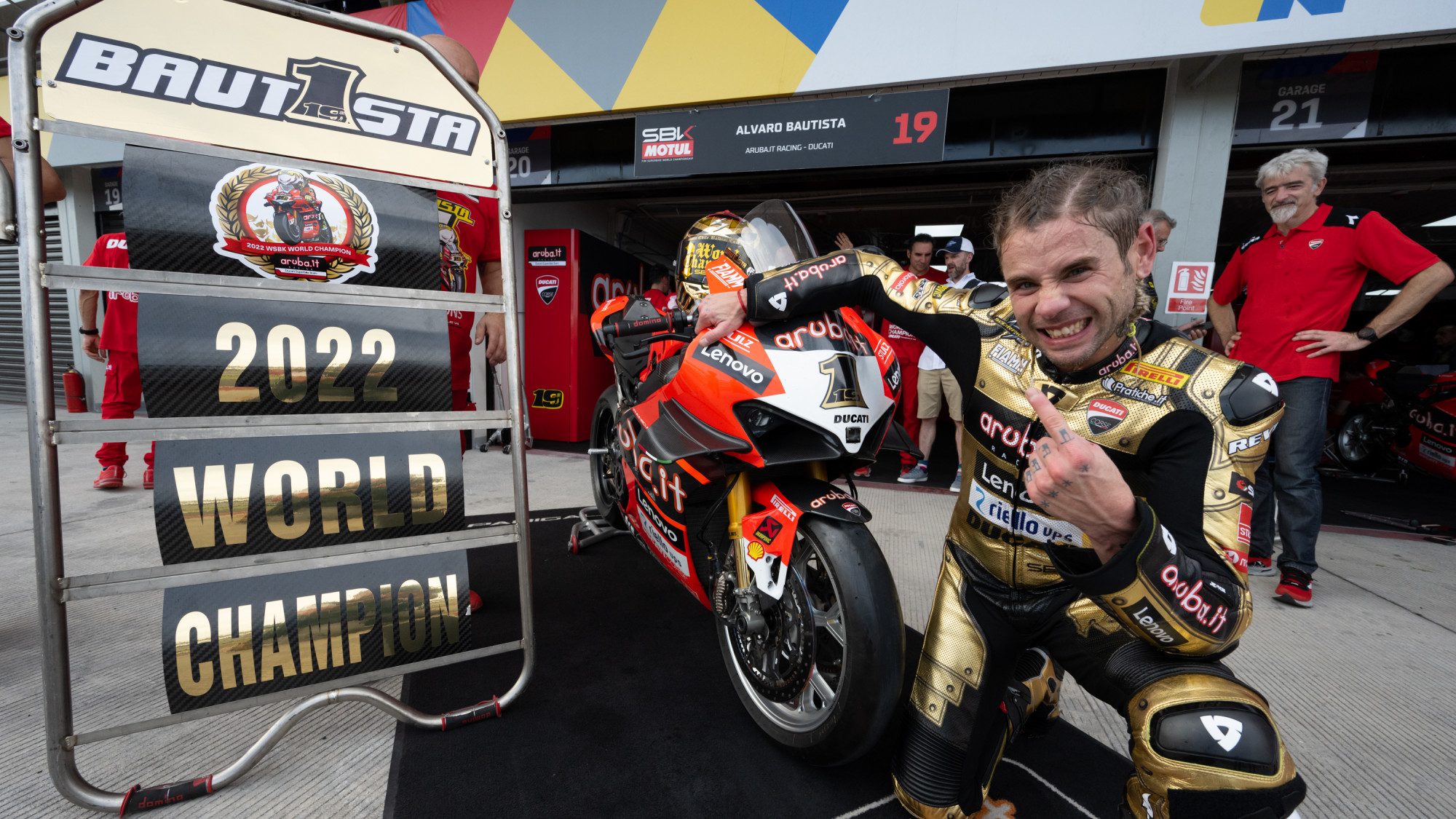 A winner from Round 1, the Championship leader from Round 2 and making history on the road to the title, Alvaro Bautista really has raised the bar in #TheReturn
The dust may have settled but the party celebrations will surely continue to Australia for Ducati and Alvaro Bautista (Aruba.it Racing – Ducati), as the Spaniard stormed to success in 2022 to end Ducati's 11-year wait for a World Champion in the MOTUL FIM Superbike World Championship. However, behind every Champions' trophy-lifting moment and title-clinching celebration, there're records, achievements, milestones and history all made, and Bautista's case is no different. We've sat down, combed through all of his hair-raising moments to reveal the stats behind his success in 2022. For something slightly more alternative, you can check out the 10 facts you probably didn't know about Bautista here.
1000 – At Most in Race 1, Alvaro Bautista wrapped up Ducati's 1000th podium place in WorldSBK, taking his first win at the Autodrom Most.
1000 – With his Race 2 win in Argentina in October, Bautista surpassed the 1000 points mark for his time at Ducati, becoming the 11th rider to score a minimum of 1000 points for the manufacturer.
216 – Bautista has led 216 laps in 2022, but it's not the most. Toprak Razgatlioglu (Pata Yamaha with Brixx WorldSBK) has led 225.
553 – Bautista's points tally is 553; 47 more and he'll become the first Ducati rider in WorldSBK history to hit the 600 mark. The all-time World Championship record is 663 by Jonathan Rea (Kawasaki Racing Team WorldSBK), already unreachable in 2022 for Bautista. However, he's just 11 points behind Toprak Razgatlioglu's (Pata Yamaha with Brixx WorldSBK) 2021 tally.
130 – In his 130th WorldSBK race start, Bautista took his first crown. Six other riders achieved their first title after their 100th start, with Jonathan Rea having to wait the longest, clinching the 2015 crown in his 161st start.
53 – Surpassing Pierfrancesco Chili's 43 Ducati podiums in Barcelona's Superpole Race, Bautista has 53 Ducati rostrums, placing him sixth overall in the manufacturer's all-time ranking.
30 – With 30 wins so far in WorldSBK, of which 14 have come in 2022, Bautista is now just one shy of Colin Edwards' 31.
30 – All of Bautista's 30 wins have come for Ducati, the third rider to achieve that many for the Bologna manufacturer after Carl Fogarty on 55 and Troy Bayliss on 52. He's two ahead of Ducati's 2022 rider coach and triple runner-up Chaz Davies.
29 – Bautista needs just one podium to become the second rider in history with at least 30 in a season. He has 29 now: Jonathan Rea took 34 in 2019 and 30 in 2021. 29 podiums in a season is already a record for a Ducati rider.
19 – The #19 becomes the 19th different WorldSBK Champion.
18 – For the 18th time in history, the World Champion didn't win the season opener. This year Bautista took his first season win at the second race, the Superpole Race at Aragon. It is the fifth consecutive year this has happened, with season openers being won by: Marco Melandri in 2018, Alvaro Bautista in 2019, Toprak Razgatlioglu in 2020, Jonathan Rea in 2021 and 2022.
16 – The wait between Bautista's two World Championship is 16 years: this is the longest wait between a first and second World Championship in the history of FIM Solo Road Racing World Championships. His title in 2006 was in the 125cc World Championship.
11/2 – Bautista ends Ducati's 11 year wait for a Champion in WorldSBK, the first since Carlos Checa in 2011. He thus becomes just the second Spaniard to win a WorldSBK title
9 – Bautista is the ninth rider to win a Championship for Ducati, giving them a 15th Riders' title.
5 – Bautista becomes the fifth rider to achieve the WorldSBK title with one pole or less; the last time someone clinched the title with just one pole was Max Biaggi in 2012. Astonishingly, three WorldSBK Champions have taken the title without poles: Fred Merkel in 1988, Carl Fogarty in 1998 and James Toseland in 2004.
3 – Bautista taking the title for Ducati and for Spain is the third different rider for a third different manufacturer and country in as many years. In 2020, the UK's Jonathan Rea won for Kawasaki, whilst 2021 saw Razgatlioglu win for Yamaha and Turkey.
2 – He is just the second rider to win the WorldSBK crown with the #19, after Ben Spies in 2009.
1 – For the first time in history, Ducati won both the WorldSBK Championship and the MotoGP™ Championship, courtesy of Alvaro Bautista and Francesco Bagnaia.
1 – Bautista is also the first rider to win a lightweight (125cc or Moto3™) World Championship in the MotoGP™ paddock and then a WorldSBK title. The only other Champions to have taken titles in both paddocks are John Kocinski (1990 250cc World Champion) and Max Biaggi (1994 – 1997 250cc World Champion).
0.126 – So far in 2022, Bautista's smallest winning margin has been 0.126s, when he beat Toprak Razgatlioglu at Estoril in Race 1, only leading the final lap across the line.
Watch the last round of 2022 FREE when you purchase the 2023 WorldSBK VideoPass, here!