BASSANI REVEALS ALL: from skiing to racing and being inspired by Rossi - meet WorldSBK's latest star
Friday, 23 September 2022 07:17 GMT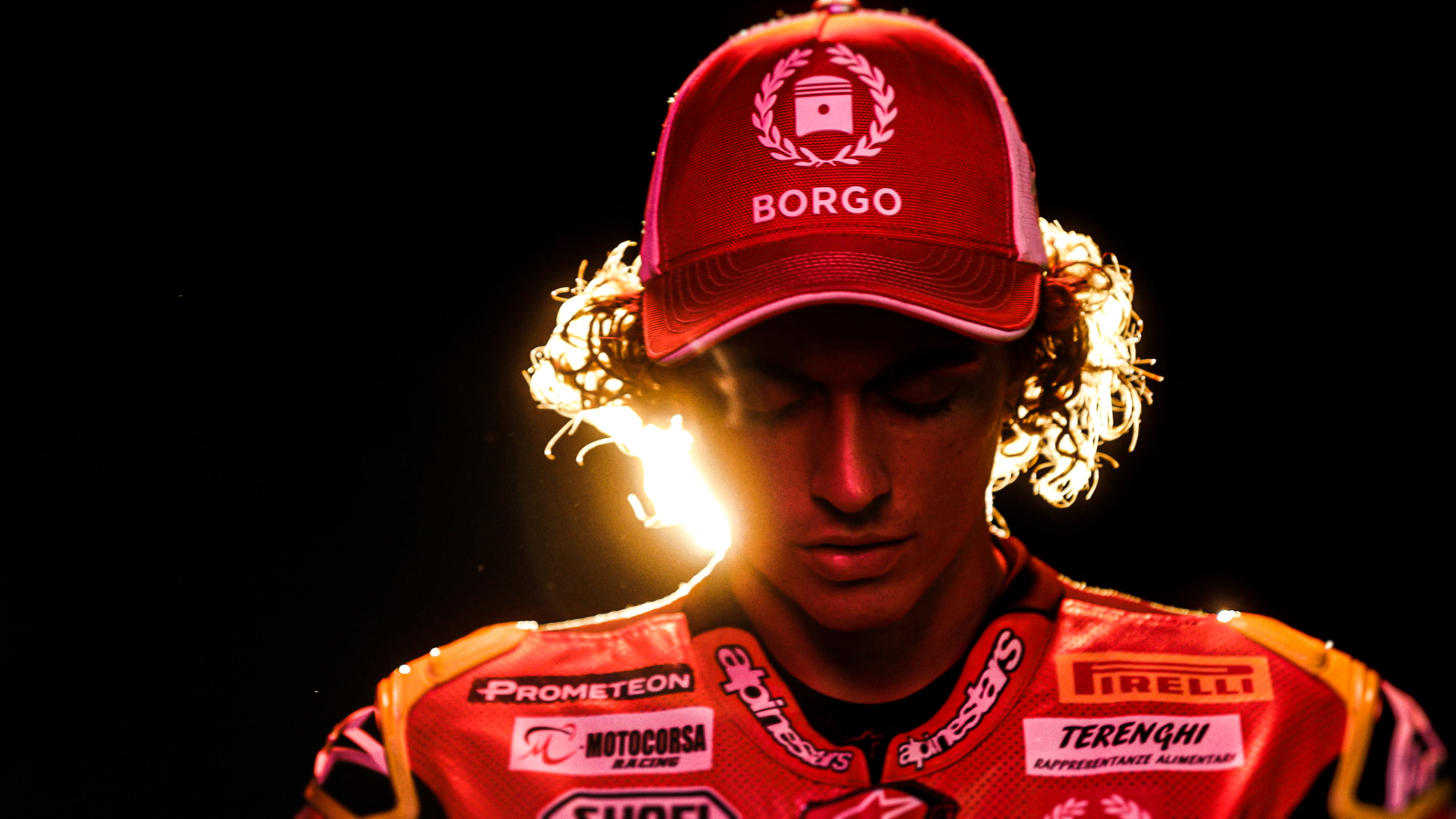 After two podiums at Magny-Cours, Axel Bassani sat down to discuss his future, how his passion for motorcycles came about and scoring WorldSBK podiums and fighting for victories
As the MOTUL FIM Superbike World Championship descends on the Circuit de Barcelona-Catalunya for the 2022 Catalunya Round, Axel Bassani (Motocorsa Racing) discussed several topics, ranging from who he is, his future, missing out on a factory seat for 2023, his hero when growing up watching motorcycle racing as well as his future ambitions. The 23-year-old enters the Catalunya Round on the back of two podiums last time out at the Circuit de Nevers Magny-Cours, his second and third in WorldSBK but his first of the 2022 campaign.
FROM WATCHING HIS HERO TO AIMING TO BE ONE: high ambitions for Bassani
Born in Feltre, northern Italy, Bassani's career took him to motorbike racing via the ski slopes on the account of his preference for warmer conditions. Answering the question of "who is Axel Bassani?", the young Italian discussed watching Valentino Rossi when growing up, being a "normal" guy as well as his ambitions to, one day, be someone that young riders are able to look up to.
Bassani said: "Axel Bassani is a normal guy, like all the guys in the world, but I have a strong passion for motorbikes. I started from skiing, but I like hotter conditions, so I prefer to do motorbikes. I think it was the right decision. My passion for motorbikes started from TV, watching Valentino Rossi, so thank you to Valentino. My hero in the past was Valentino. Now I don't really have a hero. I hope to become a hero in the next years. I'm a normal rider; I want to finish every race and I try to not make mistakes. That's it; I'm a normal rider and I only want to win."
WANTING A FACTORY SEAT: "Now is not the moment… we will see for 2024"
Bassani's future for the 2023 WorldSBK campaign is yet to be confirmed but, regardless of which team he riders for, he will not be in a factory seat. The last one to be announced was Michael Ruben Rinaldi (Aruba.it Racing – Ducati) remaining in place, with Bassani hoping to know his future in the "next weeks" as he looks to continue building on two stellar WorldSBK seasons so far. He also discussed his relationship with Rinaldi after his compatriot was announced at Ducati for 2023.
Talking about his future, Bassani said: "I don't know! For next year, we will speak with the team and we will see. At the moment, I don't know, but I hope in the next weeks I hope to know what I can do next year. I want to have a factory seat but now is not the moment. We will see for 2024 whether I take a factory bike and try to compete for the World Championship. We [Bassani and Rinaldi] are not friends because my friends are at my home. We are competitors. We have the respect to compete well on track, but out of the track I have my life and he has his life. It's normal, no problem."
SUMMING UP 2022: a bad start turns into a superb season
Bassani's 2022 started with a 16th place finish in Race 1 at MotorLand Aragon, but he responded in style to take sixth in Race 2, and the Race 1 result remains his only finish outside the points in full-length races. In recent rounds, he scored three top-five finishes at the Autodrom Most before two third-place finishes in France to add to his podium tally, whilst also taking his best results of the 2022 season so far.
Summing up his 2022 season, Bassani said: "I think My 2022 season has been a really good season. We started in a difficult way but in the last races, we started to finish in really good positions. At Magny-Cours, we had two podiums. My best moment was the last round at Magny-Cours, and the bad moment was the first race at Aragon. I finished out of the points, in 16th, and it was a really s**t way to start the season. We changed the direction and in Race 2 we finished sixth, so it was OK."
GOALS FOR THIS SEASON: aiming for consistent podium finishes
After taking his first rostrum visits of 2022 last time out, Bassani's hunger for podiums remains as strong as ever as he outlined his aims for the rest of this season. Acknowledging that the top three guys are hard to beat in races, he also had a secondary ambition to finish just behind them and maximise his results throughout the final five rounds of 2022.
Opening up on his goals, Bassani said: "For the next races, I want to finish every race in the top three if it's possible, like Magny-Cours. It's difficult but not impossible. We are here for this. We try to make that goal. I think it's possible to finish in the top five at the end of the season. We are really near. I want to finish ahead of all the normal guys, and behind the top three guys. I think it's possible. For the future, I don't know; I want to continue on this path and next year I hope to compete with the top three guys, and to finish in the top three. The next races are all good for me. I like all the tracks. I don't know Australia because I've never been there; we will see but I think we can have good races."
Watch the 2022 WorldSBK campaign unfold in style using the WorldSBK VideoPass!