ASTONISHING AEGERTER: the double WorldSSP Champion's stunning 2022 season in numbers
Monday, 14 November 2022 09:40 GMT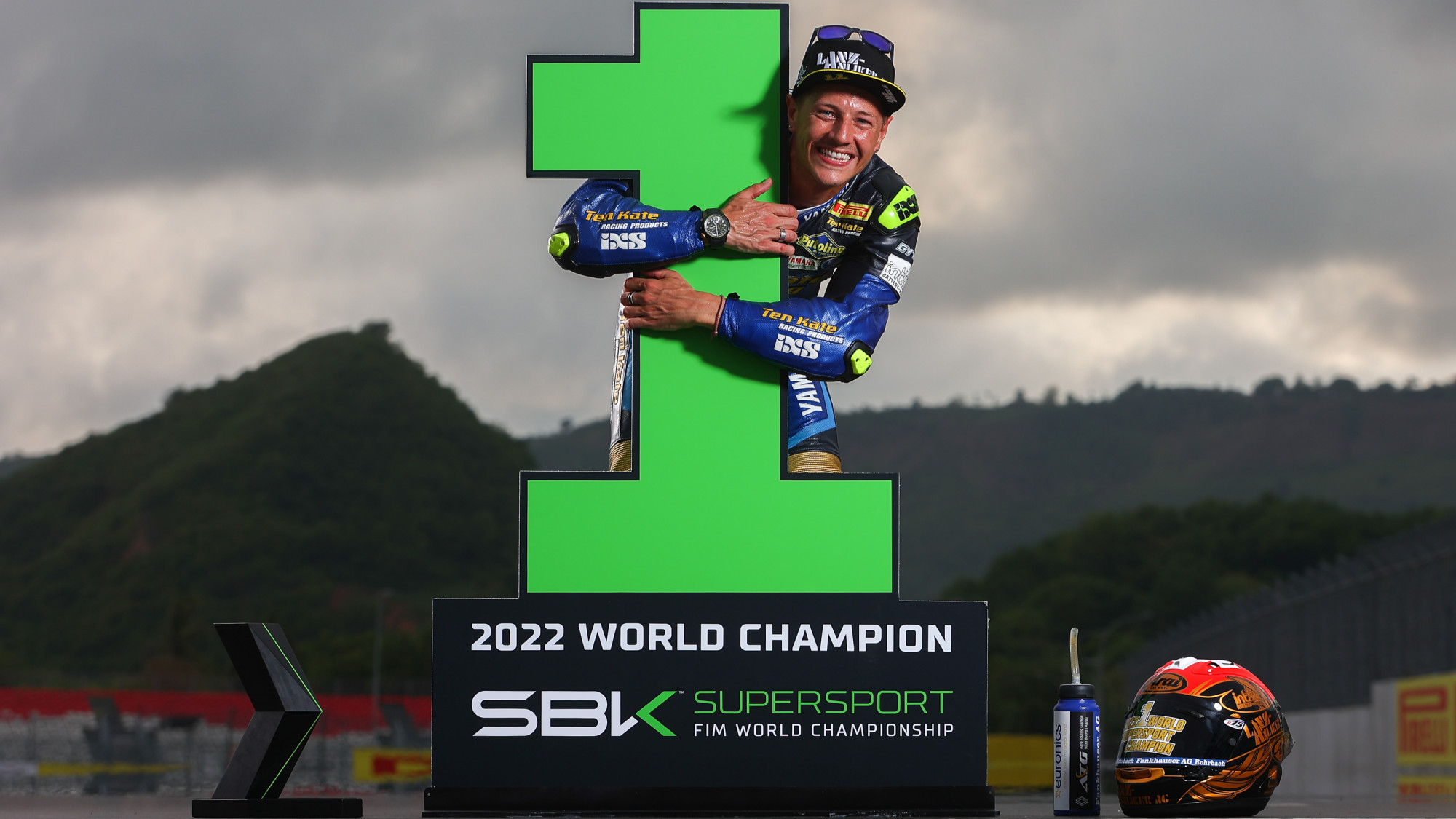 From lights out and tension at Aragon to the chequered flag and celebration at Mandalika, Dominique Aegerter has been the cream of the field this year in World Supersport
The 2022 FIM Supersport World Championship has been wrapped up and one rider looked like he had one hand on it from the start. Coming into 2022 as the reigning World Champion, Dominique Aegerter (Ten Kate Racing Yamaha) lived up to the hype and created more history throughout the year, as he demolished the opposition to wrap the title up with three races to spare. The Swiss rider has been unstoppable in his quest for back-to-back titles, and he's set new records and hit big numbers along the way.
879 – In just two seasons of action, Dominique Aegerter has 879 points and could end his two years in WorldSSP with more than 900. Obviously, this is helped by having two races a weekend, whilst many of those ahead of him and behind him in the points rankings had to do it with one race a weekend. The most points scored however is Kenan Sofuoglu on 2049 and the most by an active rider is 1759 by Jules Cluzel (GMT94 Yamaha), who is second. Aegerter sits sixth and could get to fifth mathematically in Australia.
462 – 462 points in a single season is a new record for Aegerter in 2022, and with a maximum of 50 available in Australia, he has the opportunity to become the first WorldSSP rider ever with 500 points or more come the end of the season.
209 – Aegerter has led 209 laps in WorldSSP, of which 84 have been this season. On the contrary, in 2022, Lorenzo Baldassarri (Evan Bros. WorldSSP Yamaha Team) has led 94, but won only four races.
50 – In Race 2 at Mandalika, Aegerter took a first win at the circuit (making it the 13th circuit he's won on), meaning it was the 50th podium for Switzerland in the class.
34 – 34 podiums for Aegerter in WorldSSP across his two seasons, placing him fourth overall in the all-time podium rankings.
26 – 26 wins in his WorldSSP career means Aegerter is the second most-successful World Supersport rider, with only five-time World Champion Kenan Sofuoglu on more (43).
16 – So far in WorldSSP in 2022, of the 22 races held, Dominique Aegerter has won 16 of them, a new record for number of wins in a WorldSSP season.
11/10 – Aegerter's title is another for Ten Kate Racing Yamaha, their 11th World Championship and their tenth in World Supersport alone. The other WorldSSP titles are: 2002 with Fabien Foret, 2003 with Chris Vermeulen, 2004 with Karl Muggeridge, 2005 and 2006 with Sebastien Charpentier, 2007 and 2010 with Sofuoglu, 2008 with Andrew Pitt, 2014 with Michael van der Mark and 2021 with Aegerter. James Toseland gave them the WorldSBK title in 2007 too.
9 – From Race 2 at Aragon to Race 2 at Donington Park, Aegerter equalled Andrea Locatelli's record for consecutive wins in a season, with nine.
3 – Aegerter becomes just the third rider in WorldSSP history to win back-to-back titles, joining Charpentier (2005 and 2006) and Sofuoglu (2015 and 2016). He's the first rider to win back-to-back WorldSSP titles with Yamaha.
3 – It's also a third title in four years for Switzerland, after Randy Krummenacher took the 2019 title.
0.006s – Despite Aegerter's domination, he did beat title rival Lorenzo Baldassarri in Race 1 at Misano by 0.006s, the joint-closest finishing margin. However, Baldassarri crossed the line first but was given a time penalty for exceeding track limits, which placed him 0.006s behind.
Watch the last round of 2022 FREE when you purchase the 2023 WorldSBK VideoPass, here!