#1000DucatiPodiums: Bayliss on Ducati's 'great' milestone, recalls favourite win and podium
Wednesday, 3 August 2022 06:45 GMT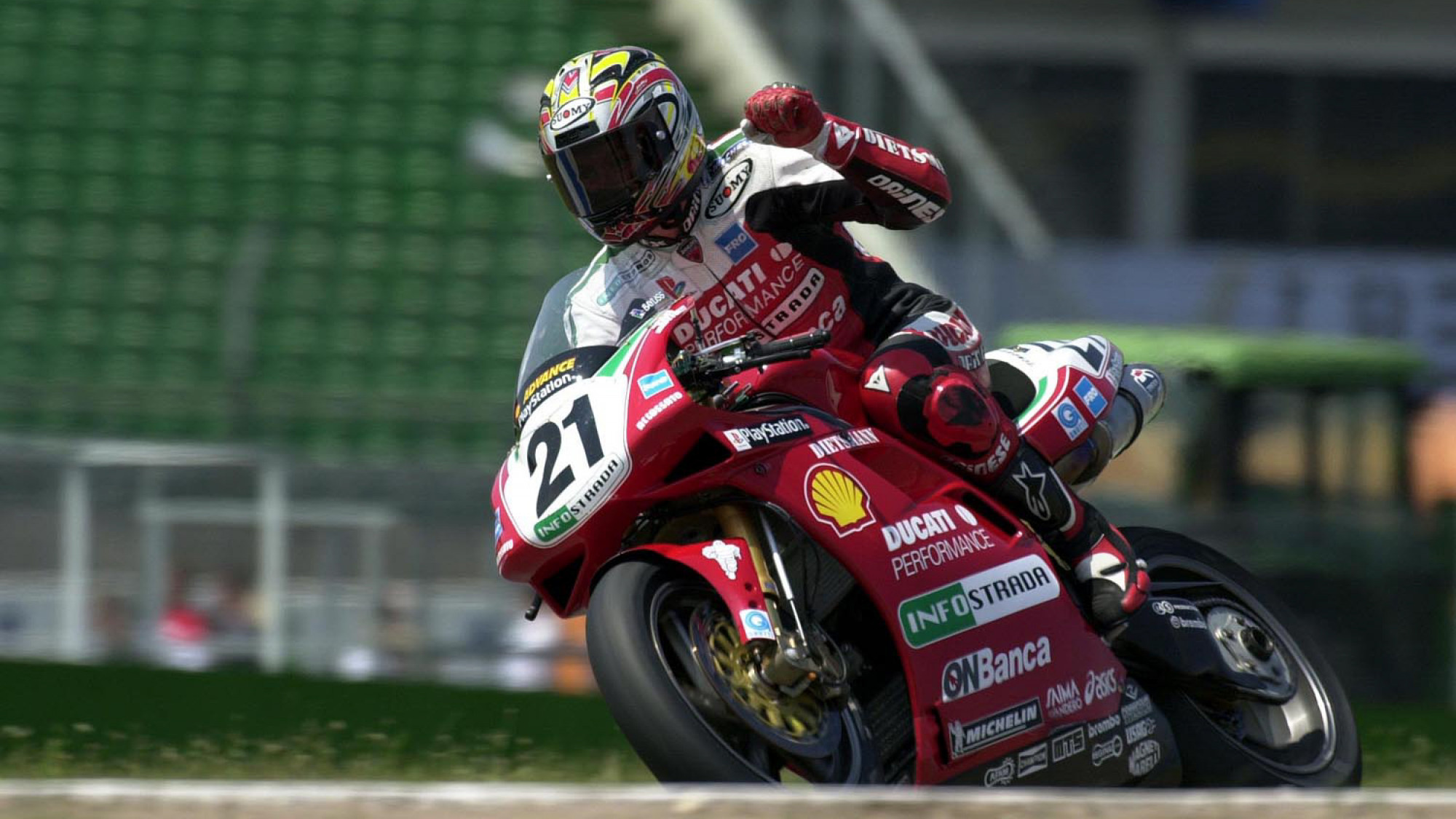 Three-time Champion Troy Bayliss takes a trip down memory lane as he looks back on some of his favourite Ducati moments after their 1000th podium
A huge milestone was reached during the Prosecco DOC Czech Round as Ducati became the first manufacturer in the history of the MOTUL FIM Superbike World Championship to claim 1000 podium placements following Alvaro Bautista's (Aruba.it Racing – Ducati) Race 1 victory at the Autodrom Most. Following that incredible achievement, Ducati legends have been reacting and, after Carl Fogarty's reaction, it is time for three-time Troy Bayliss to give his thoughts on the historic achievement.
Bayliss' first WorldSBK race with Ducati came in 1998 before he joined the Championship full-time in 2000, for three seasons. Three full seasons in MotoGP™ followed, including two with Ducati, before a return to WorldSBK in 2006. In total, Bayliss scored 94 podiums for Ducati, which included 52 wins, and took three World Championships with the Italian manufacturer in 2001, 2006 and 2008.
Giving his instant reaction to Ducati's milestone podium, Bayliss said: "1000 podiums, that's a big number. If I made 94 podiums, that's a nice little percentage. I feel very appreciative and special to be part of all this. It's great for the brand and great for everybody involved with Ducati."
Bayliss' first podium with Ducati, and in WorldSBK, came in Race 1 at Hockenheim in 2000 when he fended off Kawasaki's Akira Yanagawa, Yamaha's Noriyuki Haga and Honda's Colin Edwards. After 14 laps of racing at the famous German circuit, the top four were separated by just 0.799s at the line with just two tenths separating Bayliss and Yanagawa in first and second.
Reminiscing about his Ducati memories, Bayliss said: "When you have 94 podiums, there's a lot to remember! Of course, you remember things like your first podium. For me, that was in Hockenheim so that was special. You want to take a podium anywhere you can get a podium, but for me I really liked to get podiums in Australia, in Italy and the UK. For some reason, I liked to do it like this. Hockenheim was my first time there and it was my first podium and first win. It's hard not to remember that. One that stands out a lot to me was 2007. It was a difficult year for us, and James Toseland was really on form. I had to fight my way back and had a very close finish with James, in Assen, so that one really sticks out in my mind, 100%, as it does for a lot of people!"
That podium at Assen, in Race 2, came against eventual Champion James Toseland, racing for Honda, with the pair battling it out until the very last moment of the race. Bayliss ended up winning by just 0.009s; the fourth-smallest margin of victory in WorldSBK history. That famous win came on the Ducati 999, but Bayliss was able to ride several models of Ducati throughout his career on his way to three World Championships.
Discussing the bikes he rode for Ducati, Bayliss said: "I loved all those three bikes that I rode. The 998, the 999 and the 1098 were all great bikes for me. Always on the twin. Nowadays they're on the V4 R so it's a different motorbike but still a Ducati. To ride a twin, that was my era and it was very special. Maybe the 999, for me, for some reason I just really loved that bike. I think it was because of all the work Ducati had to put into the bike to make it competitive. We always had a little bit more cc because we were riding a twin, when we raced 1000cc against a 1000cc Japanese bike, we were a little bit underpowered, so it took a little bit more work to make the bike competitive. When you look at the three different models I've ridden, I've never looked into it, but it'd be interesting to see how many podiums I got on each one."
Look out for more special features from Ducati legends this week, and congratulate Ducati using the hashtag #1000DucatiPodiums! Don't forget to enjoy the 2022 action using the WorldSBK VideoPass!