HOT HEADLINES FROM MANDALIKA: the final fighting talk of 2021
Thursday, 25 November 2021 16:56 GMT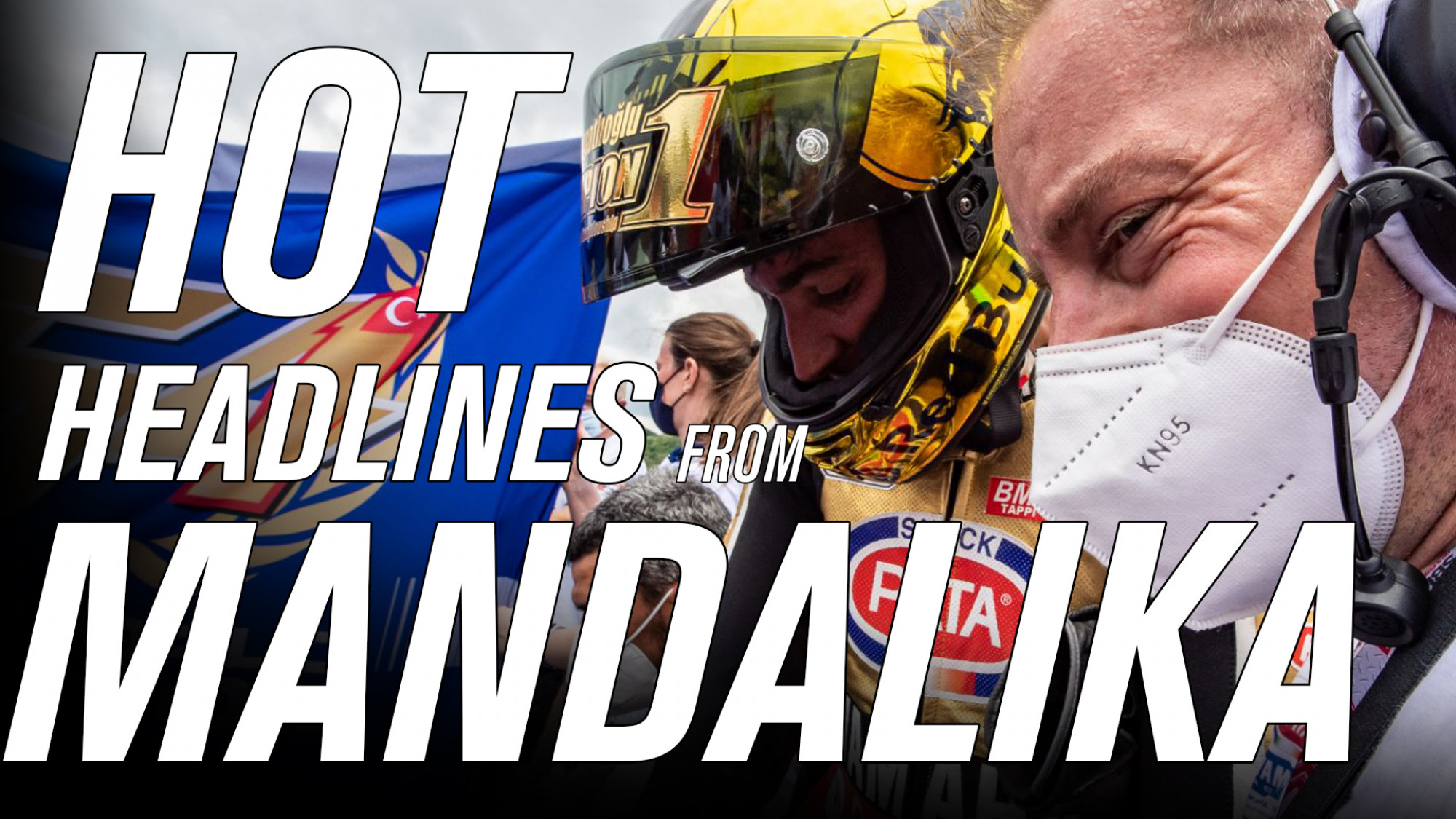 A Champion crowned, emotional reflections, big battles and bittersweet but without a symphony, there's plenty of talking points heading for the off-season
The 2021 MOTUL FIM Superbike World Championship season has finally ended after a titanic 13-round season concluded at the all-new Pertamina Mandalika International Street Circuit for the Pirelli Indonesian Round. Toprak Razgatlioglu (Pata Yamaha with Brixx WorldSBK) sealed the title in Race 1, whilst outgoing Champion Jonathan Rea (Kawasaki Racing Team WorldSBK) signed off with a perfect double. After the dust settled, we spoke with the biggest names, as ever they talked tough.
Toprak Razgatlioglu: "My father was always working for me… 'this is for you, dad'"
Speaking in his press conference at the close of 2021, Toprak Razgatlioglu spoke of his journey to World Champion: "In 2013, I was in the Red Bull Rookies Cup and in 2014 also, but we had to stop. We didn't have the money, we didn't have a way but then Kenan helped me, and we came to this paddock, and I rode a STK600 bike. In 2015, I became European Champion and then in 2018, I rode a Superbike for the first time. After this, I said, 'OK, I have one dream and it is to be World Superbike Champion' because I see Jonathan Rea as a WorldSBK legend. I'm really happy because we had an incredible fight with Jonny, and I am World Champion. My father was always working for me; he said 'one day Toprak, you will be World Champion' but it's not possible for him to see this moment… he died four years ago. It's a special day and a special season and I say, 'this is for you, dad'.
Talking about the prospects of using the #1 plate for the 2022, newly-crowned Champion Razgatlioglu said it's time to run it, received with a rapturous applause in his press conference: "I use this number because of Kenan. I look back at Yamaha, and I don't think I've seen the #1, so maybe it's time use the #1."
Jonathan Rea: "No regrets this year… I rode my maximum, with all my heart"
A gentleman in defeat, Jonathan Rea congratulated Razgatlioglu on the title and can head for winter with his head held high: "We can really say we have no regrets this year. I rode my maximum, with all my heart, every race. Very satisfied. Congratulations to Toprak and his team, they had an incredible season. They were very fast and really making me improve as a rider as well. This winter, we're really pushing Kawasaki to improve our ZX-10RR and try to come back with a stronger package for 2022. The Championship wasn't lost in Mandalika; I lost my Championship in the middle of the season with a lot of careless mistakes. I look forward to a little bit of rest now, this Championship's been very condensed in a short period of time. A lot of testing, a lot of races, and a lot of travelling. I'm excited to run the #65 next year; hopefully I only have to use it for one year!"
Scott Redding (Aruba.it Racing – Ducati): "One of the best battles I've had… I wanted to make a show!"
Speaking about his Race 2 charge in the wet conditions, Scott Redding had plenty of fun: "I said to Giovanni that I was just going to commit to the first corner, see what happens and just fight… put on a show. Normally, I'd maybe be a bit more conservative. It was overtake, overtake, overtake because I wanted to make a show. I think for Jonathan it was the same, keep battling. When I was behind, I felt faster. Then I passed him, and it was like he felt faster. It was strange. I think, because we were adapting every lap. It was great to finish on a race like this at the end of the season. Probably one of the best battles I've had, especially in rain conditions. I can't wait to watch the race back!
Michael van der Mark (BMW Motorrad WorldSBK Team): "Everything needs to be better… we want to win!"
Looking ahead to 2022, Michael van der Mark relishes working with Scott Redding and comments that BMW's package must make gains: "Scott's a fast guy, but so is Tom. Scott has the experience on the Ducati, so hopefully he can give us some inside information about what we can try at BMW. This year, I think we've shown that our results can be quite similar and now, we can take the maximum from the bike, but we really need to develop the package. Everything needs to be better because it's the only way we can win, but we're lacking a bit of power on the straights, and then it's a combination of other things with the chassis. We want to win, that's the plan."
Alvaro Bautista (Team HRC): "It has been harder than I expected… I feel like a better rider"
In what has been a difficult two years at Honda, Alvaro Bautista spoke about a variety of things at the end of 2021: "It has been harder than I expected. When I came here, I expected to be more competitive, especially after my first year in World Superbike, when I was quite fast, and I felt quite good with the bike. I found a completely new bike, so I was starting from zero; it was not easy to fight for the leading positions. For the second year, I expected a big improvement, but it didn't happen, so again, we started the season like last year. There was no big change, we worked a lot on the bike and from mid-season, we decided to not make further changes. It's been very hard but at the same time, I learnt a lot; maybe in my first year of WorldSBK, because I went fast and I was competitive, I didn't care about some details that maybe made me make mistakes in that moment. In these last two years, I know more about the smaller details and the category. I feel like a better rider, because I need to get the maximum out of everything to arrive to the absolute maximum.
Tom Sykes (BMW Motorrad WorldSBK Team): "A little bit bittersweet… no regrets"
As three years with the factory BMW outfit ended, Tom Sykes reflected on what had been a far from straightforward final year with the German manufacturer: "It's been a year of two halves and a little bit bittersweet. It is what it is; in the season, we had to try and develop and then race at the same time, which is quite a tricky task. Usually, at this level of racing, you need to focus on race setup. Unfortunately, I was caught out by some decision-making late-on in August and from there, that's obviously left it with a little bit of a sour taste. In general, you can also look at some positives. I've got no regrets in life, I've had a lot of life lessons and this year, it was another life lesson."
Get ready for 2022 and view our calendar here, whilst enjoying all the build-up to a new season of racing with the WorldSBK VideoPass!