Defending WorldSSP300 Champion Buis eyes 2021 success, long term WorldSBK future
Wednesday, 24 March 2021 08:36 GMT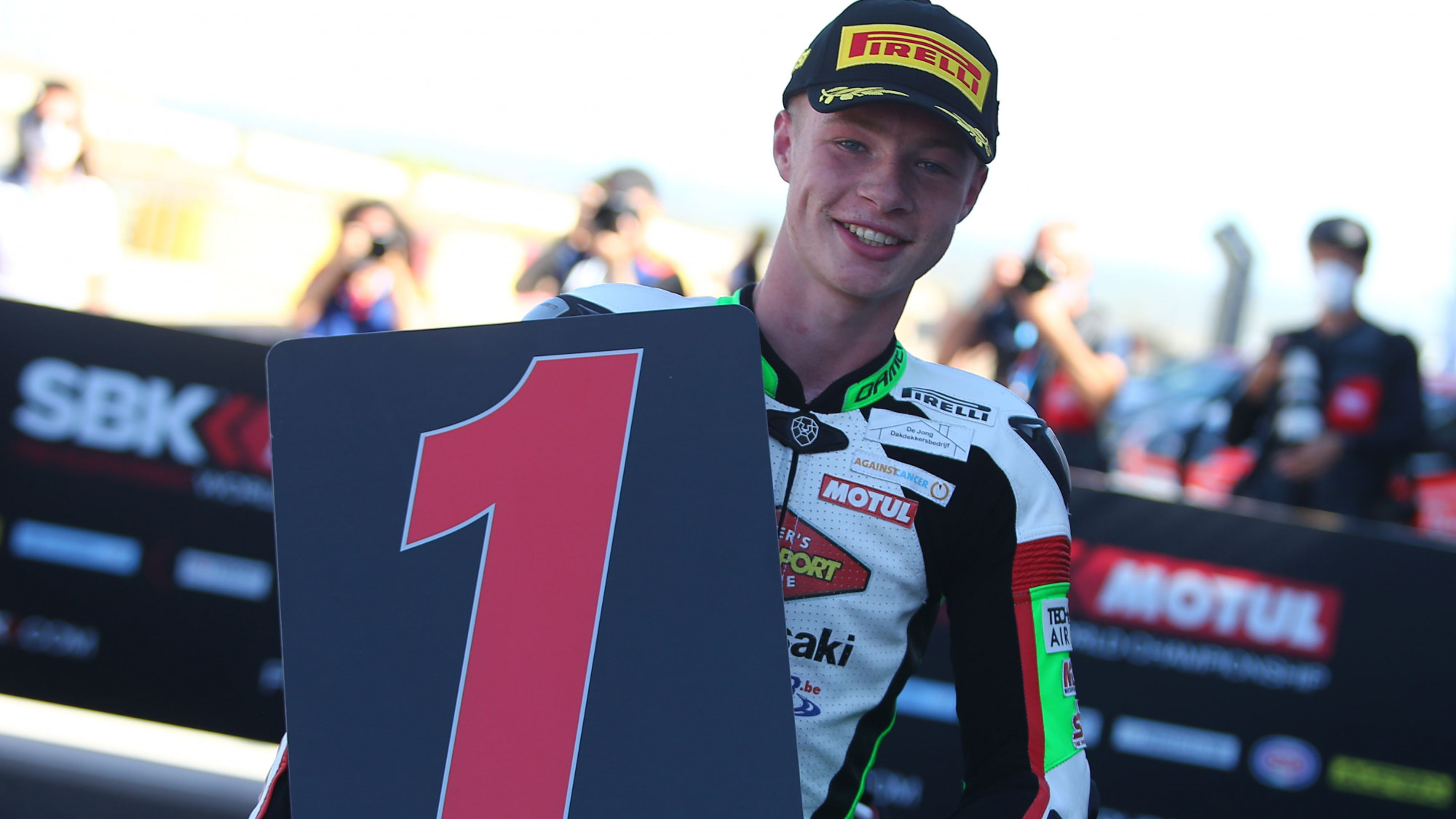 Staking his claim and setting his aims, Jeffrey Buis is looking ahead to a prosperity in the WorldSBK paddock
The 2021 FIM Supersport 300 World Championship is warming up nicely ahead of the season's start, and we caught up with the reigning Champion Jeffrey Buis (MTM Kawasaki), as he goes in search of defending his crown. The 19-year-old beat his teammate, the now retired Scott Deroue, to the title in the final round of 2020 and has his hopes on defending it in 2021. He talks about his title-winning year, his future and how he'd like to be in the WorldSBK class in the not-too-distant future.
Talking about the year ahead, Buis remained calm: "I'm not nervous because every year is a new year, but with the experience from last year, I think we can have a good strategy with a good team. I think that if we improve in every race, both from me and some little things on the bike, then we can stay competitive and that is good. The reason I stayed in WorldSSP300 was due to the fact that I can still learn more and gather experience. At the same time, I can ride the ZX-6R privately and gain some experience on that before moving up full-time to WorldSSP next year."

Talking about his first experience on the ZX-6R, Buis said: "My feelings are good with the ZX-6R Kawasaki, as my team had some experience with it a few years ago. We have some small set-ups that we can try but for me, the bike is great right now and we do have some small set-ups we can try. For me, the bike feels great; it has a lot more power but that's good. The riding lines and braking areas are different but in general, to adapt, it wasn't that hard as it is also a bike. When you have a feeling with a bike, you can ride any bike."
There was a clear turning point for Buis in 2020: "I realised last year that I could fight for the title on the podium at MotorLand Aragon in the Aragon round, after Race 2. Scott Deroue, my teammate at the time, said on the way to the podium, 'you're leading the Championship!' and I didn't realise it. However, from that moment on, I realised that it was possible for me to win the Championship."
"For me, the most difficult race was at Magny-Cours in Race 1," he continued. "It was in mixed conditions and the track was different after every lap. It started raining at the beginning of the race, then stopped raining before starting again in the last laps. You have to slow your pace in these kinds of conditions, but Scott had a great pace in that race. My strategy was just to follow Scott until the last lap, then make a pass for victory, a plan that worked out for me."
WorldSSP300 often sees leading groups of over ten riders going for victory, making it hard for Jeffrey to pinpoint one title rival: "My biggest rival is hard to say. Tom Booth-Amos I think will be one of my biggest, but there'll be plenty more and we'll see that from the first race. Koen Meuffels, my teammate, could also be someone who can challenge for the title; for him, when everything is right for him in his head, he's very fast. If he can fix that, then he will be my biggest rival. The whole team is very close to each other, so we'll work together throughout Free Practice but then it's the main fight in the race. There's a lot of new riders and it could be like me in 2020. I was nowhere one moment and the next, I was on top. I didn't expect that!"
So how will Buis stand out again in 2021, like he did in 2020? "I think the most important thing to do in order to stand out again in 2021 will be to work really well with the team," he said. "The team is very important because the bikes themselves are the same, so you need to make a difference with suspension and the set-up of the bike. We need to test a lot and we're already testing new things for the suspension as well as trying other new things to stay competitive."
Not shying away from stating his ambitions, Buis has one aim he wants to achieve: "My target is to be World Champion in World Superbike. I'm happy in the paddock and I think that this is a better paddock for me. I spoke with some other Dutch racers about my title in 2020 and they are all very proud, as it is another Championship for The Netherlands. I hope in five years that I will be in WorldSBK; that is a dream so I really hope that it can happen!"
Follow Buis in 2021 and enjoy all races from all three classes with the WorldSBK VideoPass!