Top 10… WorldSBK rivalries of all time: Part 1
Wednesday, 15 April 2020 08:26 GMT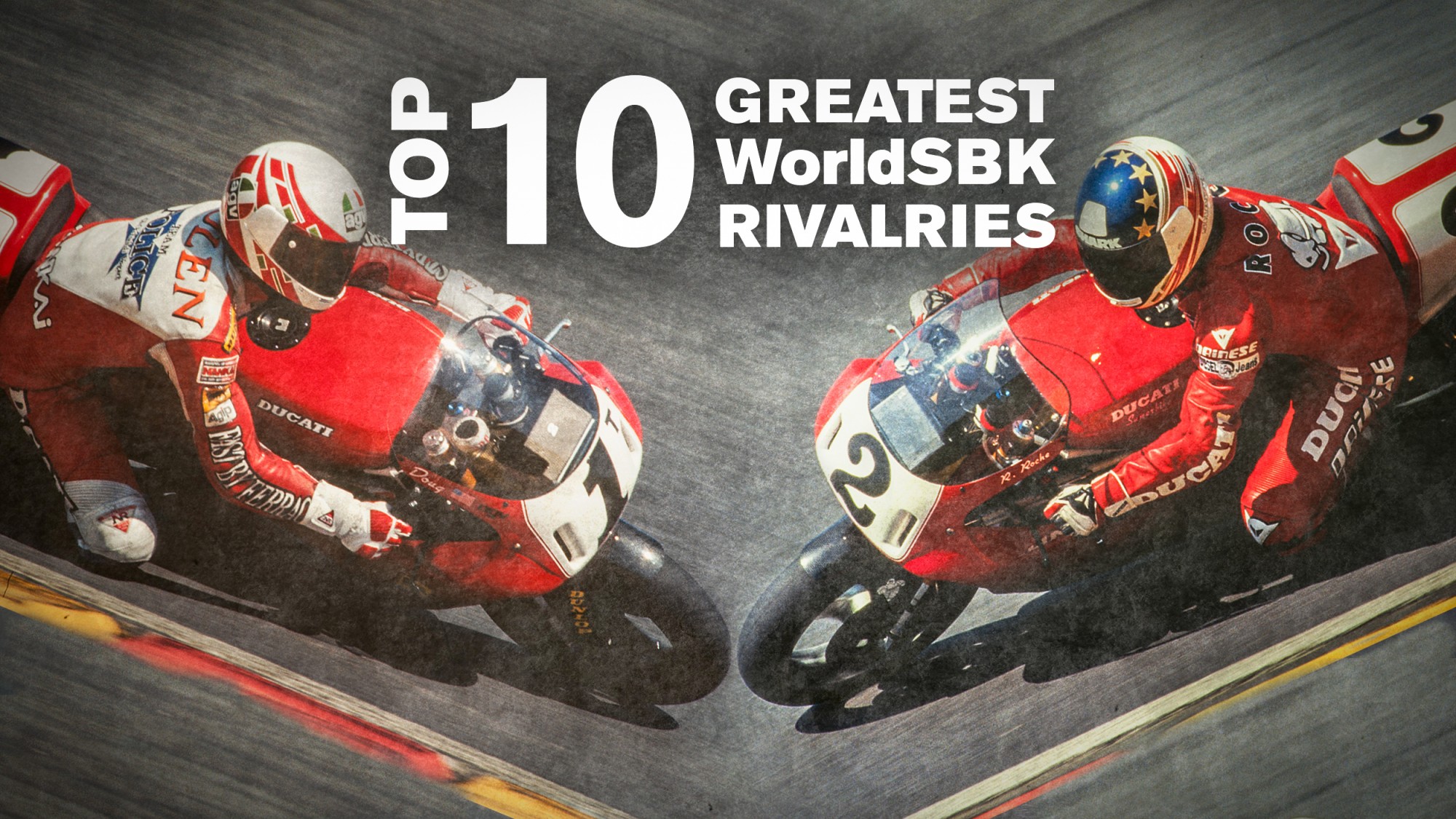 Psychological battles, on-track battles and hatred: relive some of the fiercest rivalries ever seen…
With the 2020 WorldSBK season currently enduring a pause, there's time to reflect on the Championship's rich history. Having already looked at the top 10 comebacks, it is now time to enjoy the best rivalries in the paddock's past, with everything from early 90s thrillers to current rivals and everything else. From 10 to 6, the quest to uncover the best rivalry in WorldSBK history begins.
10.) An early taster: Polen vs Roche
The first of many great rivalries, American Doug Polen and Frenchman Raymond Roche were fierce competitors and dominated from 1990 to 1992. Roche blitzed 1990 before Polen's arrival in 1991, but the American put on a stunning display, winning the Championship by an unthinkable 150-point margin. 1992 was far closer and despite a season-long battle in which Roche tried for the title once more before retirement, Polen held on. Neither won another race at World Championship level.
9.) Transatlantic friction: Fogarty vs Russell
1993 would feature clashes and controversy; after the title went to the last round, the Mexican event was cancelled mid-weekend. Scott Russell took the title without racing taking place, pipping Carl Fogarty by 29 points. 1994 couldn't have been more different; another thrilling season saw the title go to the last event and the last race at Phillip Island. Russell conceded and waved Foggy passed in Race 2; unusual circumstances saw Carl become Champion as Russell surrendered his crown.
8.) Italian passion boils over: Melandri vs Biaggi
It took just two rounds for Marco Melandri and Max Biaggi to renew their rivalry, this time in WorldSBK. Biaggi's blocking in Superpole at Donington Park in 2011 would just be the start of many bitter feuds, with this one in particularly ending with them both being fined. Melandri held off Biaggi at Aragon and Brno, but in 2012, the pair would really start dueling. A huge battle at Aragon once again occurred as collisions and off-track fallouts filled two full years of high-intensity drama.
7.) Psychological warfare: Rea vs Bautista
Hardly ever crossing lines on track, drama was still aplenty in this psychological battle. Alvaro Bautista is the only rider who's ever seriously threatened Jonathan Rea's #1 plate and the Spaniard won the first 11 races of 2019, sporting a 61-point lead over Rea at best. In a spectacular fightback, Rea still came out on top. A battle in Australia, barging in Buriram, mistakes combined with resilience and a backdrop of preseason needle; what more do you need for this modern rivalry?
6.) Friends to foe: Rea vs Sykes
This rivalry blossomed when both riders were at the same team, starting in 2015. Rea romped 2015 and rarely clashed with Sykes on track. That was all-change in 2016, when both pushed each other to the limits in Thailand. Sykes beat Rea in Race 2, with no love lost within the team. A stable 2017 preceded a deterioration in the relationship in 2018, when they clashed at Brno, leading to a war of words behind the scenes. The two are far from the best of friends, wetting the appetite for 2020.
Make sure to find out the top five on the list right here!
Watch more classic battles between some of the sport's biggest names with the WorldSBK VideoPass!