Top 10: Closest WorldSBK race finishes of all time… Part 2
Thursday, 16 July 2020 05:38 GMT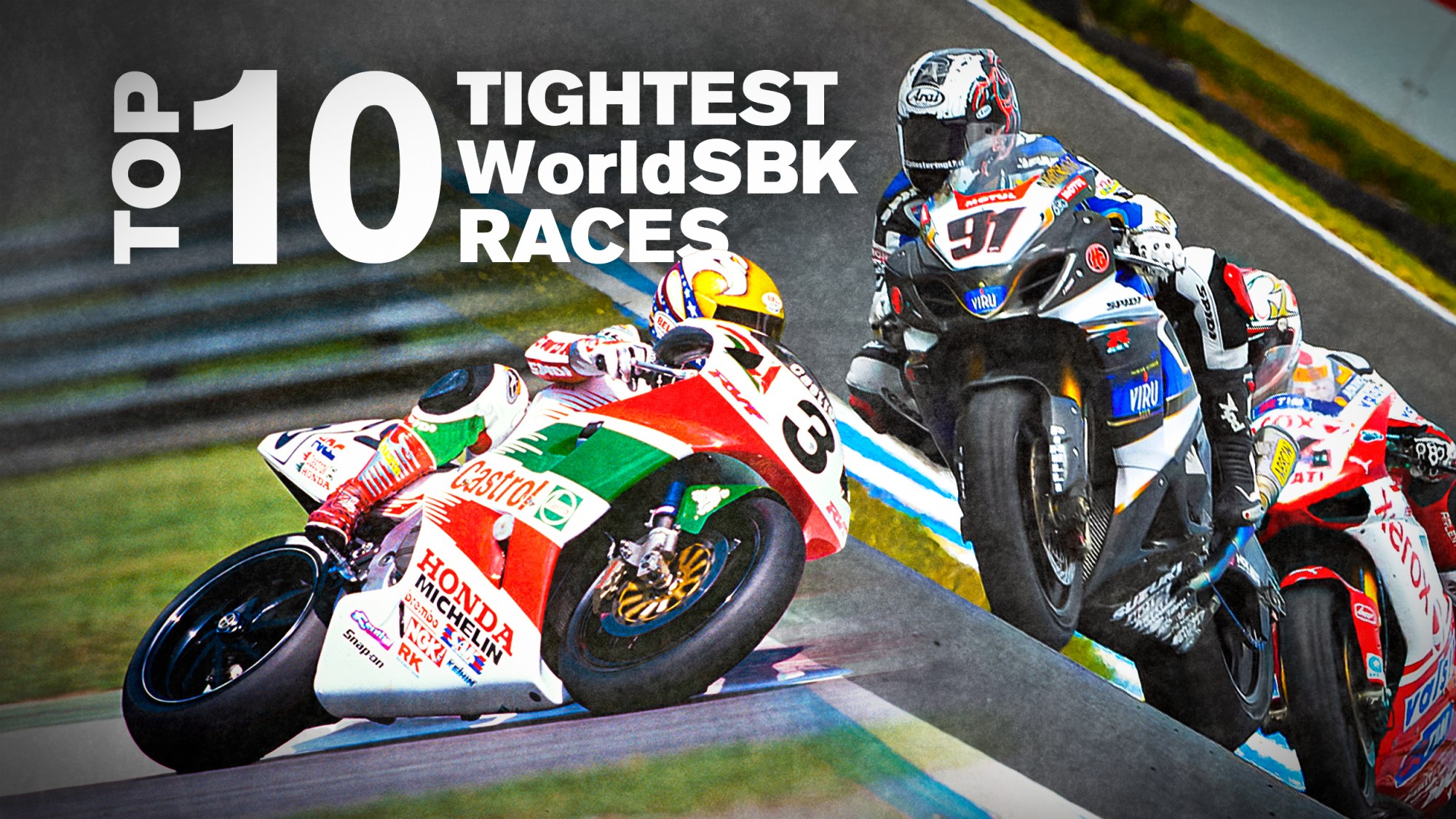 Small gaps always give close finishes and now, we countdown to find out which race is number one!
With the 2020 MOTUL FIM Superbike World Championship just over two weeks from returning to action, the action is getting closer both in terms of when it gets back underway and in terms of close finishes. It isn't unfathomable to think we could see the closest finish of all time in 2020 so sit back, relax and enjoy Part 2 of the top ten closest finishes of all time, following on from Part 1 yesterday.
5.) Another Chili comeback in Race 2: Monza Race 2, 1996 – 0.007s
Italian Pierfrancesco Chili's tradition of finishing nowhere in Race 1 and winning in Race 2 was no different at Monza in 1996. After a fourth in Race 1, he was keen home victory later on. Leading on the last lap, the Ducati star ran wide and went through the gravel at the second chicane, still upright but down to fourth. A heroic fightback saw him take the lead on the run to the line, beating Castrol Honda's Aaron Slight by just 0.007s in one of the most stunning final laps in WorldSBK history.
4.) Too close to call: Monza Race 2, 1999 – 0.005s
Another thrilling Monza duel, this time with Carl Fogarty and Colin Edwards. For 1999, the finish line had been moved much closer to the Parabolica, meaning slipstreaming to victory was highly unlikely like in years before. However, Carl Fogarty had other ideas and stormed round the final corner to be alongside Castrol Honda's Edwards across the line. The win initially went to Edwards, but a timing discrepancy reversed the decision give 'Foggy' and Ducati the win. More magical Monza moments.
3.) Corser vs Fogarty: Phillip Island Race 2, 1999 – 0.005s
The second one of three races decided by 0.005s comes from Down Under and a crazy final sector on the final lap. Troy Corser hit the front ahead of teammate Carl Fogarty at Turn 1 on the final lap and despite 'Foggy' making a mistake at Lukey Heights, it was Corser's error at the next corner which allowed Fogarty into the lead. Blasting round the final corner, Corser built into the slipstream and pipped his teammate on the line to take victory at home to the delight of the huge crowd trackside.
2.) Slipstream city: Monza Race 1, 1997 – 0.005s
The second-closest finish of all time and the closest podium of all-time, Monza's Race 1 from 1997 is a historic race for many reasons. Going into the final corner on the last lap, Carl Fogarty hit the front for Ducati, but it was Honda power from John Kocinski and Aaron Slight which saw them hit first and second respectively, amongst a sea of backmarkers. Kocinski took the win ahead of Slight and Fogarty, with all three covered by just 0.008s in a totally hectic final lap; how close do you like it?
1.) The closest finish of all-time: Phillip Island Race 1, 2010 – 0.004s
They don't come much closer, much better, much more nail-biting than the last lap of Phillip Island's season-opening race in 2010. Leon Haslam led every single lap for the Alstare Suzuki squad, but Michel Fabrizio used the power of his Xerox Ducati and slipstream his way into contention on the blast to the line. Like Monza in 1999, the timing screens initially said one name before being reversed: Fabrizio was given the win first but halfway round the cool-down lap, it was Leon Haslam who picked up his career first victory. Just 0.004s, will we see a closer finish in 2020?
Enjoy the 2020 World Superbike season in comprehensive fashion with the WorldSBK VideoPass!