Scheib targets Estoril return, replaced by Pinsach for Magny-Cours
Thursday, 24 September 2020 07:18 GMT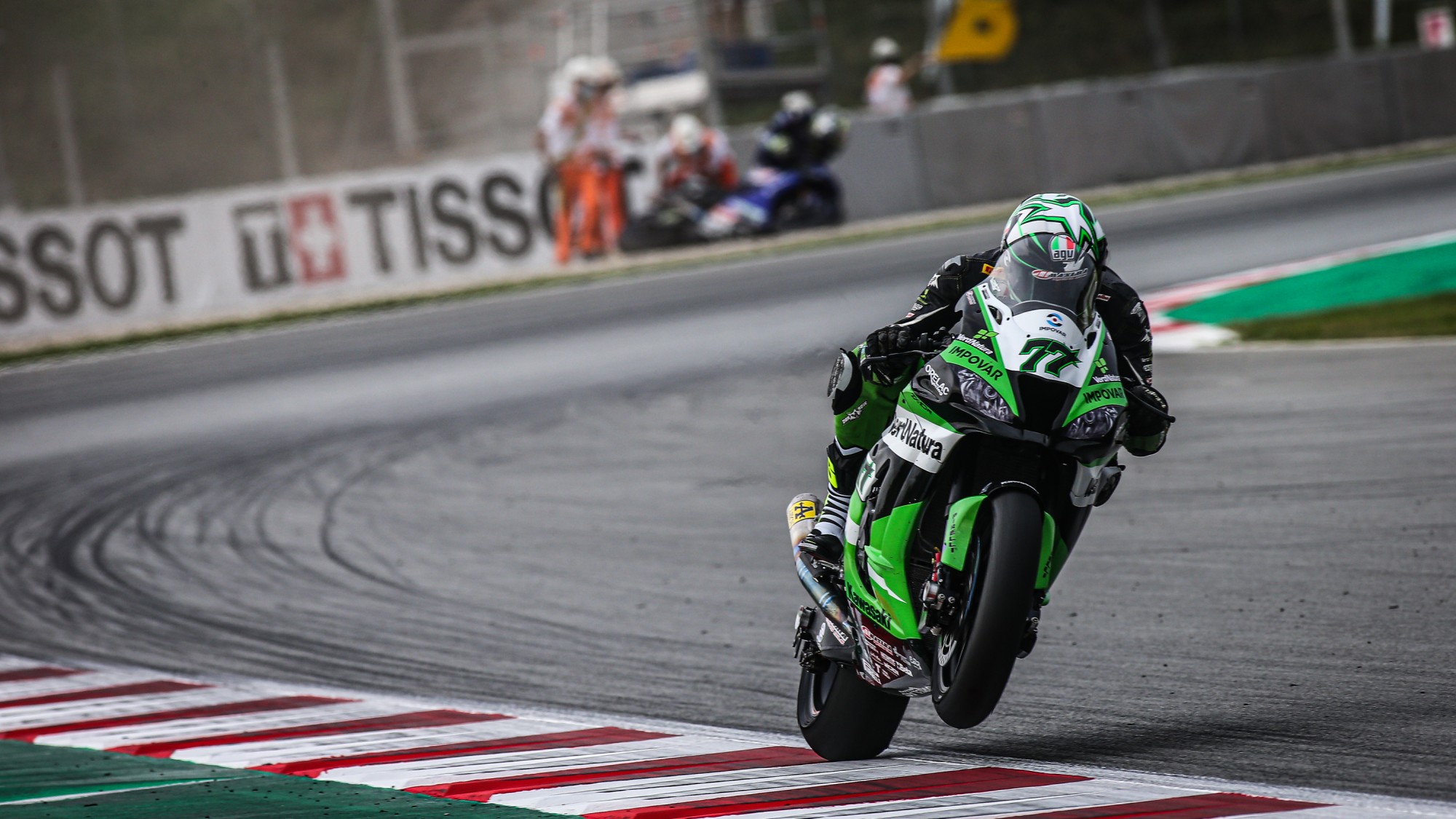 The Chilean ORELAC Racing VerdNatura rider was injured after a highside in FP2 at Catalunya but hopes to be back before the year is over
Maximilian Scheib (ORELAC Racing VerdNatura) will undergo surgery this Thursday at the Quironsalud Hospital in Valencia for the injuries that occurred during Acerbis Catalunya Round at the Circuit de Barcelona-Catalunya. The Chilean rider was launched from his Kawasaki during the first minutes of Free Practice 2, which took place in wet conditions. Scheib received a severe blow to the shoulder and had to be transferred to the Hospital General de Catalunya, where it was confirmed that he had suffered a separation of the right acromioclavicular joint.
In Valencia, where the ORELAC Racing VerdNatura squad is based, the 25-year-old undergoes surgery today that will prevent him from participating in the next Pirelli French Round at the Circuit de Nevers Magny-Cours. Scheib, however, is confident that he can recover in time to participate in the Pirelli Estoril Round that will close the 2020 season in mid-October.
"Now my goal is to return at Estoril" explained Scheib, who has enjoyed a best result of seventh this year in Race 2 at Phillip Island. "We will see how the recovery goes, but the motivation is high to try to and come back and do that last round, also thinking that it is a new circuit. I think our bike can adapt well to the conditions atEstoril."
Scheib has lamented the mishap suffered on the Montmeló track, the latest in a series of falls during this year's Championship: "We have suffered a little bit for several races. We know that all Kawasaki are struggling a bit for top speed, not just me, but other Kawasaki riders as well. It makes me personally always give my 110% if I want to be there. Jonny Rea does it incredibly well and manages to make up for it, and I'm at that point of thinking that I have to give much more to be there, and that is what has caused me to be a little out of the rhythm that my rivals have been achieving .
"Race by race, they have been getting stronger, as is the case with Gerloff. Here's an example: In Aragon we were quite even, even fighting in the Superpole Race, and now he has just achieved a great result. I take this opportunity to congratulate him, because he did it well. My team has given everything, but we have lacked that point of balancing what we need."
Explaining what happened at Catalunya, he said: "The fall in Barcelona was a separate issue, because it was in wet conditions. It was a highside, something uncontrollable. I tried to go fine, rolling at my own pace, but suddenly I went flying. They are things that happen like that, in a second. Now it's time to reset, get ready to do good races in the last round and see what happens for 2021."
Scheib will be replaced for the Pirelli French Round by Xavier Pinsach with the Girona-born rider preparing to make his WorldSBK debut. Pinsach has been around the WorldSBK paddock before having started four WorldSSP races across 2015 and 2016, securing a best result of 12th. He also competed in STK1000 in 2017 and 2018, including a race at Circuit de Nevers Magny-Cours, where he finished in 17th place.
You can keep up with the Championship news and keep watching more of the 2020 World Superbike action with the WorldSBK VideoPass!