Manuel González: "I'll be closer when we get to the circuits I know"
Friday, 20 March 2020 10:16 GMT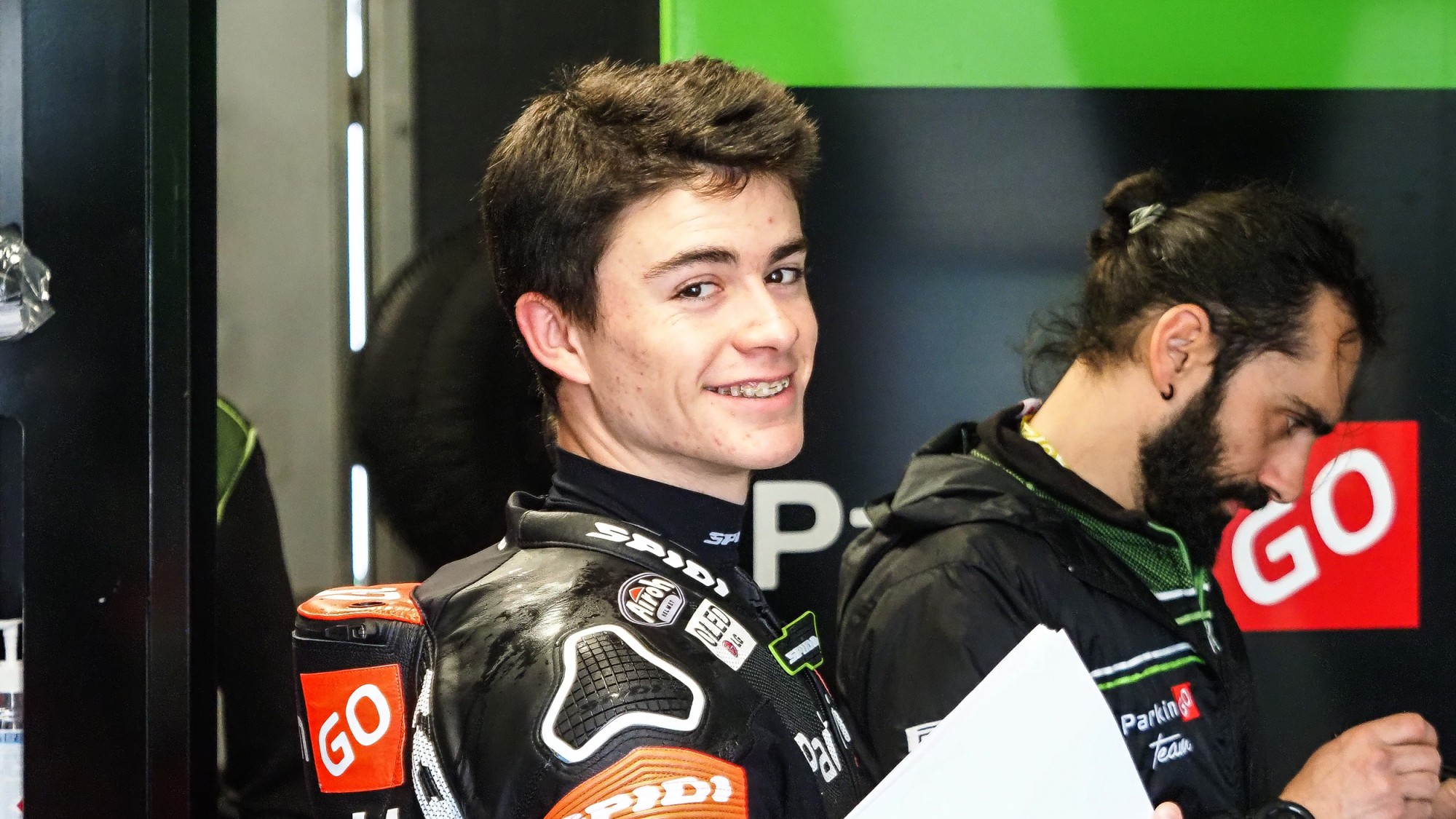 The reigning WorldSSP300 Champion talks us through his first steps in the middleweight class, as well as how he is coping with confinement
He's still only 17, but Manuel González (Kawasaki ParkinGO Team) has already started making waves in the ultra-competitive FIM Supersport World Championship after just one race. The reigning WorldSSP300 Champion grew faster by the day on his way to 8th position at the tricky Phillip Island, a track which he was yet to step foot on at the beginning of the week.
Yet the weeks since then have not gone to plan, for obvious reasons. The current global pandemic and health crisis has paralised just about every sporting event around the world, World Supersport included. While tell will tell how long it lasts, González remains reasonably serene, as he admits over a phone conversation with WorldSBK.com.
"I'm at home like mostly everyone else; I can't do most exercise, go out for a run or my usual training regime. But we need to remain patient", the teenager says. "We don't know when we'll race again. Hopefully in a month, but now solving the pandemic is all that's important. These are tough times and the decision-making is in the hands of the people who know how to manage grave situations like this."
Talking from Madrid, one of the cities that has been hit the worst by the COVID-19 pandemic, González is switching from outdoors movement to books and any indoors exercise that he can get.
"I really want to get on my bike, but we need to wait. I can work on my stationary bike and some other home training."
Luckily, none of this will take away from his debut at Phillip Island, a fine arrival in the middleweight class.
"Phillip Island was a good weekend. We worked on finding a base set-up for the bike during the tests; on Friday everything was ready to work on fine-tuning for the weekend. We couldn't do much in FP1, but FP2, FP3 and the Superpole went really well, I got faster after every session and we found a good set-up.
"Sunday actually didn't go that well. It was hotter and windier; the rear of the bike was sliding a lot. We didn't have much experience with the bike, I'm sure some teams knew better what to do in those circumstances, but we went out with what we had and as a result my tyres ended up struggling a bit.
"We didn't have any goals, in terms of positions. I knew I could be there, around that distance from the leader. And in the race, I was able to hang with some of the faster riders. I had a battle with Fuligni near the end and ended up climbing two positions because of the pit-lane penalties. My team managed that part perfectly. So, overall, I'm quite happy with my debut."
The flag-to-flag and compulsory pit-stop stipulation – a first for González – could have added an extra layer of difficulty for his debut… But the teenager sees it another way.
"It actually helped me! Supersport races are longer, so it allowed me to catch my breath a bit. It was halfway through the race when I pitted, and I was already very tired. That minute actually helped me tons. I was right back in and eager to keep on improving and gaining positions!"
The Spanish rookie intends to keep on growing in stature in the series when the next race rolls around, particularly when he fully comes to terms with the character of the ZX-6R.
"I just need kilometres on this bike. What we've seen is that I need to brake a lot harder than on the 300 bike, all while being careful to push the throttle. Every time I went out at Phillip Island, my technician and I sat down after to look at the data; every time, I was improving my braking. We got to around a second slower than the fastest times. It's tough to close that gap of a second, but I think I'll be closer when we get to tracks like Jerez or Aragon.
"If I can fight for a podium, I'll go for it. I'm not that far. It's true that Locatelli was a step above everyone, but other guys like De Rosa or Cluzel weren't that far behind. And I was able to keep up with them, especially in Free Practice. It was tougher to overtake in race conditions, starting from further behind, but I was able to keep up.
"Now I'll just have to focus on getting more experience with the team and closing that gap with the front. That's the goal this year. We're not thinking about wins, but about pushing forward and getting close, at least to give them a little scare!"
Relive González's debut race in the World Supersport class thanks to WorldSBK VideoPass!