JEREZ TEST AS IT HAPPENED: minute-by-minute action from the first 2024 test!
Wednesday, 1 November 2023 09:00 GMT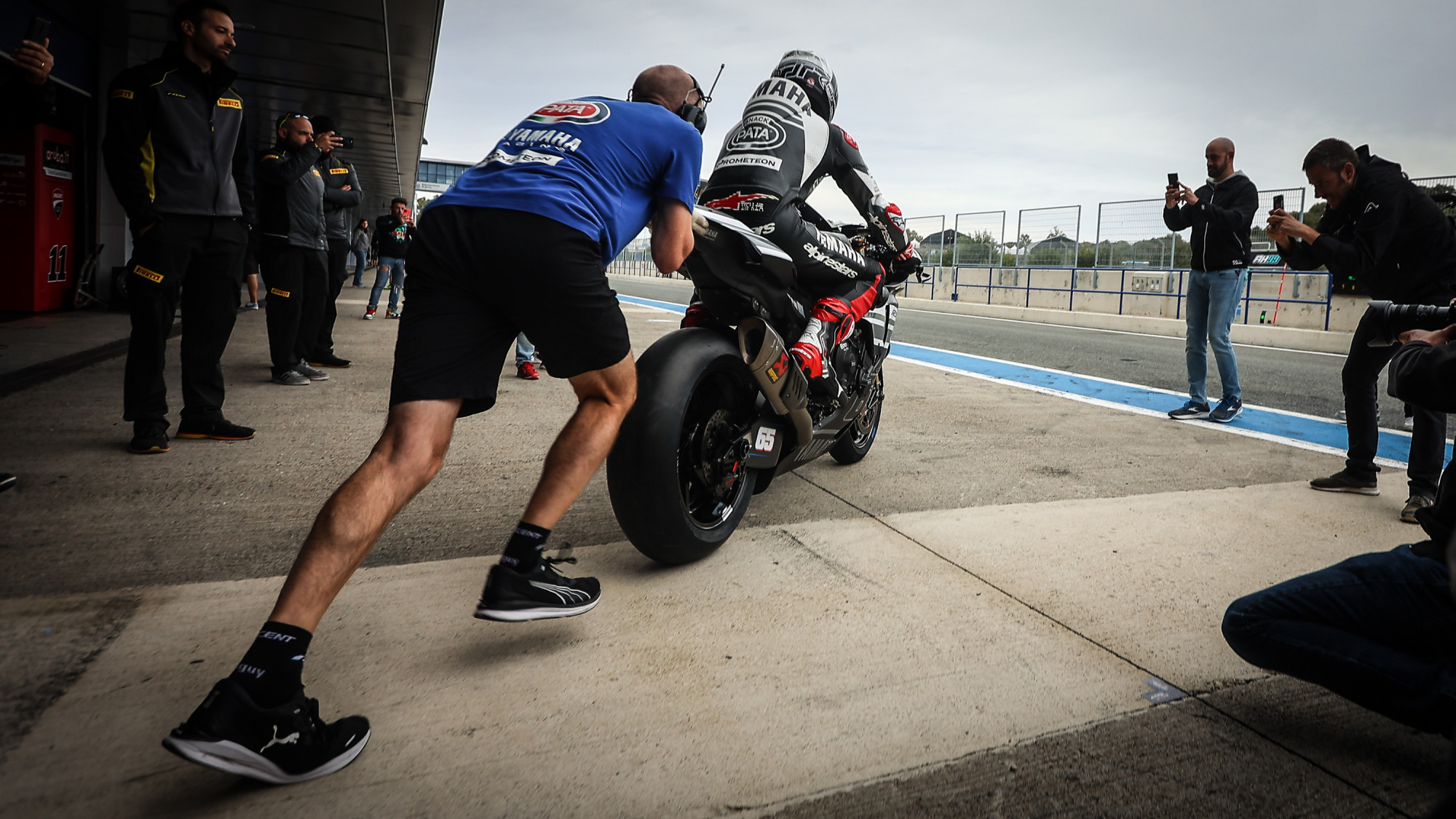 Keep up to date with all the action from Jerez with plenty of stories to follow as the Jerez test gets underway...
The 2023 MOTUL FIM Superbike World Championship is done and dusted and in the history books. Now, all eyes have turned to 2024 and the Circuito de Jerez - Angel Nieto hosts two days of testing. Read the preview for the event HERE and follow live timing HERE. On this page, you'll get key updates from the test and links to other content to enhance your experience of the test.
20:15 - Iannone put in a stunning performance on day two, to claim P5 but 'The Maniac' was surprised by his result
19:50 - Nicolo Bulega is one of the several rookies heading into 2024, and he was fast on Wednesday - despite only being at 85%...
19:25 - Gardner gave his thoughts on his fastest lap, admitting that he made a few mistakes on it, plus the improvements from what Yamaha have brought
19:00 - We've started having some reactions through from the test. First up, reigning Champion Bautista discusses working towards the 2024 regulations and adding weight to his bike...
18:30 - Here's the end of day report for day two: Gardner remains on top, Bulega impressive P2 as Iannone stuns for P5 at Jerez
18:00 - The chequered flag is out on the second day at Jerez, and the test overall. Gardner leads Bulega and Lowes while Iannone is an impressive P5. Report and reactions to come...
17:38 - Lowes has hauled himself into the top three at the expense of Iannone, while Gerloff's had a crash at Turn 3 in the final 30 minutes of the test. The American is okay following the crash
17:18 - some late improvements coming in now, including from 'The Maniac'. Iannone's surged up the order to take P3 with a 1'39.335s
17:11 - Mackenzie's had a crash at Turn 1 - a corner that's caught a few people out today
17:00 - The #87 has gone even quicker! He sets a 1'38.448s to take top spot from Bulega, and goes under Bautista's pole time. It's also only two tenths away from Rea's 2019 Superpole lap record...
16:50 - Gardner's the latest to go into the 1'38s as he sets a 1'38.946s, only 0.043s down on the #11
16:29 - And to answer a previous question... yes, we will see a 1'38s! Bulega is the rider to get it with a 1'38.903s. For reference, Bautista's pole lap from Saturday was a 1'38.635s... he was using an SCQ tyre for that time
16:23 - A couple of incidents at Turn 1 to tell you about. First, Iannone ran wide at the right-hander before Aegerter had a crash there shortly after in their two separate incidents. Both have returned to their respective box
16:14 - Bulega's extended his lead at the top to a huge 0.701s after posting a 1'39.111s. Are we going to see a 1'38s in the final two hours of the test?
15:54 - a new name in WorldSBK, a new name on top: Bulega's just gone two tenths quicker than Rinaldi
15:25 - we have our first sub-1'40s lap of the day. Rinaldi's gone back on top with a 1'39.899 with Rea demoted to P2
15:04 - Rinaldi's been usurped by Rea! The six-time Champion's just posted a 1'40.147s for top spot on his Yamaha
Back at it for the afternoon

Three hours to go!

Make sure to follow the #WorldSBK action https://t.co/4cCQmcwQu9 pic.twitter.com/9Gs8yWv7nB

— WorldSBK (@WorldSBK) November 1, 2023
14:57 - three hours remain in the test and people are still heading out. Rinaldi remains P1, while Bulega is currently ahead of Bautista in P7 and P8 respectively
14:00 - Bang on 2pm (Local Time) and three more riders head out: Alvaro Bautista, teammate Nicolo Bulega and Axel Bassani. At the top. Rinaldi has gone fastest with a 1'40.211s
13:36 - It's now a GRT Yamaha 1-2, with Aegerter ahead of Gardner. Iannone's improved to third, only 0.170s off top spot
13:20 - There's a new leader! Gardner, who was fastest on Tuesday, is back on top after setting a 1'40.708s - he's ahead of Gerloff in second
12:48 - Rea's gone fastest again, 0.043s quicker than Lowes
12:32 - KRT's Alex Lowes has gone quickest now, 0.050s faster than his former teammate with a flurry of track action occuring
12:20 - the six-time Champion's gone straight to P1, posting a 1'40.987s. Valentin Debise becomes the second WorldSSP rider to hit the track with the Evan Bros. WorldSSP Yamaha Team - it's their only day of testing during this test
12:14 - Iannone's improving his time further, and now Yamaha's Jonathan Rea has joined the circuit
12:07 - We've got some lap times on the board. 'The Maniac' has just done a 1'44.975s, while WorldSSP star Adrian Huertas is out on track
12:02 - It's been a quiet day so far, but Iannone has just returned to the circuit
11:00 - Iannone's still the only rider who's been out, with wet patches still at several corners on the circuit. 'The Maniac' did just an out and in lap, with no time set
10:23 - No mad rush to head out on track following yesterday's rain. Iannone is the first to go out around 20 minutes into the day
10:00 - GREEN FLAG FOR DAY TWO
09:35 - We're back for the second, and final day of testing at Jerez. Yesterday's excitement was halted by rain limiting running, so hopefully today is a bit busier on-track
Catch up on all the action from Tuesday below:
18:39 - Iannone made his Team GoEleven debut today, finishing in P11. Read his thoughts on how it went and check out first footage here
18:00 - That's day one of the test finished! Gardner ends the day on top as Rea and Bautista crash at Turn 13 in separate incidents. Full report here!
17:12 - We've also had Rea's immediate thoughts come in. Discussing his crash, having "more margin" left to find and how the team have welcomed him, the six-time Champion was happy with his first day
16:36 - There's still little to talk about from Jerez, with everyone staying in the dry, but we are starting to get some reactions through. First up, it's Bassani after his first day on the ZX-10RR...
15:09 - It's still raining at Jerez and, as a result, track action hasn't really resumed. No change to the pecking order...
14:15 - Earlier on, Pata Yamaha's Team Principal, Paul Denning, spoke about the test. From the 'excitement' of testing with Rea and how it's "surreal" to have the #65 onboard. He also reflected on what he described as "the best race ever" after Race 2's incredible battle for the win, with 38 passes in 10 laps (catch up HERE). Read all of Denning's thoughts here!
14:06 - It's been a quiet end to a frantic first morning at Jerez with the rain starting to fall. If you missed anything, catch up on the midday report HERE
13:32 - Track action's been a bit limited since the rain started falling a bit harder. Gardner still leads the way ahead of Rinaldi and Aegerter, ahead of Rea and Bautista in fourth and fifth respectively
12:33 - Today's been a special day for Basani as he takes to the track as a factory rider. Check out the gallery of his KRT debut right here
12:17 - While there's a bit of a lull in the action, time for a summary: Gardner leads Rinaldi, while Aegerter is now third. Bautista and Rea crashed in separate incidents at Turn 13, with the former bringing out the red flags briefly. The #65, however, is now up to fourth in the order and 0.465s away from Gardner
12:00 - Most riders are in the box at the moment, the track's quiet as the spots of rain become more frequent
11:44 - Rea's had a crash on his Yamaha at Turn 13, after hitting a wet patch. Spots of rain are falling at Jerez
11:32 - Just a short red flag, the green flags are out again and the session resumes
11:30 - RED FLAG. Two-time Champion Bautista's crashed at Turn 13, rider is okay. His bike is being pushed back to the pits
11:18 - We have our first 1'39s of the test! Remy Gardner (GYTR GRT Yamaha WorldSBK Team) has just posted a 1'39.837s to take top spot by two tenths
11:11 - Gerloff's had a crash at the final corner, Turn 13, but is now back in the box
11:00 - A quick recap an hour into the day: Rinaldi's gone fastest again, demoting Aegerter to second with Bautista in third. The #21's best time is a 1'40.034s, with the #77 four tenths back. Rea's completed five laps, Iannone nine. Elsewhere, Nicolo Bulega (Aruba.it Racing - Ducati) is 10th with 11 laps under his belt, while Scott Redding (Bonovo Action BMW) is ninth on his first day with his new team
10:50 - Iannone completed just a short run to start with before heading back to his box, but 'The Maniac' is back on track now. Meanwhile, Dominique Aegerter (GYTR GRT Yamaha WorldSBK Team), fresh from his double podium on Sunday, leads the times with a 1'40.433s. He's three tenths clear of Rinaldi
The Maniac is B A C K #WorldSBK pic.twitter.com/ZJpJDM1TWk

— WorldSBK (@WorldSBK) October 31, 2023
10:37 - Another big moment, as Andrea Iannone (Team GoEleven) ventures out on track for the first time
10:33 - Jonathan Rea is out for his first laps on the Yamaha YZF-R1! He's straight into the 1'41s in his early laps
10:20 - Rinaldi is the first rider to dip into the 1'40s; setting a 1'40.891s. He leads former teammate Bautista by almost two tenths
10:12 - Six riders have ventured out onto track so far: Scott Redding (Bonovo Action BMW), teammate Garrett Gerloff, Alvaro Bautista (Aruba.it Racing - Ducati), Brad Ray (GMT94 Yamaha), Axel Bassani (Kawasaki Racing Team WorldSBK) and Michael Ruben Rinaldi (Motocorsa Racing)
10:00 - The track goes green for Day 1 of the Jerez test!
09:30 - Monday marked Jonathan Rea's first day with the Pata Yamaha Prometeon WorldSBK team - check out the first images of his setup day HERE!