HOT HEADLINES FROM FIRST 2024 TEST: "I think we'll be a formidable team!"
Friday, 3 November 2023 10:06 GMT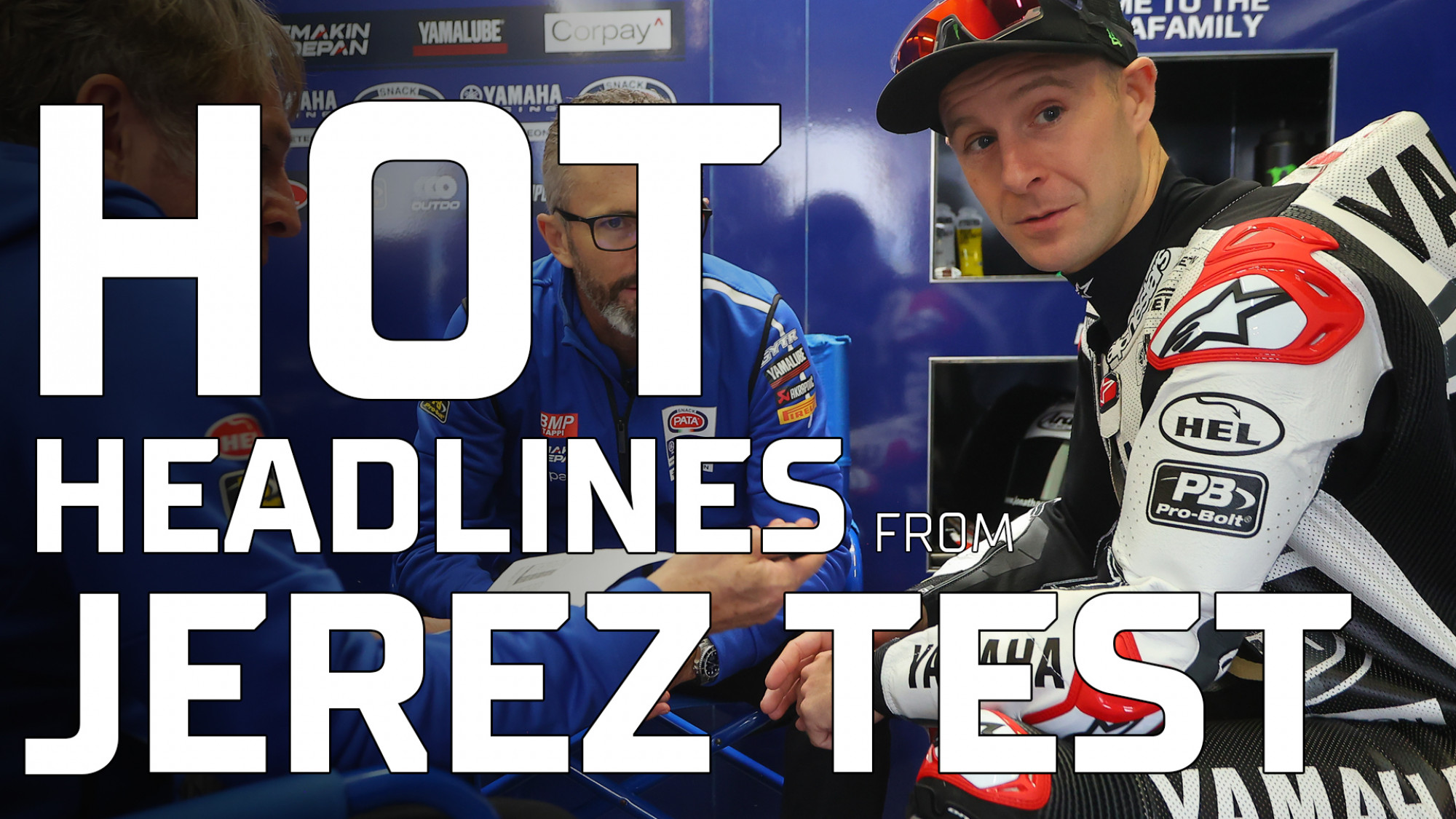 Round 0 consists of all the tests in the lead-up to a new season, meaning just two days after 2023 closed, 2024's curtains opened
On the ground covering the Jerez test, headlines were breaking each hour. New signings got used to their new teams, new stories from old emerged and dream opportunities were grabbed with both hands. From major debuts and big names to sour ends and new regulation work, all the key stories are in one place for the first hot headlines of the 2024 season (kind of) from the Jerez test in Spain. It also gives us the perfect opportunity to start practicing getting the correct team names for those riders who have switched!
Jonathan Rea (Pata Yamaha Prometeon WorldSBK): "My father raced Yamahas most of his life… I think we'll be a formidable team!"

Jonathan Rea's dad used to race Yamahas, Rea himself has ex-teammate Andrew Pitt as crew chief and he's riding for Paul Denning – who tried to sign a then whipper-snapper Rea for his BSB Suzuki team for 2007 – so whilst it's all new, there's more history than you may think: "There's heap of history and whilst I've never actually raced with Yamaha before – besides a PW50 when I was 6 – my father raced Yamahas most of his life. From TZs in the beginning to YZF-750s and in the latter part of his career, I remember in 1994, always seeing that Millar Racing Yamaha in the family garage!
"The team has a very family feel; my mechanic Uri has come across from KRT which is really familiar for me and that's really nice, so I appreciate that. Working with Andrew too, he is a great friend of mine from back when we were teammates in 2008 in WorldSSP; in fact, he beat me to the Championship that year! Working with him is a bit like working with Pere Riba: he has a racer's outlook, approach and understands rider mentality. From a technical side, I can see he is at a really good level and of course, that relationship needs time to build and build. I think we'll be a formidable team that can develop the R1 to greater heights."
Andrea Iannone (Team GoEleven): "I saw the race on Sunday at Jerez and it was unbelievable… I hope to arrive to this fight soon!"
HE'S BACK: formerly known as 'Crazy Joe', Andrea Iannone – now 'The Maniac' debriefed his very first sensations on day one of the test: "I'm really happy. I exited the pitlane to ride a race bike and this is a really good feeling for me. I felt very comfortable with everybody, in the paddock and especially in the team. Here in the garage, the feeling is really good. I think the first day was a little bit of everything; a bit confusing! After a long time, I've come back and the feeling with the bike is really good. At Jerez, on the first lap, I thought 'wow, one more time I'm at this track!'. The first five laps were just fun."
On the biggest challenge for 2024, Iannone spoke of the high level of talent in the WorldSBK line-up and likewise referenced 2023's final race: "I don't want to promise anything but we have a good ambition. It's really good for us if we achieve a good result. I saw the race on Sunday at Jerez and it was unbelievable; an unbelievable fight from Toprak and Alvaro and the paddock is full of talent. I think it's quite fun. I hope to arrive to this fight soon! In the end, we'll see after the first race."
Alvaro Bautista (Aruba.it Racing – Ducati): "If you put 7kg on the bike, it feels different; in the fast section, it is more difficult"
The reigning double World Champion was prioritising the new regulations and the weight ballast: "We were focused on the 2024 regulations, especially with the weight. We tried many solutions, putting it in some areas of the bike and inside the engine. We did many tests to understand how the bike works. In the end it isn't easy as the bike works well; if you put 7kg, the bike feels different, especially in the fast corner. We made some distribution to have more data and we have that for the winter to try and work and what could be the base to start pre-season next year. On acceleration, I couldn't really feel any difference; just more inertia in the corners and in the fast section, it is more difficult. I feel more inertia to stop the bike but for me, I struggled in the fast corners."
Nicolo Bulega (Aruba.it Racing – Ducati): "I don't want to beat Alvaro, I'd like to beat everybody!"
His first test as a factory Ducati rider in WorldSBK is done and it was fair to say that Nicolo Bulega finishing ahead of teammate Bautista wasn't planned: "It was very good but unfortunately, we didn't ride a lot during these two days. On day one, we only did 20 laps. On day two, we did half a day. I'm happy because I didn't ride a lot but I was already fast. I was fast, but I was at 85%. I'm learning the bike, learning to speak with my new team so it's important for me to do a lot of kilometres with this bike. Honestly, I don't know what kind of work Alvaro did. I don't want to beat Alvaro, I would like to beat everybody! Alvaro is now the reference point for Ducati because he's the best. He's fast and it'll be very difficult to beat him. We still have a lot of work to do and I'm still trying to learn the bike to understand better the DNA of this bike because it's more difficult than WorldSSP. It's all more. More brakes, more engine, more electronics."
Axel Bassani (Kawasaki Racing Team WorldSBK): "We need more time; the right answer is time"
From Independent Ducati star to factory Kawasaki youngster, Axel Bassani spoke of what's different for him after two days: "It's different in all areas! The brakes and also in acceleration but it's good; when something is new, you need time to understand and after, when you're ready, you can push. It's not easy to have a different engine – V4 compared to inline four. We need more time; the right answer is 'time'. It's special in KRT as there's a lot of people with a lot of experience and it is nice to be part of this team. I hope in the future to be like Tom Sykes or, maybe not like Jonny because it's not easy but 10% of Jonny!"
Dominique Aegerter (GYTR GRT Yamaha WorldSBK Team): "With the engine, I feel more power"
Dominique Aegerter confirmed that he had an updated engine spec for the test and he could feel the difference straight away: "We tested many things that Yamaha brought, such as swingarm, engine and from front suspension from Ohlins. I had a small crash which for sure didn't help. The lap after I had the Q tyre and in that lap, I made a small mistake so the timesheet doesn't look so good. We were always in the top five and consistent and have great data to work on. With the engine, the power side, when I open the throttle fully, I feel there's more power. This is what we're looking for; we need to put it on the ground to make sure we're not spinning or wheelieing but the new spec was a step forward."
Garrett Gerloff (Bonovo Action BMW): "I'm sorry to the whole team, they don't deserve it"
A big crash for Garrett Gerloff in the closing stages of the test left a bitter taste in his mouth: "It was stupid; it's pissing me off. I used the inside kerb at Turn 3 like I always do and lost the front. I'm sorry to the whole team; this weekend has just been awful. The test wasn't bad in general. We got to try some different setting stuff but I am just annoyed with another crash. The team doesn't deserve it."
The 2024 title race starts here: keep up with all the action with the WorldSBK VideoPass!