Family ties, adapting to the Yamaha and a 'dream': Rea details his new blue era at EICMA
Thursday, 9 November 2023 16:54 GMT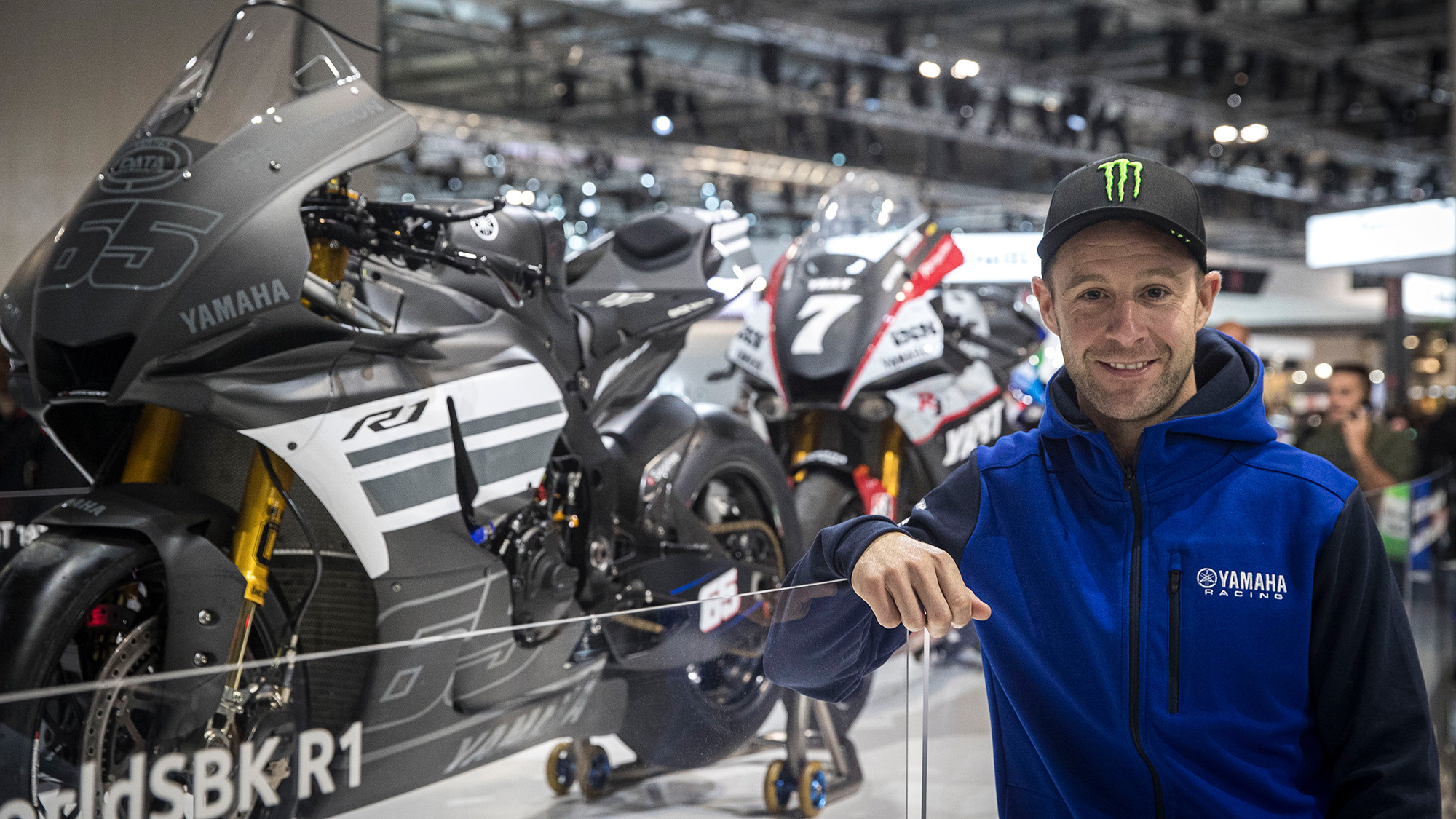 At EICMA, Jonathan Rea made one of his first public appearances in blue after his shock switch to Yamaha and spoke about several topics
Jonathan Rea (Pata Yamaha Prometeon WorldSBK) made his debut in blue at Jerez last week and this week he's engaged in his first public appearance with the Japanese manufacturer at the iconic EICMA show. Speaking in Milan, the six-time Champion expanded on his and his family's history with Yamaha machines, how the Yamaha can be ridden with vastly different styles and what his dream would be come the 2024 season opener at Phillip Island.
FAMILY HISTORY WITH YAMAHA: Rea's dad, Rea and his sons all linked
The Northern Irishman has a long history of his career but it all started back when he was a kid, with his dad on Yamaha machinery where Rea got his first taste on the PW50. Explaining how it feels to now come full circle with Yamaha, Rea said: "It's so nice. It's my first real PR commitment in blue and both Yamaha and the fans have been so acceptive, so nice. It's a cool story. I started my whole motorsport journey with Yamaha, with the PW50; potentially the most iconic motorcycle in the world for kids. It's nice to finally get a chance to ride a Yamaha. I've been competing, more recently, against Toprak and Locatelli. I could understand the strengths of the bike, I got my first chance to ride at Jerez and it was really nice.
"My father was a racer and he always raced with Yamaha, with the YZF range. I remember, his mechanic and helper, he could use a camera. My friends had a farm with lots of land and we'd go with our peewees and race. My father's helper would commentate on the races, and we'd watch the videos back. I started to feel like my father, feel like a racer. My sons Tyler and Jake had PW50s and it's really nice to be in the Yamaha family. I left a really nice team behind, but I found another great family in Yamaha."
ADJUSTING TO THE YAMAHA: "you can ride it aggressively like Toprak or very smoothly like Locatelli"
The YZF-R1 machine, in the hands of the #54, was often seen with the rear wheel off the ground in the braking zone. Although Rea is strong on the brakes, he usually has two wheels on the track and at the Jerez test he revealed that he could see why Toprak Razgatlioglu rides like he does. However, the #65 also explained how the Yamaha can be ridden in several styles, citing Dominique Aegerter (GYTR GRT Yamaha WorldSBK Team) and teammate Remy Gardner's strong performances at Jerez to end the season.
Rea explained: "Toprak's been doing great things with the Yamaha; we've seen spectacular riding styles. You only have to look at the last photo of the season. It was Toprak crossing the line in front of Bautista, but in the background was Domi Aegerter and Remy Gardner. They have different styles. The Yamaha has a big window. You can ride it aggressively like Toprak or very smoothly like Locatelli. The bike's working well. I was quite impressed already. I was using the same braking references as I was with my previous bike, but with much more margin. When I compare the data to Toprak, under braking, I don't have to do anymore to be better than him on the brakes. This bike accepts both ways of riding. It's going to take time to understand my best way with the Yamaha. I have to make the bike mine; the position and fine tuning the last parts. We have a lot of time before Australia, the idea is to go to Phillip Island and be competitive from the first day."
STARTING 2024 WITH A WIN? "it would be a dream come true…"
Back in 2015, Rea won his first race with Kawasaki at Phillip Island to give a sign of what was to come. It was a feat repeated by Razgatlioglu five years later in Australia when he made his Yamaha debut, and Rea was asked whether he could repeat this when the 2024 season kicks off in February at the historic Australian venue.
He responded: "That would be beyond expectations. The season's very long. We've seen many times in the past that Phillip Island doesn't always create the trend of the season. We want to be competitive. If we aim for the podium and aim to be competitive, why not aim to win? It's a circuit I love. It's like my second home, my wife's from there. It would mean a lot. I remember my first race with my previous bike, I won there. It would be a dream come true to win at Phillip Island with Yamaha."
Follow all the off-season news from WorldSBK using the comprehensive WorldSBK VideoPass!