Denning on Day 1 of Yamaha's Jerez test: "We tested a lot of mechanical parts across engine and chassis"
Monday, 20 November 2023 11:49 GMT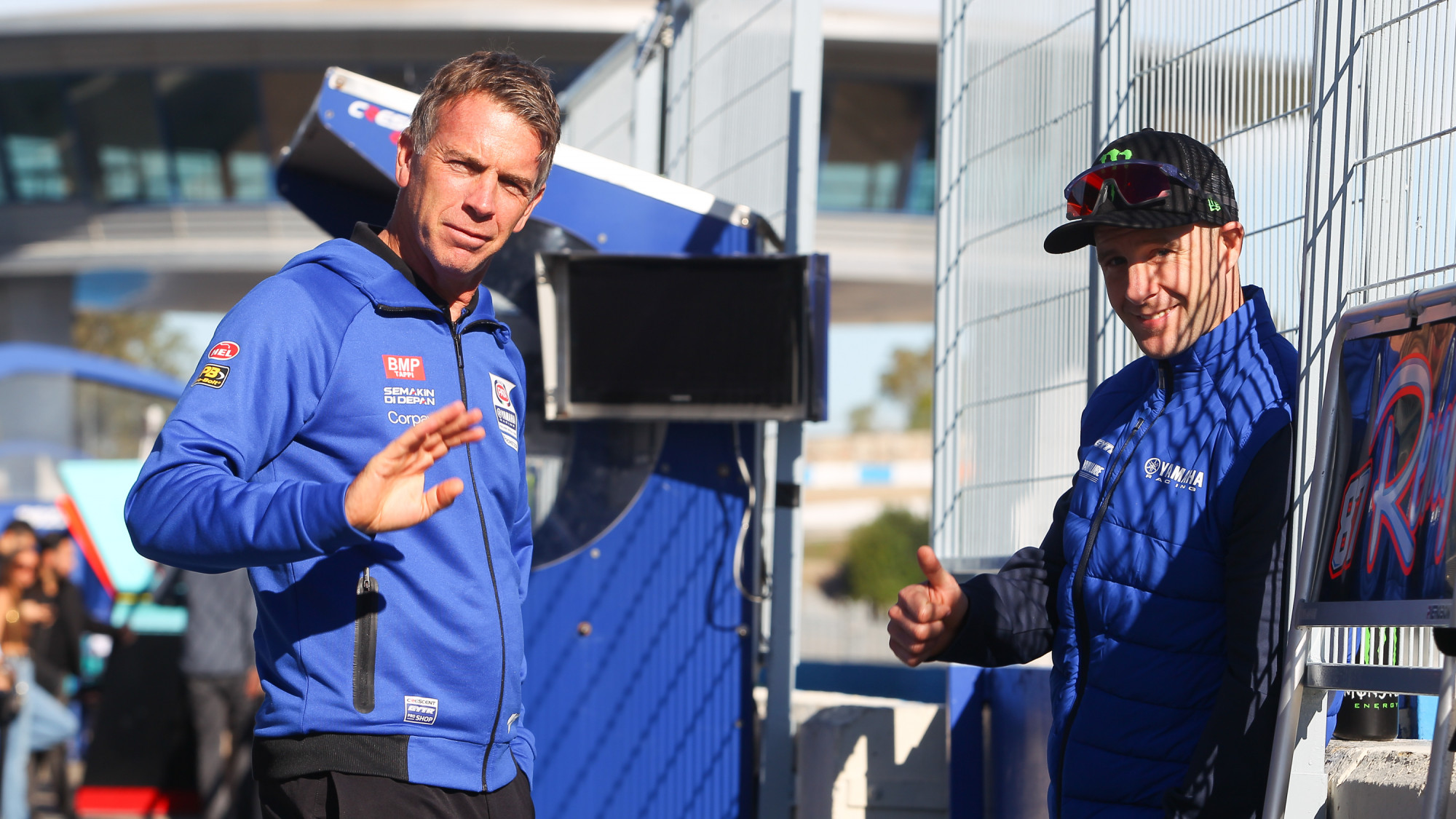 Pata Yamaha Prometeon WorldSBK team principal Paul Denning gave a summary of what his riders – Jonathan Rea and Andrea Locatelli – were working on during day one
The Pata Yamaha Prometeon WorldSBK outfit are busy preparing for their 2024 title tilt with testing continuing at the Circuito de Jerez – Angel Nieto venue in Andalusia, Spain. Now with a full team as Yamaha's new recruit Jonathan Rea is joined for the first time by Andrea Locatelli, Jerez was the venue for the first hard testing to take place, after the first test at the start of November was primarily focused on allowing the six-time World Champion to get comfortable with the bike. Sun throughout the day and within the 20 degrees range, conditions look set to be favourable once again for the second day of testing on Tuesday, 21st.
BIG PICTURE: "We tested elements that will help with outright speed"
Talking about what was worked on across day one, team principal Paul Denning evaluated the team's work: "All manufacturers and teams are looking to improve their packages for next season and try to become World Champion; we're in that group and therefore, development never stops and the quest for increased performance never stops. We tested elements that will help with outright speed and hardware components, searching for more stability, grip and corner entry speed. Some big stuff, some small stuff and we split the work load between the riders and had a super solid day. Jonny did 88 laps across three bikes and then 82 laps for 'Loka' across two different bikes. That's 750km-odd across both of them so that's a lot of data for the guys to look at. In terms of mileage, consistency and without problems or crashes, it was a very productive day indeed."

ACCELERATION THE TARGET: "If you accelerate better then you have better top speed"
"You can't get through all the test-list componentry and hardware if you're continuing changing the setup of the bike, looking for outright performance," continued Denning. "Both riders did two or three base runs, just to get to a position where the bike was relatively comfortable and then started the test programme. Given that fact, the consistency and level of performance was really encouraging."
"We're looking for more acceleration and obviously, if you accelerate better then you have better top speed; we tested a lot of mechanical parts across engine and chassis to aid our overall performance. If I say 'a rear swingarm' or 'fork clamp' then it's a piece of hardware that, honestly as the team manager, you get to a certain level where you're not going to be looking at the bike going 'wow, that's brand new'. The changes are very nuanced and carefully thought out; the R1 is a bike that is not a new machine, so the changes we're making are very much based on everything the engineers and the team already know.
"We're just looking to eke out that last little bit of performance. The level of the bike is already very competitive and very good; in order to become World Champion, there's still a big gap between Alvaro Bautista and the rest of the field in the points at the end of the year. We've got work to do and that's why we're here doing 750km today. It's great to do that amount, especially for Jonathan, as nothing beats the experience of the bike becoming yours after so many laps."
YAMAHA'S WORK TO GET REA COMFORTABLE: "I think he's been delighted!"
Talking about Rea's adaptation to Yamaha machinery, Denning was positive: "The speed and reaction from the Yamaha guys between the first test and this one, just to bring some hardware that suits him better in terms of rider position and just small preferences, I think he's been delighted that stuff has been designed, manufactured and delivered and bolted to the bike to his request. There's no doubting their commitment to get the bike to suit him. He's not really had to adapt his riding style, he looks very comfortable as he did at the first test. As always, it's the last couple of tenths that are the challenge in terms of outright pace and consistency. The more he gets to know the bike and the more he can exploit its advantages, the more that pace will come. On the basis of what we've seen so far, it could've been bit of a worry – I think he said as much himself. Whether, after nine years on the same bike, he could ride something new. However, I think those doubts were expelled after 15 laps on the first test day.
LOCATELLI WORKING WITH EVANGELISTI: "Another positive indication of why it's so important to have a good second team"
On Locatelli's side, he wasn't working with Tom O'Kane just, his new crew chief for 2024 and instead, working with Damiano Evangelisti from the GRT outfit for this test: "Tom is unavailable to us as of yet so we have Damiano with us from the GRT team, very kindly agreed to by Filippo Conti and Damiano himself. It's of course useful for him and his work with Remy Gardner going into next year as all the stuff tested now will be available to those guys. He's been great today working with Andrea, he fitted in very well and it's been another positive indication of why it is so important to have a good second team and we've been able to use the strength of those guys too."
DENNING AHEAD OF DAY 2: "We've got front fork stuff from Ohlins, a swingarm… there's a lot that hasn't been tested yet"
Talking about what was on the plan for day two: "Based on the feedback and the data, the plan this evening will be to try and put the best combinations together for both of the riders tomorrow. Start with the best combination of today and work through the testing programme for tomorrow. We've got some front fork stuff from Ohlins, a swingarm and other bits as well. There's a lot that hasn't yet been tested. It's also quite positive that we're testing separately in terms of the other teams because we don't know based on track conditions but we're only half a second off Cal on the Grand Prix bike and the lap time is very good. The boys aren't going slowly but if for example, Ducati were here and going a little bit quicker than us at this stage, it doesn't matter. It's more important that the riders and the crews stay focused on the test stuff and that we develop the very best bike we can for 2024, are fast when we leave the final test in January and ready to compete at Phillip Island."
Get your essential, must-have tool for all things WorldSBK related with the WorldSBK VideoPass!