Bautista surprised by Bulega being faster at Jerez test? "I didn't expect it but also, I do!"
Friday, 3 November 2023 07:12 GMT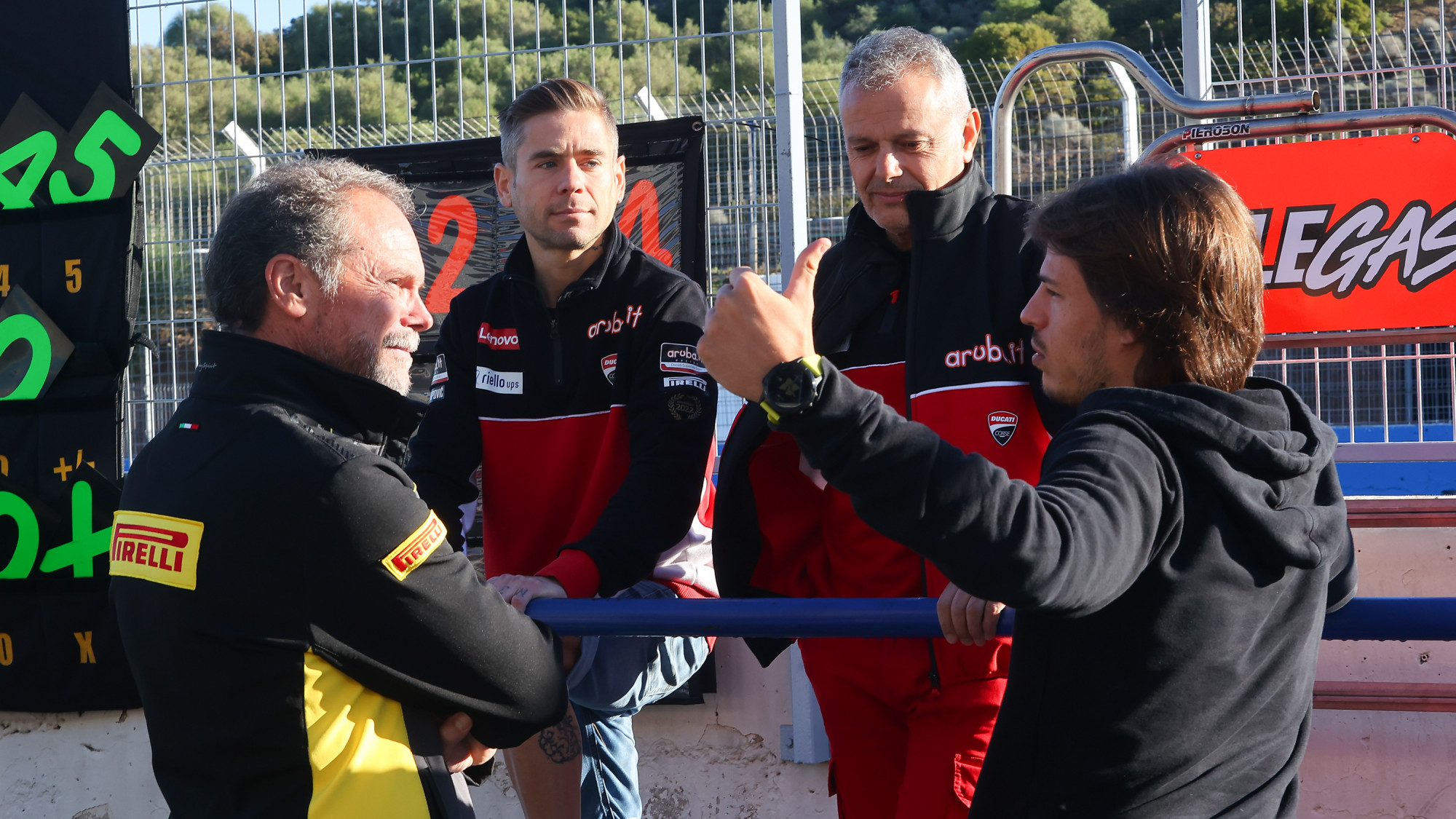 A rookie sensation moves in alongside the reigning double Champion but did he expect to be top Ducati after just two days as teammates?
Firstly, it's important to say that 'testing is testing' and 'races are a different story', however, we can only extrapolate and interpret what we've seen by exactly that. Alvaro Bautista (Aruba.it Racing – Ducati) and teammate Nicolo Bulega got off to contrasting starts to 2024, with the #1 focusing solely on weight added to his bike, whilst reigning WorldSSP Champion Bulega had a keen eye on getting to grips with his new toy for next year. However, despite that, did we expect that it would be Bulega on top from the start?
"THE FIRST RIDER YOU WANT TO BEAT IS YOUR TEAMMATE" – Bautista talks Bulega and extra motivation
"I knew that Nicolo was very fast and he rode the bike some times before in other tests, so he knew the bike already," began a somewhat dismissive Bautista when asked if he expected it. He has more or less a base setup. Sincerely, I didn't expect it but I also expect it; he is fast and he got the feeling very quick with the bike. At the moment, I am focused on myself and to try and improve the bike with the weight. Fortunately, this is the first test so we have many days before the first race to find a good solution for our problems."
Bautista had said on day one: "He's a nice guy and talented rider, winning the title last year so for sure he's fast. He knows more or less the bike and has a base set-up. He will be one of the riders who fights for podiums and victories during the season and it is nice to have a young rider like him because the first rider you want to beat is your teammate. In the box, it's like an extra motivation for me and the team on my side."
"I DON'T WANT TO BEAT ALVARO; I WANT TO BEAT EVERYBODY" – fighting talking from 'Bulegas'
For Bulega himself, his lap time – like many – was set with the SCQ tyre, something he spoke about before likewise responding to the same question about whether he expected to be ahead of his teammate: "Pirelli are doing an incredible job with the tyres like always; I tried the SCQ and I felt good but it's a bit difficult to understand. With a lot of horsepower, you have to understand the characteristics of the tyre a little bit but I was happy."
Responding to Bautista's "first rider you want to beat is your teammate" quote from day one, Bulega mirrored his teammate's dismissiveness: "Honestly, I don't know what kind of work Alvaro did today. I don't want to beat Alvaro, I want to beat everybody. For sure, Alvaro is the point of reference for Ducati because he's the best and he's fast. It'll be very difficult to beat him."
The 2024 title race starts here: keep up with all the action with the WorldSBK VideoPass!