WorldSBK'S BIGGEST TRANSFERS: the seismic moves that caused a major stir
Monday, 22 May 2023 13:36 GMT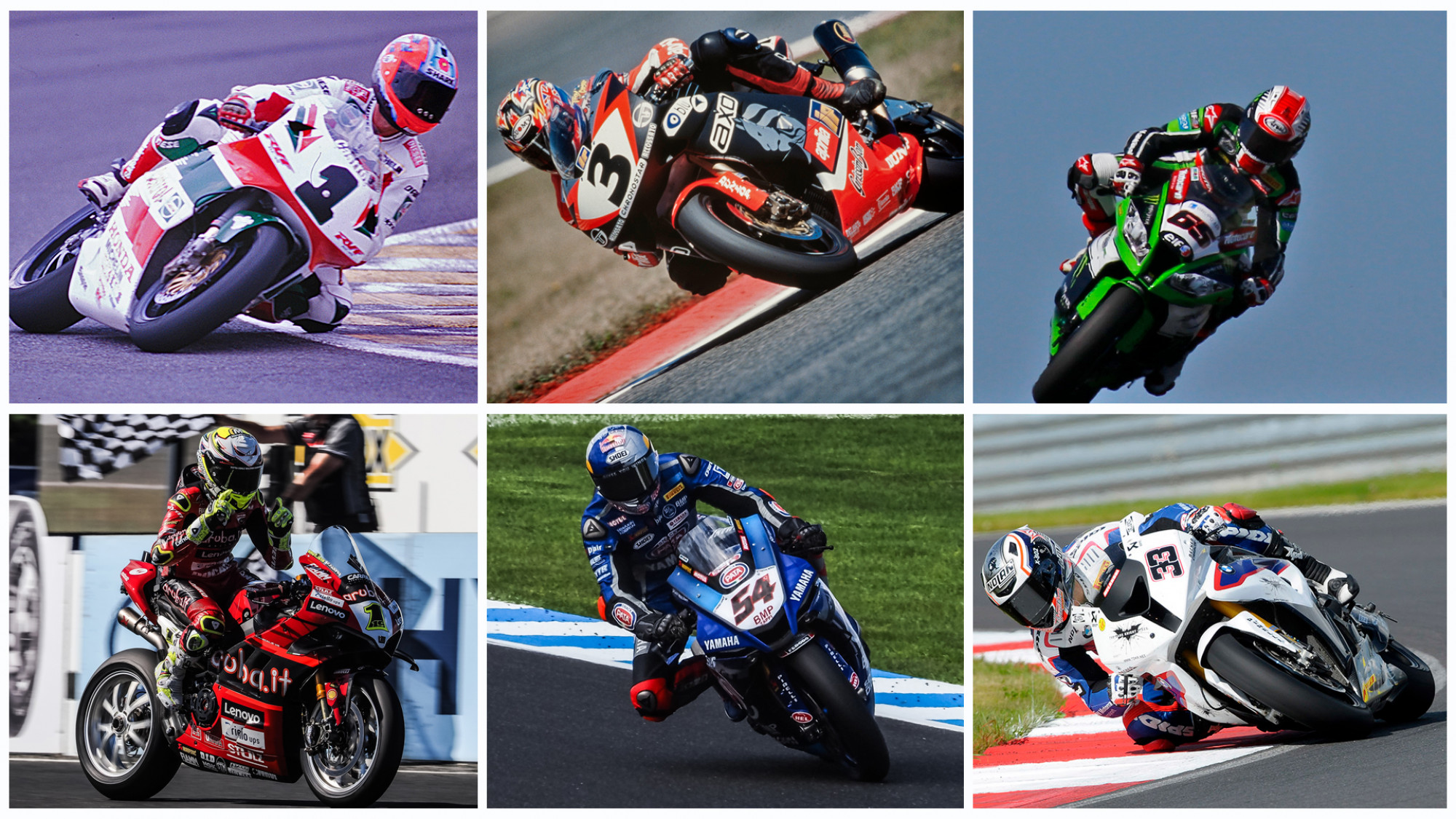 Following the bombshell news that Toprak Razgatlioglu will leave Yamaha and join BMW, we look back in our history to see the other MASSIVE switches that have happened
Toprak Razgatlioglu (Pata Yamaha Prometeon WorldSBK) will leave Yamaha at the end of 2023, joining the ROKiT BMW Motorrad WorldSBK Team for 2024. The Turkish star, the 2021 World Champion for Yamaha, had been linked to the German brand when Kenan Sofuoglu spoke to the media and said that an offer had been made during the Prosecco DOC Catalunya Round. With time away, the final member of the "titanic trio" will confirm he stays in the MOTUL FIM Superbike World Championship and doesn't jump to MotoGP™, but as far as it goes for the paddock, this is up there with one of the biggest rider market switches, EVER. We look back at the big ones from before.
THE OBVIOUS: Fogarty's switch from Ducati to Honda and then back to Ducati
The first major change to come in WorldSBK was when Carl Fogarty moved from taking two titles with Ducati in 1994 and 1995 in search of a new challenge, joining the Castrol Honda team in 1996. It would be a bad move, with the defending Champion only taking four wins, albeit a thriller at Hockenheim arguably going down as one of WorldSBK's greatest races. Struggling to fourth in the Championship and never really challenging, Fogarty headed back to Ducati in 1997 but it took him a year to get back up to speed, before snatching the 1998 title in a final round showdown. He was back to his best in 1999, but he said himself that it took a long time to get back to his 1995 level.
Speaking about breaking up a winning formula, 'Foggy' wasn't in favour of it when Jonathan Rea was on the market in 2022 and stated that he would advise against making the mistake he made in the 90s: "I should never have broken up a winning package. I had the best bike ever in 1995 and I went and broke all that up for a couple of hundred thousand pounds more; I was just stupid really. It cost me the title in 1996 and 1997; it took me two years to get the title back. It's something I regret to be honest, but Ducati took me back."
CORSER'S BIG JUMP: Ducati to Aprilia in 2000
Troy Corser was one of the stand-out riders on his way to third in the 1999 season and he fought hard against teammate Carl Fogarty and Castrol Honda's Colin Edwards. Three wins and 12 podiums meant a strong season for the 1996 World Champion. Meanwhile, 12th in the overall standings was Peter Goddard on a seemingly uncompetitive and brand-new Aprilia, with just one top five all season. Surely, Corser's future didn't lie with the Noale factory? Well, Virginio Ferarri's team tempted Corser in for 2000 and 2001 and it was a successful partnership, with a podium in just their second race together and home victory in just their fourth at Phillip Island. Five wins across the course of the 2000 season and plenty of podiums saw Corser as a Championship contender, but top four consistency just kept him in third at the end. In 2001, two wins at the start of the season came but it would be fourth overall, nonetheless a shock switch which gave big rewards.
REA GOES GREEN: a match made in Kawasaki heaven
There was little doubt about just how good Jonathan Rea as a rider has been, but on a dated Honda and with injuries interfering, plus a lack of factory support, it was always a story of what could be. Well, when Rea switched to Kawasaki in 2015, it was clear that we were entering into his era in WorldSBK, although perhaps nobody knew quite how dominant he would become. Soon enough, 103 wins, 207 podiums and 48 pole positions later, Rea signed his name in history as the greatest rider of all-time in terms of numbers. The Kawasaki package was on the ascendance before Rea joined, but it was perfected once he was there. A tricky couple of years have seen Rea relinquish the title as the base model ZX-10RR ages, but the Provec-run operation remains well respected.
BAUTISTA BACK IN BOLOGNA RED: unfinished business…
After winning the opening 11 races of 2019 and dominating in his rookie season, it's nothing short of baffling that Alvaro Bautista didn't take the crown – to this day, nobody really knows what went wrong. Speaking in The Return documentary, Paolo Ciabatti, Ducati Corse Sporting Director, said, "I wish I knew the answer and I still don't know" whereas Bautista himself said "Sincerely, I have no idea what happened in 2019." However, two years away to perfect his skills as a development rider for Honda's new factory Team HRC outfit resulted in comparatively little success, with no wins but a handful of podiums. In 2021, it was announced that after the sour end to their relationship in 2019, Bautista would be back in Ducati red and #TheReturn was born. Not as dominant, but stratospherically more consistent, a new tool helped Bautista take the 2022 title with a round to spare. 2023's going the same way, with 2019 domination now being partnered up with his comeback year consistency.
RAZGATLIOGLU LEAPS TO YAMAHA: Toprak made the headlines in another switch
Toprak Razgatlioglu himself isn't afraid of making the big switches either; the Turkish rider moved out of the Kawasaki family as he didn't want to play second fiddle to dominant force Jonathan Rea, and when Yamaha made their offer, Razgatlioglu was moved into the Yamaha family. The bike that hadn't challenged for a Championship and had just a handful of victories and perhaps didn't suit Razgatlioglu's aggressive braking style… the Turk proved them wrong with an emphatic victory on his debut. The rest is history, with 31 wins, 78 podiums and a title being bagged. But now we know Razgatlioglu won't be at Yamaha in the future and that he'll be at BMW, that instantly makes it one of the biggest we've ever seen.
MELANDRI'S FROM YAMAHA TO BMW: it worked then…
Marco Melandri's rookie season in 2011 saw him take four victories, 15 podiums and challenge for the title with Yamaha, albeit just falling short and finishing second in the Championship. After Yamaha elected to suspend their factory involvement in WorldSBK in 2012, Melandri was on the market and in October 2011, Melandri joined the factory BMW squad, at the time without a victory but improving with podiums. Melandri turned their fortunes around with a podium in his first race and whilst the next six yielded nothing special, he was a winner at Donington Park, heading home teammate Leon Haslam in the first-ever BMW 1-2. Six podiums and four wins in the next nine races saw Melandri as the rider to beat, but a tough end to the year meant he took third overall. He was fourth in 2013 with three wins and remains the manufacturer's most successful rider.
Watch the rest of an incredible 2023 season in style with the WorldSBK VideoPass!