WorldSBK DIGEST: the biggest questions after Razgatlioglu's switch to BMW confirmed
Tuesday, 23 May 2023 12:08 GMT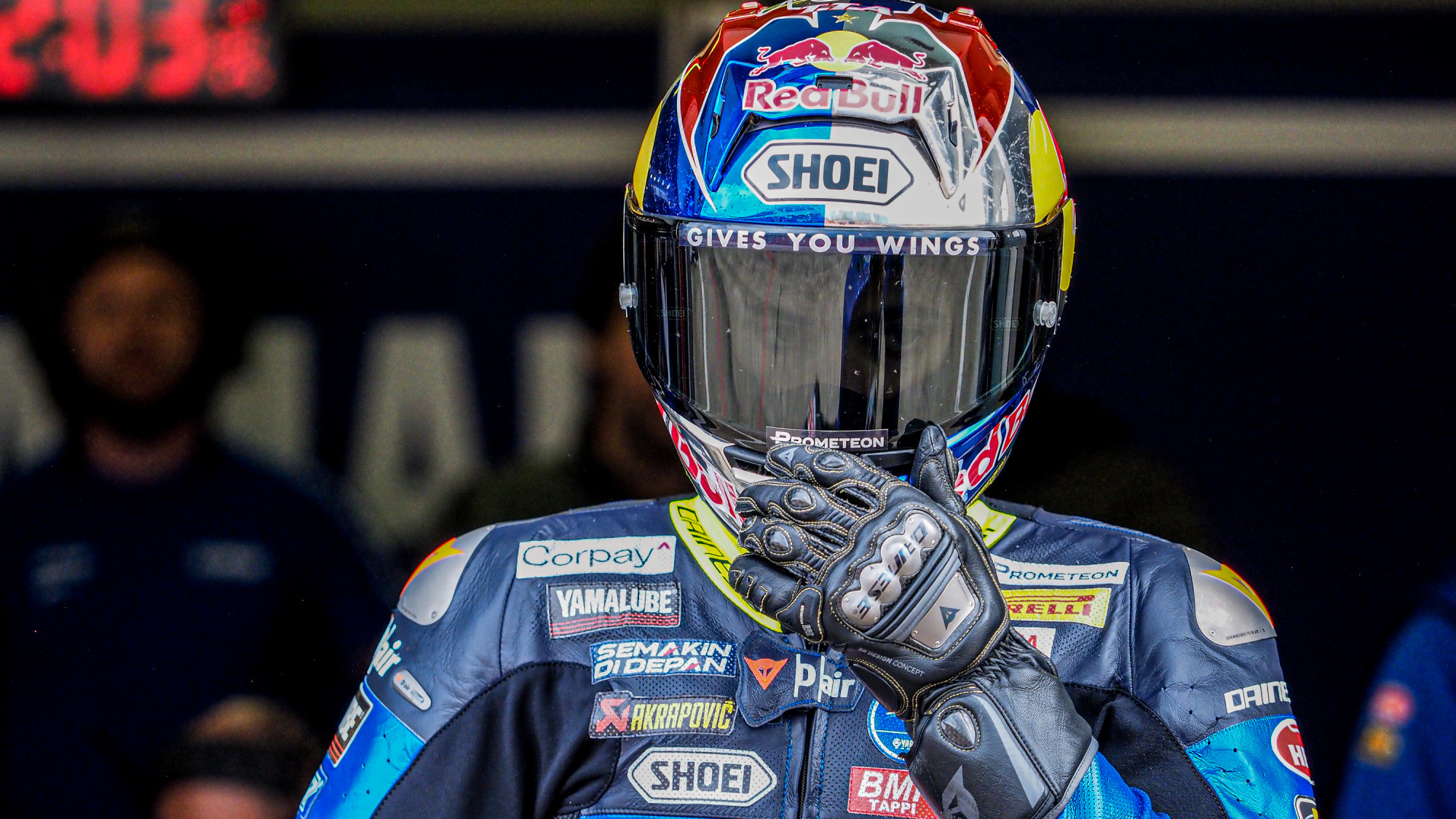 Plenty of questions, not many answers: the key topics to follow as Razgatlioglu goes to BMW in 2024
Usually, breaks are used for testing, some would say a bit of relaxing, perhaps some marketing. Occasionally, there's a rider announcement about a renewal, but very few times do we see a major bit of 'silly season' news that has come to fruition. Well, if you've been under a rock during recent hours, 2021 WorldSBK Champion Toprak Razgatlioglu (Pata Yamaha Prometeon WorldSBK) is leaving Yamaha and heading to the ROKiT BMW Motorrad WorldSBK Team for 2024. As expected, there's been a myriad of questions about the move, the reason and what's next for the existing BMW and Yamaha riders. We've seen your questions and now, try our best to answer them.
Why has Toprak Razgatlioglu moved to BMW?
It's a fair question; the BMW hasn't won a race in the dry and it has struggled to challenge regularly for podiums, unlike the Yamaha which is a proven Championship winning package and one of the easier bikes for rookies and graduates to ride. However, it's clear that Razgatlioglu has a top speed deficit in comparison to Alvaro Bautista (Aruba.it Racing – Ducati), and the Bautista-Ducati package make a Championship challenge trickier to mount than in 2021's title-winning season. The BMW isn't short on top speed, and perhaps Razgatlioglu's search of a "new target, a new challenge" means to develop the bike into a winner, getting it to turn better in the middle of the corner and getting the power down on corner exit. There may also be a new project underway for BMW in WorldSBK; the manufacturer brought major updates in 2023, it may have more lined up.
Who will be Toprak's teammate in 2024?
It's probably the biggest question right now in the paddock. Marc Bongers gave limited information when asked about the 2024 line-up in Barcelona, and with Michael van der Mark out injured for a third stint in just a year and a half, the Dutchman could be feeling the heat. However, after Razgatlioglu's announcement to BMW was made, the #60 shared "welcome Abi" to his Instagram story, suggesting that he may well be staying with BMW.
As for Scott Redding, the British rider is behind Independent rider Garrett Gerloff (Bonovo Action BMW) and in races where both Redding and van der Mark have finished, it's 3-2 in Mikey's favour, even if the #45 scored more points. He's questioned his BMW future, saying he'll "consider options" and it's "hard to wait." Redding and Razgatlioglu have got previous fallout, clashing on numerous occasions – notably at Most in Race 1 both in 2021 and 2022. Until an official statement is made, we can only go on what we know: both current riders aren't signed for 2024. We could in theory see a whole new line-up. Gerloff, like van der Mark, "welcomed" Toprak to BMW and stated he "thinks he'll like" the bike, even if the #31 will be in the Independent team. Redding hasn't commented.
If not Redding, what happens next for the #45?
30-year-old Scott Redding came to WorldSBK and was instantly a Championship contender, winning races and finishing as runner-up in his rookie season. Third in his second year before moving to BMW, race wins seem a long time ago as Redding has undoubtedly struggle with the switch to inline four machinery, away from the Panigale V4 R which he came to WorldSBK aboard. Redding has questioned his own future as we've stated above, but what would those "options" be?
A return to Ducati? Perhaps, emulating Bautista, who likewise had two years away on inline four machinery at Honda and upon returning, was a better rider for it. Redding's also been vocal about the Ducati's top speed advantage so if you can't beat them, maybe (re)join them? Unlikely, as Ducati have plenty of riders already waiting, such as current rider Rinaldi, his arch-rival Axel Bassani (Motocorsa Racing), Danilo Petrucci (Barni Spark Racing Team) and WorldSSP Championship leader, Nicolo Bulega (Aruba.it Racing – Ducati). What about Yamaha or Honda? A straight swap with Toprak is always possible and Yamaha will want an established race winner, but does Redding fit with Yamaha's ethos of developing young talent? As for Honda, they're the one team that have been quiet, whilst Alex Lowes' (Kawasaki Racing Team WorldSBK) contract expires at the end of 2023.
Will Phil Marron move with Razgatlioglu to BMW?
Phil Marron has been Razgatlioglu's crew chief since 2019, when Toprak was at Puccetti Kawasaki. Marron moved to Yamaha with Toprak, as Les Pearson – previous crew chief to van der Mark within the team – moved over to the GRT outfit with Garrett Gerloff, and Andrew Pitt moved to van der Mark's side. Marron came from working with Shaun Muir Racing in 2018, when he was crew chief to Eugene Laverty. It makes sense that Razgatlioglu brings Marron to BMW, with their close-knit relationship; after all, a rider's crew chief is a vital personal link as much as technical and it's about having understanding. Bautista and Giulio Nava are the same, as are Rea and Pere Riba. The current crew chiefs at BMW are Ian Lord for Redding and Marcus Eschenbacher for van der Mark.
What happens to Yamaha and who will replace Razgatlioglu?
It's an obvious question with not an obvious answer. A day after it was publicised that Toprak will leave for 2024, Andrea Locatelli was announced as staying with the team until 2025, making him the longest-serving factory Yamaha rider in WorldSBK at five straight years. The only others currently with a 2024 deal are Jonathan Rea (Kawasaki Racing Team WorldSBK), Alvaro Bautista and Garrett Gerloff. Team HRC's Iker Lecuona and Xavi Vierge, Michael Ruben Rinaldi (Aruba.it Racing – Ducati), Alex Lowes and both 2023 factory BMWs Scott Redding and Michael van der Mark are all available. Lowes and van der Mark have been at Yamaha before as teammates, whilst the others haven't.
Could Yamaha promote an Independent rider?
With Yamaha's racing ethos, progression is key. Dominique Aegerter (GYTR GRT Yamaha WorldSBK Team) was promoted from WorldSSP after two dominant titles and has been a strong in 2023, with two front rows and amazing late race pace seeing him with a best of P4. Teammate Remy Gardner is improving all the time too, whilst for Lorenzo Baldassarri (GMT94 Yamaha) and Brad Ray (Yamaha Motoxracing WorldSBK Team), it's unlikely they move into the factory team. Of current Independent Yamaha riders, the best-placed in the Championship is Aegerter, 27 points clear of teammate Gardner, one ahead of Rinaldi and 18 from P5's Axel Bassani.
What is BMW's strategy to success and why hire Razgatlioglu?
A final thought on BMW's unequivocal desire to win and challenge for titles from Marc Bongers, BMW Motorrad Motorsport Director: "Toprak is undoubtedly one of the best riders in the field at the moment, which he proved by winning the 2021 World Championship. He's not just a fast motorcycle racer, he's also a great personality off the track. We're convinced that Toprak will settle into the BMW Motorrad Motorsport family very quickly." Dr Markus Schramm, head of BMW Motorrad, added: "I'm very proud that Toprak has opted to join BMW Motorrad. This is a forward-looking step for our project and a strong commitment of BMW Motorrad Motorsport in WorldSBK."
Watch the rest of an incredible 2023 season in style with the WorldSBK VideoPass!