Top 10: Toprak's best moments with Yamaha
Wednesday, 24 May 2023 10:16 GMT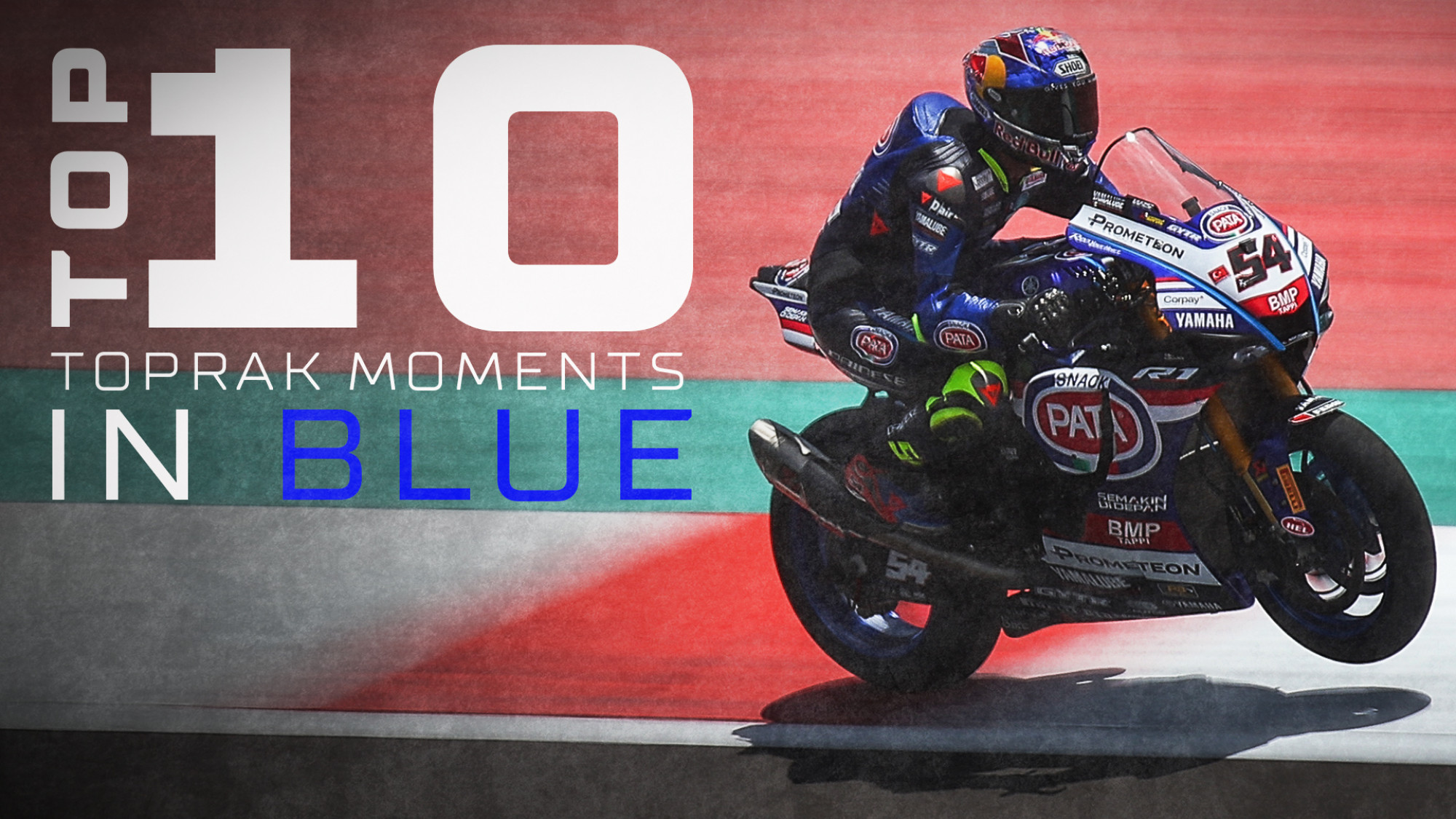 From the first win to the famous title, incredible battles and a memorable triple
The 2023 MOTUL FIM Superbike World Championship is a fascinating season. However, the news that 2021 World Champion Toprak Razgatlioglu (Pata Yamaha Prometeon WorldSBK) will leave Yamaha at the end of 2023 and get ready for a new challenge in the factory BMW team has sent shockwaves through the paddock. With this move now official, we look back at ten of the best moments of Toprak's time at Yamaha, as a memorable four-season partnership will come to a close.
The first win: Phillip Island Race 1, 2020
Few riders win on their WorldSBK debut for a new manufacturer, with Jonathan Rea for Kawasaki in 2015, Leon Haslam for Suzuki in 2010 and John Kocinski for Honda in 1997 doing so. Toprak Razgatlioglu put his name on the list in his first race for Yamaha in 2020, taking the lead on the last lap and holding off a slipstream charge to the line for WorldSBK's second-closest podium at 0.007s.
Domination at Estoril: Estoril Race 1 and Superpole Race, 2020
At the end of a first campaign with Yamaha, despite the initial high of winning, technical issues and a lack of podium consistency saw Razgatlioglu not feature prominently at the front or in rostrum battle. However, at Estoril, he stormed to a career-first pole position by over seven tenths of a second before checking out in Race 1 and the Superpole Race, whilst being beaten in Race 2, but ending his first year how he'd go on to start the second.
The Senna-like start: Donington Park Race 1, 2021
With just one victory to his name in what would go on to be his Championship year, Razgatlioglu qualified in 13th at Donington Park, the circuit where he took a first-ever podium at in 2018. Flying off the fifth row, Razgatlioglu was inside the top five by the time they got to Turn 1, with a narrow dry line all he had to work with. He was second by Turn 8 and leading halfway through Lap 2. He checked out for one of his greatest ever wins, with a start similar to Ayrton Senna in F1 at the same track in 1993.
Battle commences with Redding: Most Race 1, 2021 and 2022
Razgatlioglu was in form in 2021 and fighting his way to the front, whilst title rival Jonathan Rea crashed twice in Race 1. On the last lap, he took on Ducati's Scott Redding, making a bold pass into Turn 15, but running wide, before launching an attack into Turn 20 and barging his way through. The pair had strong words and contrasting emotions over it; then, a year later, in the same race, the BMW-mounted Redding was passed by Razgatlioglu into the fast Turn 13, with Redding running off-track. Again, they clashed over the forcefulness of the move; could they be teammates in 2023?
Celebrating with the rub of the green: Portimao Race 1, 2021
After a late penalty for going onto the green at Magny-Cours in the Superpole Race cost him a heroic last lap battle win, Toprak Razgatlioglu was out to make amends at Portimao. He hit the front into the first turn with three to go and broke clear of Scott Redding, whilst Jonathan Rea had crashed out earlier at the final corner. Razgatlioglu took the win and celebrated by getting a broom and brushing the green on the exit of Turn 5, in reference to Magny-Cours. In Race 2, Toprak crashed at the same corner that Rea had in Race 1, with Rea winning. Rea's celebration was a burnout on the same bit of green that Toprak had previously cleaned. Oh, the fun and games.
The 'Marc Marquez style' save: Estoril Superpole Race, 2022
Round three of his title defence season with the #1 and Razgatlioglu still hadn't won, but that looked like it was going to change at Estoril in the Superpole Race. After being beaten on a final lap run to the line in Race 1 by Bautista, Razgatlioglu was leading on the last lap ahead of Jonathan Rea. However, into the final chicane at Turn 9, Toprak tucked the front in a massive way, with his elbow on the ground. Somehow, he kept it upright but Rea zipped on through and took victory, although Razgatlioglu was happy enough just to make it to the finish in P2.
Old enemies clash again: Most Superpole Race, 2022
In another final lap showdown, Razgatlioglu and Rea went toe-to-toe. Just a few rounds after their battle at Estoril and their clash and crash at Assen in Race 2, both were embroiled in more drama. On the last lap into Turn 15, Razgatlioglu put his leg out as he got ready for track position, whilst Rea was on the inside and going for a race winning pass. However, both nearly collided and Rea had to let the brakes off as he went into the gravel, but kept it upright. Razgatlioglu scampered clear for victory.
Keeping the title alive: San Juan Superpole Race, 2022
After crashing in the first race, Razgatlioglu's title defence was now looking like it wasn't going to happen, but the 54 never knows when he's beaten. A titanic final three laps with Alvaro Bautista saw the two battle hard, tripping each other up and bringing long-time race leader Jonathan Rea back into play. Bautista lead onto the front on the final lap, only for Razgatlioglu to outbrake him into Turn 1. Bautista tried again on the back straight, but Razgatlioglu responded into Turn 8, holding on until the chequered flag. An instant classic in Argentina.
The first triple, "dream" achieved: Donington Park Race 2, 2022
If Toprak hadn't been penalised at Magny-Cours in 2021, then he'd have achieved a first triple of his career. It was the only thing missing from his Championship year. However, in his quest to defend the title, he finally achieved his dream. Razgatlioglu was invincible at his "second home" of Donington Park, as he took Paul Denning's team to victory in all three races, the team's first triple too. It would be the first of two triples of 2022, with the other coming at Mandalika where in Race 2, despite making it a hat-trick, Razgatlioglu relinquished the crown to Alvaro Bautista and Ducati.
The title-clinching race: Mandalika Race 1, 2021
A thrilling 13-round WorldSBK season was coming to an end but not without drama. The first-ever race at Mandalika was delayed until Sunday due to heavy rain on Saturday. Then, it was delayed one more time on Sunday but eventually, the race got underway. Razgatlioglu almost crashed on the warm-up lap at Turn 1 after a near-miss with Axel Bassani, but then when the race got going, he and Rea did battle once again, the two titans of the title race. But with nine laps to go, Razgatlioglu made a big mistake and went from the lead back to P3. However, he'd fight bike to second, enough to give him the Championship in an incredible first-ever race at Mandalika. Check out The Final Stunt documentary, here!
A breath-taking season is well underway, watch it all unfold in style with the WorldSBK VideoPass!