These small details can make a big difference…" – Vierge revels with Honda updates
Thursday, 23 March 2023 17:16 GMT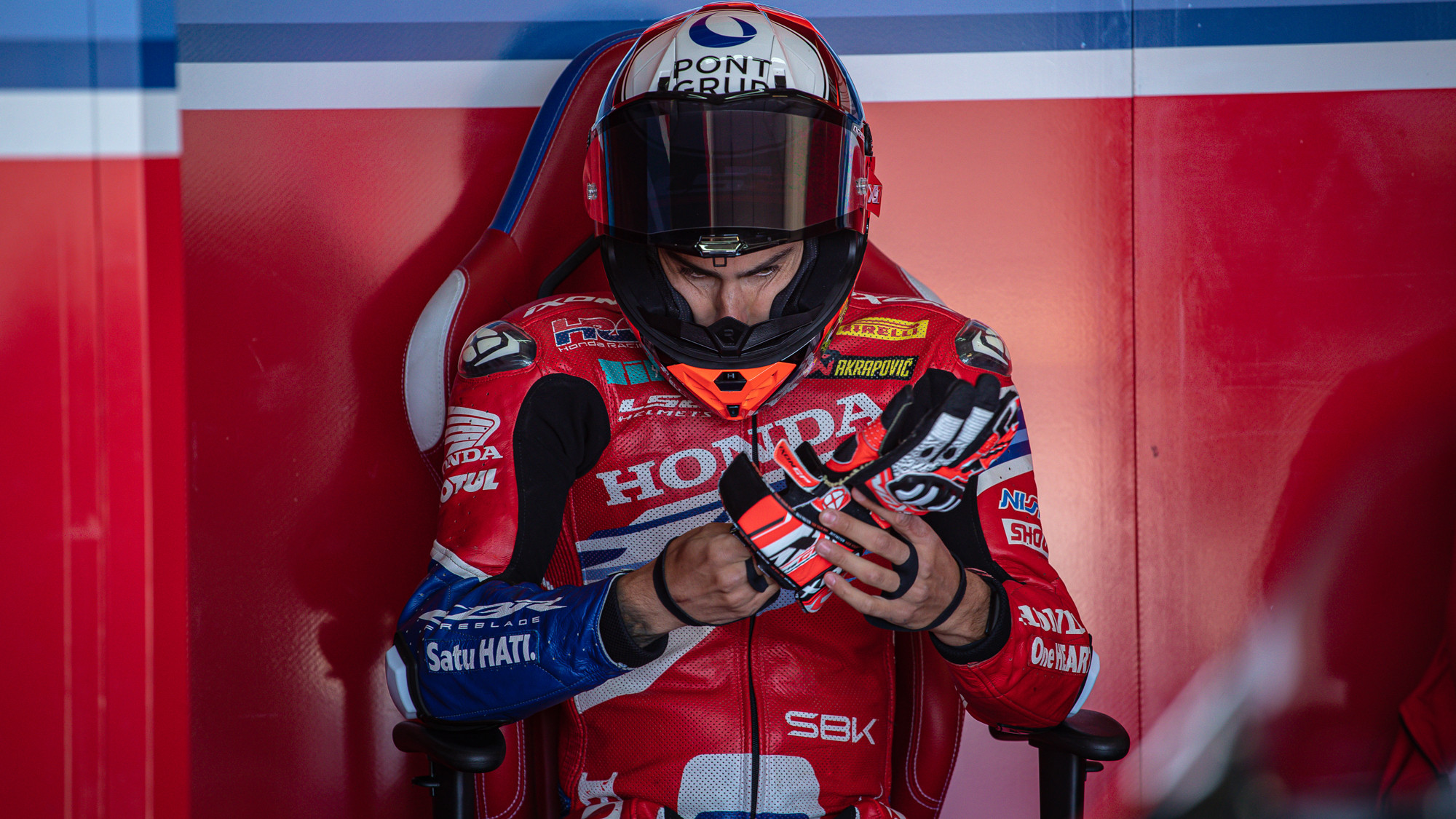 In what was one of the most productive test days for the #97, he's confident to prove that Mandalika's rostrum could well be the first of many after two days testing at Aragon
It's been a positive two days for Xavi Vierge (Team HRC) as testing at MotorLand Aragon has come to a close. The #97 Spaniard arrived off the back of a career-first podium in the MOTUL FIM Superbike World Championship at Mandalika and was straight on the pace at the Spanish venue. Consistently – and perhaps, unsurprisingly – the fastest rider in the speed traps across both days, with a maximum reached on Wednesday morning of 315.8km/h.
Across both days, there were plenty to test for Vierge, starting with a new exhaust on day one, although more testing would be needed to be done to find out how beneficial it will be. Regardless, it wasn't a revolutionary new item but to try and create more power on the exit of the corners. On day two, an updated chassis bracing was also used, with it being more rigid to try and provide more stability on acceleration.
Speaking at the end of day one, Vierge was pleased: "Basically, we started with a base setup and a bike we knew. We tried the new exhaust and there have been some positives of course, but like always, we tried many things and it's important to analyse all the data to have a clear understanding for the second day. We're working on finding a better connection with the throttle. I think we're strong with our race pace but on the fast laps, we miss a little bit. It looks like we've found some positives so I am happy about that."
Testing the updated bracing Vierge was once again happy with his on-track performance during the test, and explained just how important it is: "We are always on a really narrow line - as soon as the track changes, or the grip changes, or even the tyre from race to race if they bring different compounds, we need to change our base quite a lot. This is difficult for us. What we are aiming for is a bigger window, so that we don't need to always be so precise. In a World Championship, with many different tracks, many different weather conditions, it's difficult to always find the perfect set-up, so if we can find a standard base that works more or less in any conditions, it will help us a lot.
Talking about the second day in general, Vierge commended the efforts of the team: "It has been a very productive day for us. We focused in the morning on the new exhaust, and the frame with the new bracing, to see the difference. Honestly, I'm really happy. Honda is working really hard on the small details - at this level, these small details can make a big difference. We made a step forward. Our pace all day has been very strong. This morning, with the hard tyre - same problem, normally with the hard tyre and the SCX, I'm much faster with the SCX, I struggle to go fast with the SC0 tyre. Today I improved around eight tenths with that tyre, so it's a big improvement."
Looking ahead to Barcelona and the prospect of a lack of grip – something that Vierge has struggled with in the past – he commented: "The problem in Barcelona, for me, isn't low grip; it's that you have a lot of grip, but only for a few laps. So, if you use that extra grip, you destroy the tyre and you can't make the full race distance. Last year, Race 1 we struggled a lot, but we understood on Sunday how to manage the tyre. It was one of my best weekends. A "no-grip" example for me was Australia, where we had really hard tyres. I weigh quite a bit less than Iker, so my problem was that I found it difficult to make the tyre work. But then for example, in Mandalika, even with a narrow line there is so much grip, I can adapt myself to the bike and take full profit of it. What we are looking for with the new things is also to minimise our weak points, let's say."
Watch the 2023 season unfold in style with the WorldSBK VideoPass!