Team HRC bring upgraded engine specs to Jerez test, Lecuona returns to track action
Tuesday, 13 December 2022 14:15 GMT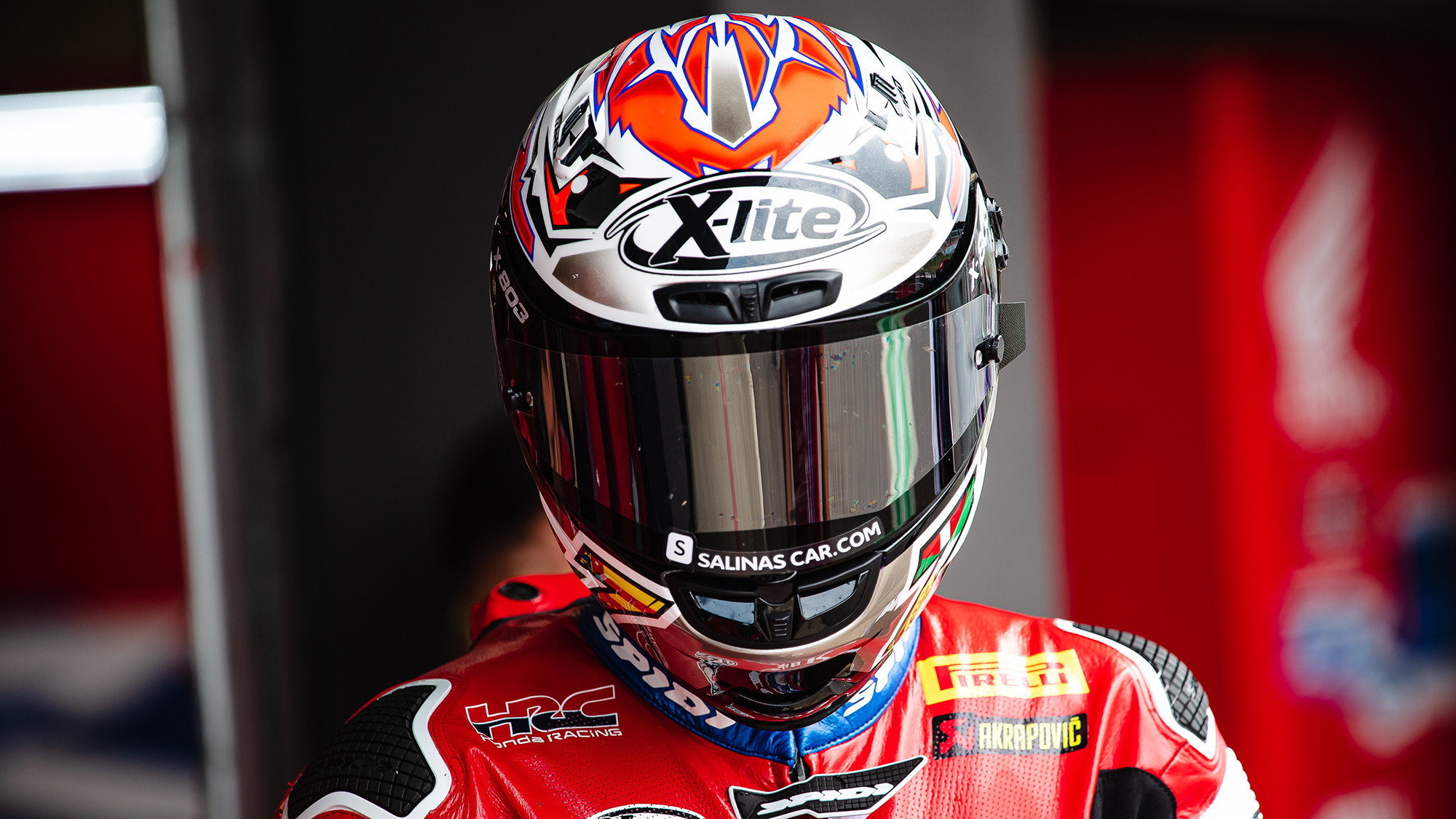 It was a busy opening day of track action for the factory Honda team as they had a variety of new items to put to the test
The 2023 MOTUL FIM Superbike World Championship is already loading and there's plenty of work underway at Team HRC, who are on track at the Circuito de Jerez – Angel Nieto for a private test. Despite a day plagued by rain and poor weather, team manager Leon Camier shed plenty of light on what the team are testing, ranging from upgraded engine specifications to a swingarm evolution and more. Iker Lecuona also returned to action and gave an overview of his first day back on the bike since his Mandalika FP2 crash. Whilst there was absolutely no dry running at all throughout day one of the test, conditions improved slightly towards the end of the afternoon when the rain stopped.
"We need to improve in the wet anyway, so we'll try and understand the items we've got in the wet," began Camier, as Team HRC committed to going out on track in the wet. "We've got some slightly different engine specs, an evolution of the swingarm and we need to do some geometry work but that isn't good to do in these conditions. We have some small electronic things but just the normal stuff that, at this time of year, you try and upgrade every area of the bike. The swingarm is an evolution of what we already had, just making another step to try and find a bit more edge grip."
Elaborating further on the upgraded engine specs, Camier stated that it was for bottom-end power and torque: "With the engine spec, it's more for bottom end, acceleration and engine braking, as we aim to make more torque. There're some slight differences in gear ratios and things like that, trying to understand the optimal setup that we need, now we have a bit of experience with this bike. To change torque and these things, you need to compensate with gear ratios, so it's just the normal optimising of the circuits we have with the torque that we need for those circuits."
Camier also stated that upgrades from brake supplier Nissin and suspension manufacturer Showa are scheduled, but when or where they'll test it isn't confirmed: "Nissin are always working to improve so for sure, they have some small upgrades to try but I don't know if we'll test it or not in these conditions because it'll be difficult to understand anything. The temperatures that you run at in the dry are a completely different world, and they're more focussed towards that. It's the normal development from Nissin, nothing revolutionary from what I understand that we have to test. The performance of our brakes has been really good, so this is just a normal upgrade to figure out the next step and how to improve overall. We have some modifications from Showa but until we test it, we don't know whether it's what we need or not yet. With these conditions, it's normal that everyone is trying to improve and coming up with different products, but until we try it, we don't know if it is the right area or not."
Speaking about his return to the track for the first time since his Mandalika crash, Lecuona was positive: "Honestly, I feel really good. The first two or three laps, I felt a bit strange, and I didn't feel perfect with my back, but after a few more laps, once my body had warmed up, I didn't have any pain so I could ride quite well. I am very happy to be here at Jerez and I think in general, I worked quite well today, even with the wind and the difficult conditions. I feel quite well, although my back and the muscles are a bit tired but in general, during the test, I have zero problems to ride the bike. I need to talk with the team honestly because if the track is still like this, then maybe we'll only ride half a day to save the half-day. What is clear is that we need to improve the bike a lot because in the wet, there's a big gap. If tomorrow is fully wet, maybe we'll go again for a full day.
Enjoy the 2022 WorldSBK season review NOW and get ready for 2023 with the WorldSBK VideoPass!