Sofuoglu on Razgatlioglu's BMW move: "We believe we are going to win the Championship with BMW!"
Thursday, 1 June 2023 09:23 GMT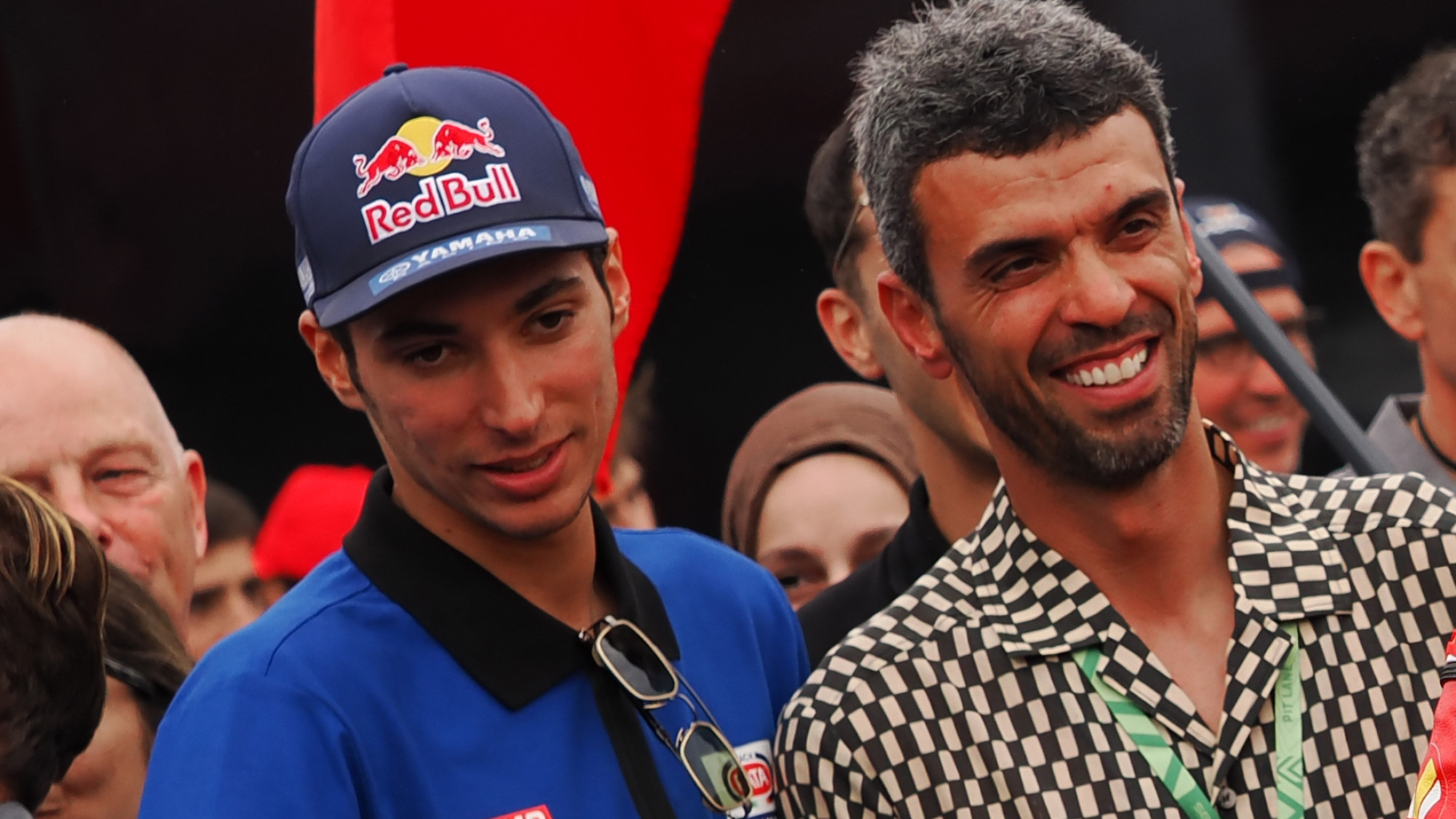 Five-time World Supersport Champion, and Toprak Razgatlioglu's manager, spoke about the 2021 Champion's move to BMW for 2024
As the MOTUL FIM Superbike World Championship paddock gets set for the 2023 Pirelli Emilia-Romagna Round at the iconic Misano World Circuit "Marco Simoncelli", all eyes will be on Toprak Razgatlioglu (Pata Yamaha Prometeon WorldSBK) following the announcement that he would switch to the ROKiT BMW Motorrad WorldSBK Team for 2024. Ahead of Round 5 of 2023, Kenan Sofuoglu, Razgatlioglu's manager and five-time World Champion, discussed Razgatlioglu's move to BMW for next season as well as how he hopes he can end his Yamaha career on a high note this season.
LONG TERM GOALS: "He has a two-year contract and, I believe, we will win the Championship…"
When Razgatlioglu lines up on the 2024 grid with BMW, the German manufacturer will become the third different manufacturer Razgatlioglu has raced for in WorldSBK alongside Kawasaki and Yamaha. He has claimed wins and podiums with both Kawasaki and Yamaha so far, as well as the 2021 title with the latter, but Sofuoglu believes that Razgatlioglu will be able to add more wins, podiums and titles to his collection when he joins BMW next season. The five-time WorldSSP Champion also likened the move to when Razgatlioglu left Kawasaki and joined Yamaha for 2020 where he won in Australia, in Race 1, to take his first Yamaha victory in his first race.
Explaining the long-term goals, Sofuoglu said: "Toprak had an offer in 2020 to leave a winning package, when Jonny was winning everything. Kawasaki wanted him and he was very good on Kawasaki. Later, we moved to Yamaha and we won the Championship with Yamaha. The Yamaha movement made Toprak much more famous. If Toprak was the third Kawasaki and won Championships with Kawasaki, I think Toprak wouldn't have been as famous as today. It's very different to have Kawasaki fighting with Kawasaki or Kawasaki fighting with Yamaha as we did with the last contract. Now, we want to do this with BMW. Maybe not many people believe in us. We believe very much, me and Toprak. We believe 100% we are going to win the Championship with BMW. Time will show us, but this is what we believe.
"BMW are a very big brand and they are very excited to give us what we need. Toprak has enough talent to cover missing points. He has a two-year contract and, I believe, we will win the Championship. I can't say which year, but we come to BMW to make BMW and ourselves Champions. They are fully ready for what Toprak needs to make it, even in the future. If Toprak asks, BMW are ready to deliver to Toprak what he needs to make the bike a Championship winning bike. This partnership came together to be Champions. We came together to make BMW World Champions. This is our main goal."
JOINING BMW: "It's one of the hardest challenges… Toprak wants to try it"
Razgatlioglu will leave his Yamaha YZF-R1 behind at the end of the year, in which he has won 31 races and taken a total of 78 podiums. He claimed the 2021 title after an incredible season-long fight with Jonathan Rea (Kawasaki Racing Team WorldSBK) which culminated in a showdown in Indonesia. Sofuoglu discussed why Razgatlioglu opted to leave Yamaha for BMW next season, with the M1000RR proving to be less competitive in 2023 compared to the Yamaha although the team did score podiums last year with the old model.
Sofuoglu explained: "There was an offer from BMW. They were the first interested team for Toprak. We tried to deal with Yamaha and when BMW's interest arrived, I told all of them very clearly, 'first, we will speak with Yamaha and if we don't make an agreement with them, we can start speaking'. We couldn't deal with Yamaha, but it was not just for the money story but mainly, in our mind, to make the change. I saw that Toprak was most interested in BMW. He knows, and we know, it's one of the hardest challenges it can be. Toprak wants to try it. BMW's never been WorldSBK Champion. They've had some good results but have never been the Champion. If you look at the results right now, we can't say it's going to be easy for us. I give my full support to Toprak. I believe he's very talented and this is why I fully support him for his excitement with BMW. In the end, we found an agreement. I already see, this spring, very good excitement from Toprak. We saw it at the last test at Misano. We were very close to the deal at this test and Toprak was very excited to continue in WorldSBK with a new challenge. People were telling him it would be difficult, but he wanted to see what he could do with BMW. This is what we needed. This was the main reason we made this change in WorldSBK."
A STRUGGLE BEFORE ADAPTING? "I don't think it'll take a long time for Toprak to understand the bike"
BMW have changed their rider line-up on several occasions in recent seasons, first bringing in Michael van der Mark from Yamaha, with the Dutchman taking BMW's last victory in a mixed conditions Portimao Tissot Superpole Race in 2021 as well as Scott Redding who came in at the start of the 2022 season. In recent years, they have also fielded Eugene Laverty and Tom Sykes, the latter of whom is back on a temporary basis as van der Mark recovers from a fractured leg. Razgatlioglu will become the latest to adapt from their current machine to the M1000RR and Sofuoglu outlined the short-term goals for the 2021 Champion.
He said: "Yamaha haven't allowed us to start early testing. In the WorldSBK paddock, normally every team allows riders after the final race, but Yamaha didn't give us the green light to jump on the bike after the final race. Toprak is very hungry to jump on the BMW. I think the team will prepare a very good testing programme for Toprak. I don't think it will take a long time for Toprak to understand the bike and start to have good results. Maybe this time next year, I guess, we will have the first podium. Winning, we have to see, but I can tell you Toprak will start with BMW with a podium opportunity. Maybe winning but we'll have to see later. I'm sure about it."
LEAVING YAMAHA ON A HIGH: "We want to win the Championship…"
Razgatlioglu took the 2021 title with Yamaha and fought with Alvaro Bautista (Aruba.it Racing – Ducati) last year as he looked to retain it. However, the Spanish rider prevailed as he claimed his first WorldSBK crown and he currently holds a 69-point advantage over Razgatlioglu after four rounds. Sofuoglu discussed the Ducati-Bautista package as well as the aim of Razgatlioglu leaving Yamaha on a high with more victories and, potentially, the Championship.
Discussing this, Sofuoglu said: "We want to win the Championship, but we have to be realistic. Bautista is too strong. Personally, I never see it as Ducati are too good because Bautista is winning. I think, together, they are very good. Bautista is the one rider using the Ducati like he needs to. This package is together is too strong and it looks like it'll be difficult to beat them. I am very confident that there are some races Toprak will be very strong and beat Bautista. This could be at Misano. This could be much more likely at Donington and Imola. There are a few races where Bautista will have a hard time. Generally, if you look at the whole season, Bautista can win the Championship, but I think there are a lot of races that we can win."
Watch all the WorldSBK action throughout 2023 using the WorldSBK VideoPass!