SCHEDULE: all the times you need to know for the Emilia-Romagna Round!
Monday, 29 May 2023 08:53 GMT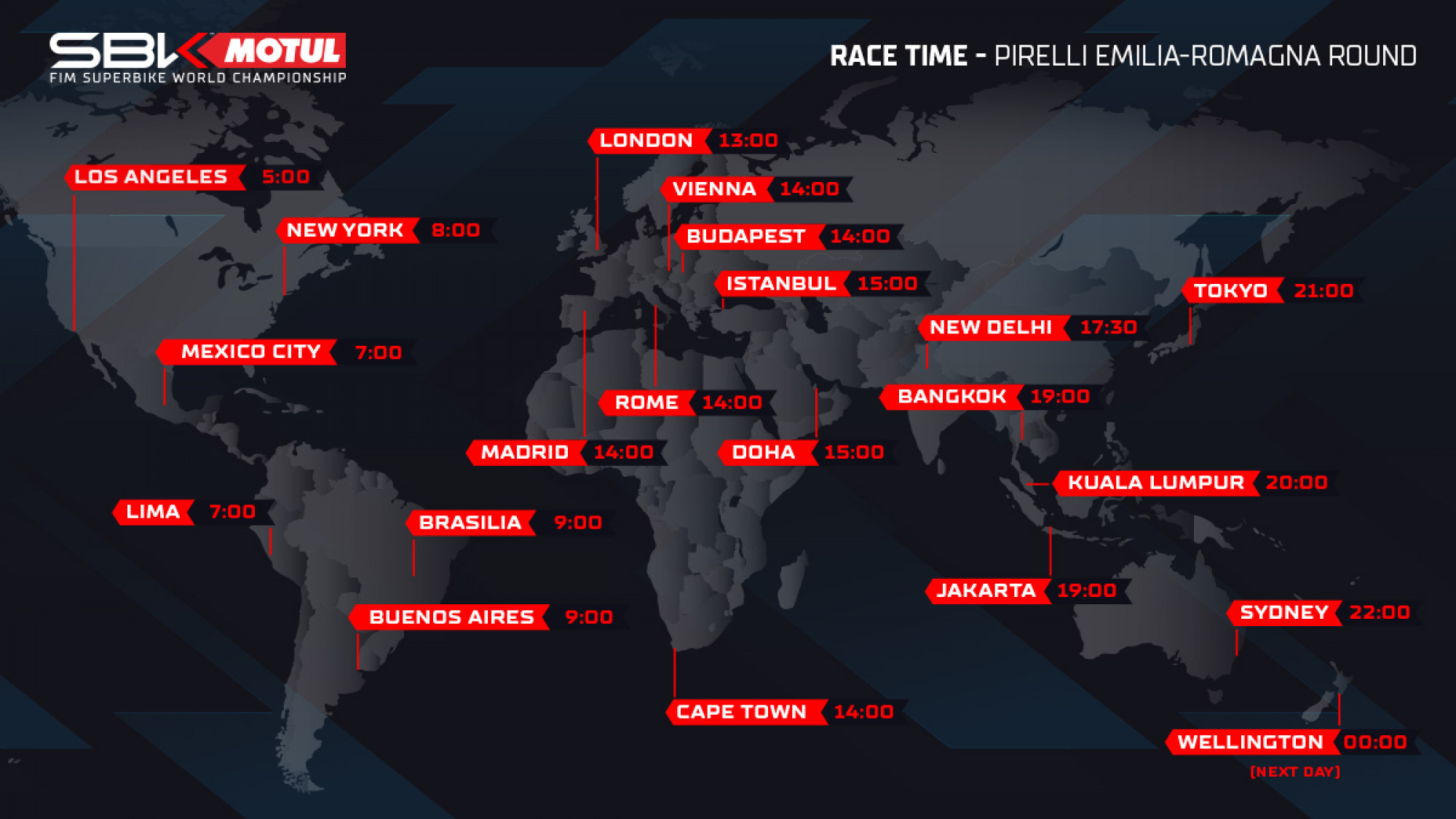 After a break between rounds, which some teams used to test, racing action returns in WorldSBK with a trip to Misano
The MOTUL FIM Superbike World Championship returns to action at the Misano World Circuit "Marco Simoncelli" for the Pirelli Emilia-Romagna Round, with plenty of on-track action for to enjoy throughout the round. Track action starts at 09:00 Local Time (GMT+2) with the Yamaha R3 bLU cRU European Championship, while WorldSSP300 action starts at 09:45 with Free Practice 1. WorldSBK FP1 follows at 10:30 and then WorldSSP at 11:25. WorldSSP300 Free Practice 2 is at 14:15 with WorldSBK at 15:00 and WorldSSP at 16:00. On Saturday, action starts with WorldSBK Free Practice 3 at 09:00 before jumping into crucial Tissot Superpole sessions: WorldSSP300 at 09:45, WorldSSP at 10:25 and WorldSBK at 11:10. Racing action starts at 12:40 with WorldSSP300 Race 1, WorldSBK Race 1 at 14:00 and WorldSSP Race 1 at 15:15. WorldSBK again starts the action on Sunday at 09:00 with Warm Up, followed immediately by WorldSSP and WorldSSP300, while racing action starts at 11:00 with the Tissot Superpole Race. WorldSSP Race 2 is at 12:30 and WorldSBK Race 2 at 14:00 before WorldSSP300 Race 2 ends the weekend's action at 15:15.
Watch every moment from Misano LIVE and UNINTERRUPTED using the WorldSBK VideoPass!
Friday, 2nd June (all times Local Time, GMT+2)
09:00-09:30 – Yamaha R3 European Championship Free Practice
09:45-10:15 – WorldSSP300 Free Practice 1
10:30-11:15 – WorldSBK Free Practice 1
11:25-12:10 – WorldSSP Free Practice 1
13:30-14:00 – Yamaha R3 European Championship Superpole
14:15-14:45 – WorldSSP300 Free Practice 2
15:00-15:45 – WorldSBK Free Practice 2
16:00-16:45 – WorldSSP Free Practice 2
Saturday, 3rd June
09:00-09:30 – WorldSBK Free Practice 3
09:45-10:05 – WorldSSP300 Tissot Superpole
10:25-10:45 – WorldSSP Tissot Superpole
11:10-11:25 – WorldSBK Tissot Superpole
11:45 – Yamaha R3 European Championship Race 1 (10 laps)
12:40 – WorldSSP300 Race 1 (15 laps)
14:00 – WorldSBK Race 1 (21 laps)
15:15 – WorldSSP Race 1 (18 laps)
16:15 – Yamaha R3 European Championship Race 2 (10 laps)
Sunday, 4th June
09:00-09:15 – WorldSBK Warm Up
09:25-09:40 – WorldSSP Warm Up
09:50-10:05 – WorldSSP300 Warm Up
11:00 – WorldSBK Tissot Superpole Race (10 laps)
12:30 – WorldSSP Race 2 (18 laps)
14:00 – WorldSBK Race 2 (21 laps)
15:15 – WorldSSP300 Race 2 (15 laps)