Reigning Champions Alvaro Diaz and Arco Motor University Yamaha step up to WorldSSP
Tuesday, 27 December 2022 15:47 GMT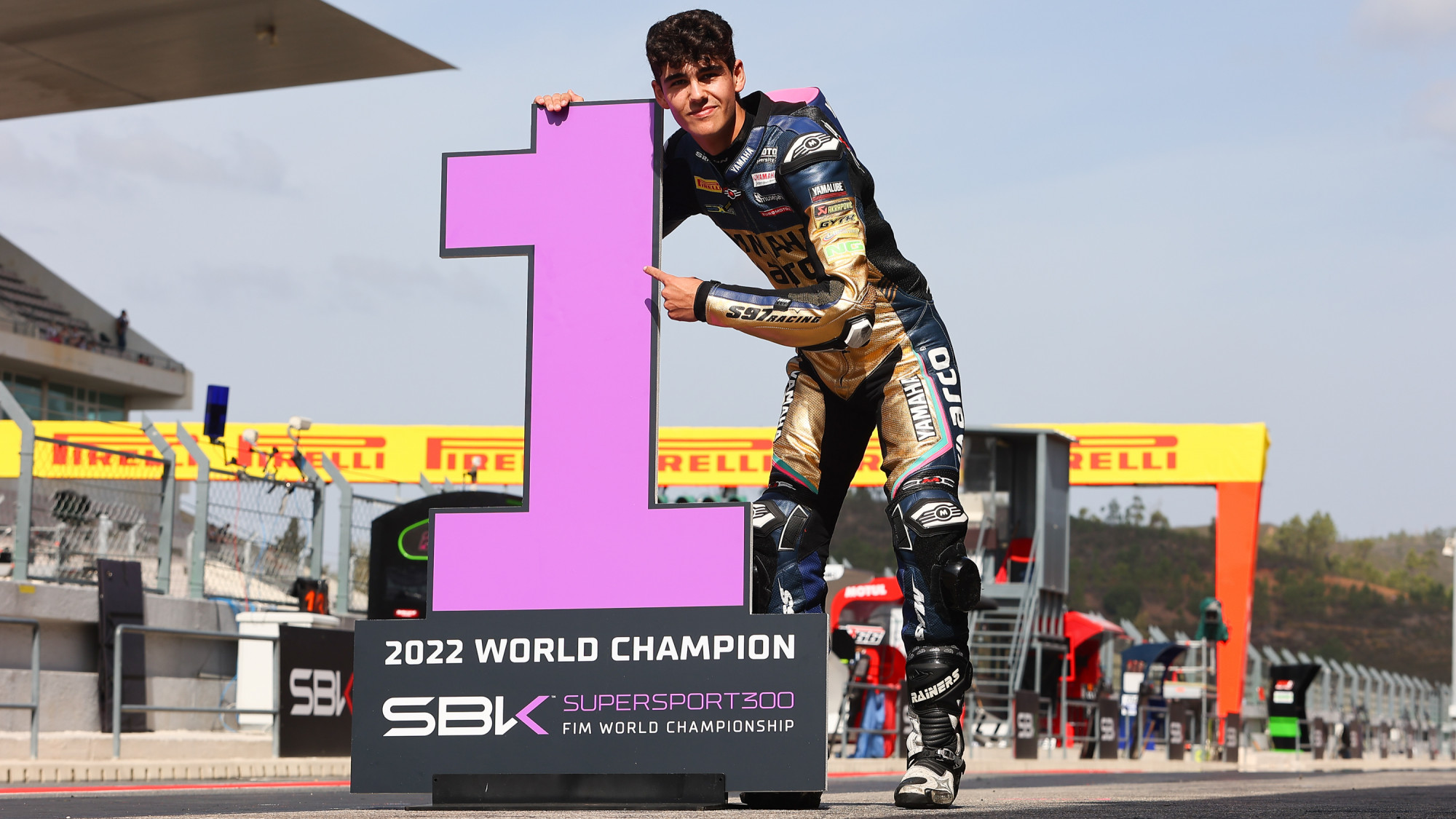 Diaz will make his move to the World Supersport class for 2023 and will graduate with the same team that helped him to the 2022 WorldSSP300 title
2022 FIM Supersport 300 World Champion Alvaro Diaz will graduate from WorldSSP300 to the FIM Supersport World Championship in 2023 with the Arco Motor University Team. Diaz took a sensational title to become the latest World Champion in the class to make the move to World Supersport, following in the footsteps of many before him.
Diaz had a stunning season in 2022, taking two wins and a further nine podiums on his way to lifting the crown, following a tense fight with Marc Garcia at the start of the season and also with the late Victor Steeman in the second half of the year. With Diaz stepping up to WorldSSP, he follows in the path of Manuel Gonzalez, Jeffrey Buis and Adrian Huertas, all Champions in World Supersport 300 who made the step up to World Supersport. Diaz will step up with the Arco Motor University Team too, with Antonio Molina's team also graduating to WorldSSP and thus becoming a new team in the class, as the field gets stronger year on year. The team form a collaboration with YART, giving Diaz a strong package in his rookie season.
Speaking about his next steps, Diaz is excited to move up to the class: "The truth is that it makes me very happy to be able to compete in WorldSSP with my team and with YART. For me, it was important to be able to grow in this paddock, I already fulfilled a dream achieving the title of World Champion and we are going for the next challenge, where we know of the difficulty but we will give 127%. I can't wait to start this new adventure".
Team manager Antonio Molina also commented on the new challenge: "For us, it is a pride to be able to confirm this project in collaboration with YART, being able to give this opportunity to Alvaro with whom we have been able to achieve our objectives these years. We know of his talent and value, both Alvaro and YART and ARCO form a team sharing passion and ambition that will make us work hard to fight for good results. A special thanks to Valvulas Arco for this opportunity and all involved in this project to make it possible. We are very excited about the collaboration established with YART, a structure with a long history. We greatly appreciate their good work in endurance, and it is an honour for us to share this project. When Mandy Keinz gave us the opportunity, we couldn't be more eager to start to work."
Re-watch the incredible moments from 2022 and get set for 2023 using the WorldSBK VideoPass!