PREVIEW: Buis, Perez Gonzalez and Geiger set for three-way title showdown at Portimao
Thursday, 28 September 2023 05:45 GMT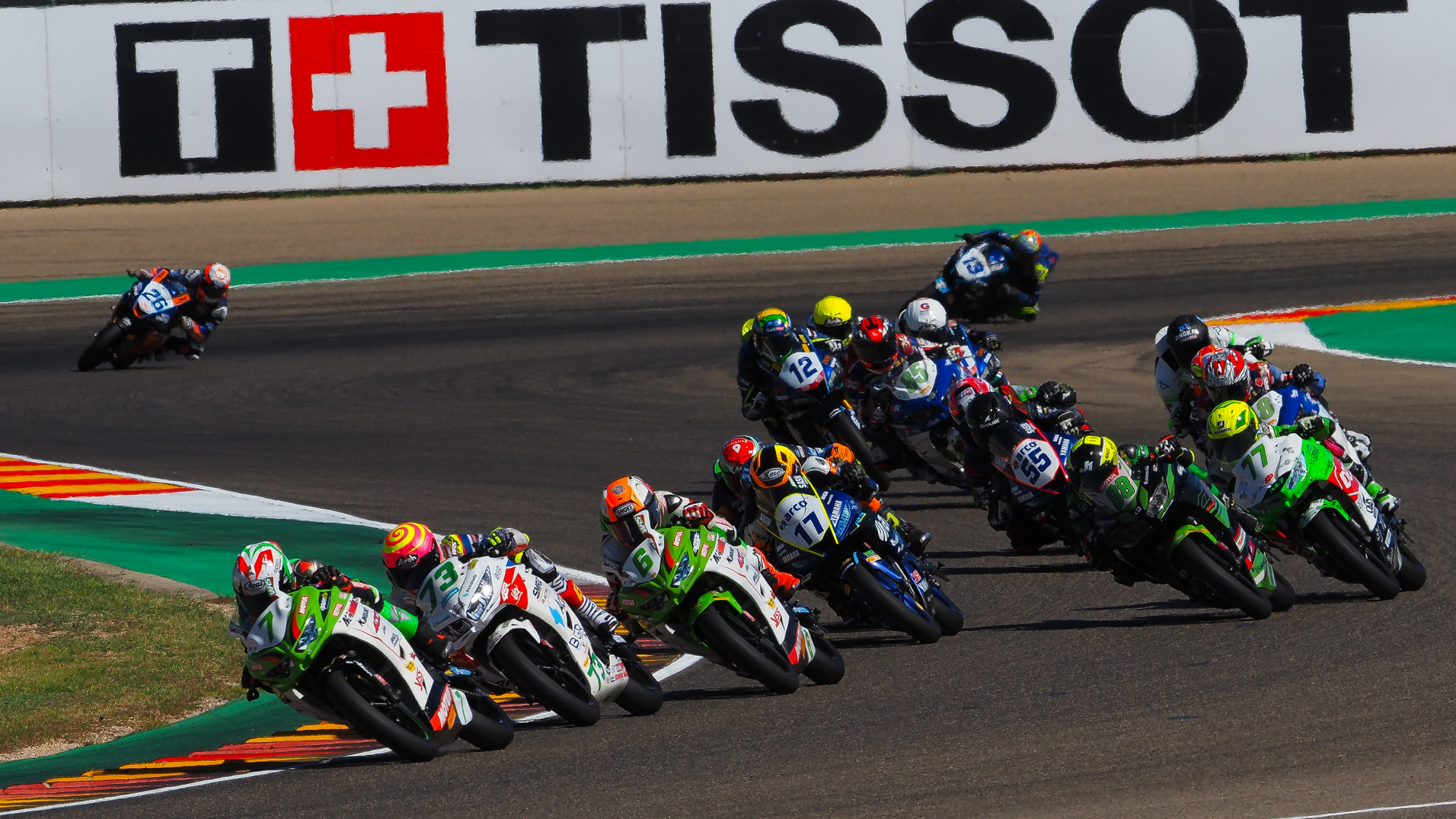 Buis starts as the favourite heading to Portugal and could make history, but Perez Gonzalez and Geiger will be looking to stop him…
The FIM Supersport 300 World Championship arrives at the Autodromo Internacional do Algarve for the final round of the 2023 season. The Pirelli Portuguese Round will host a thrilling title decider with history on the line as three riders go in search of their own record. Jeffrey Buis (MTM Kawasaki) aspires to be the first two-time Champion in WorldSSP300, but his rivals won't make it easy. Jose Perez Luis Gonzalez (Accolade Smrz Racing BGR) wants to follow in the footsteps of other Spanish Champions, while Dirk Geiger (Freudenberg KTM – Paligo Racing) aims to become the first KTM rider to be crowned Champion.
BUIS CLOSES IN ON HISTORY: but it won't be easy…
After scoring 45 points out of a possible 50 at Aragon, a circuit he loves so dearly, he heads into Portugal as the big favourite. He's hit form at the right time, with three wins in the last four races, and has a 30-point advantage over Perez Gonzalez. Despite the big margin he has, the unpredictable nature of WorldSSP300 means nothing can be taken for granted. Perez Gonzalez will aim for his first class win and needs to outscore Buis by at least six points on Saturday to take the fight to Sunday. For Geiger, he's 47 points behind Buis and will need everything to go his way to win the title.
THE FIGHT FOR THE TOP 4: nine riders within 50 points
Although without chances to win the title, there's a long list of riders who are no strangers to the podium and fighting for fourth overall. Matteo Vannucci (AG Motorsport Italia Yamaha) has one victory this season and was second in Race 2 at Aragon but is only a single point ahead of Mirko Gennai (Team BrCorse). The Italian won in Barcelona but since then he has had problems staying at the top, with four non-scores in the last eight races. Petr Svoboda (Fusport – RT Motorsport by SKM – Kawasaki) is 10 points behind Vannucci, but heads to Portugal on the back of a non-scoring Aragon Round. Still with a chance, but more than a race worth of points behind, are Humberto Maier (Yamaha MS Racing/AD Latin America Team), Loris Veneman (MTM Kawasaki) – fresh from his first win – Daniel Mogeda (Kawasaki GP Project), Marco Gaggi (Team BrCorse), Samiel Di Sora (Prodina Kawasaki Racing) and Kevin Sabatucci (Team Flembbo – PI Performances). If the gap to Vannucci isn't reduced, this group would fight for places eight to 12.
WHAT HAPPENED IN 2022? The action on track matters little
Portimao last year hosted the season finale with Alvaro Diaz claiming the title before becoming the latest star to move up to WorldSSP. Geiger and Gennai both claimed their first wins at the Portuguese venue in 2022 and will be aiming for more success this year. Gennai's win was Yamaha's first at the circuit which had previously been dominated by Kawasaki, but could KTM have a part to play in this year's fight? Of course, we also remember Victor Steeman who tragically passed away following a Race 1 incident last year. We continue to race in his honour as his former team, MTM Kawasaki, once again seek title success at the same track a year later.
CHANGES TO THE GRID: substitute riders and wildcards
Following his crash at Aragon, Lennox Lehmann (Freudenberg KTM – Paligo Racing) underwent surgery on two fractures in the thoracic vertebrae and another in the right femur, meaning his season is over. The team have drafted in Phillip Tonn, who's raced with them in IDM and finished fifth with two victories. Enzo Valentim (Yamhaa MS Racing/AD78 Latin America Team) will not race this weekend and has been replaced by Kevin Santos Fontainha who raced at Most. At the Arco Motor University Team, Unai Calatayud continues to replace Gabriele Mastroluca and the USA's Christopher Clark stays with Accolade Smrz Racing BGR and Marc Garcia (China Racing Team) stays in place of Junhao Zhan. In terms of wildcards, Tomas Alonso (Quaresma Racing Team) and Dinis Borges (Rame Moto Racing) will race on home soil.
Watch every moment from Portimao using the WorldSBK VideoPass – now only €9.99!