Navarro: "Everything is still wide open – I'm just focused on getting back to 100% and being myself again"
Thursday, 23 March 2023 09:14 GMT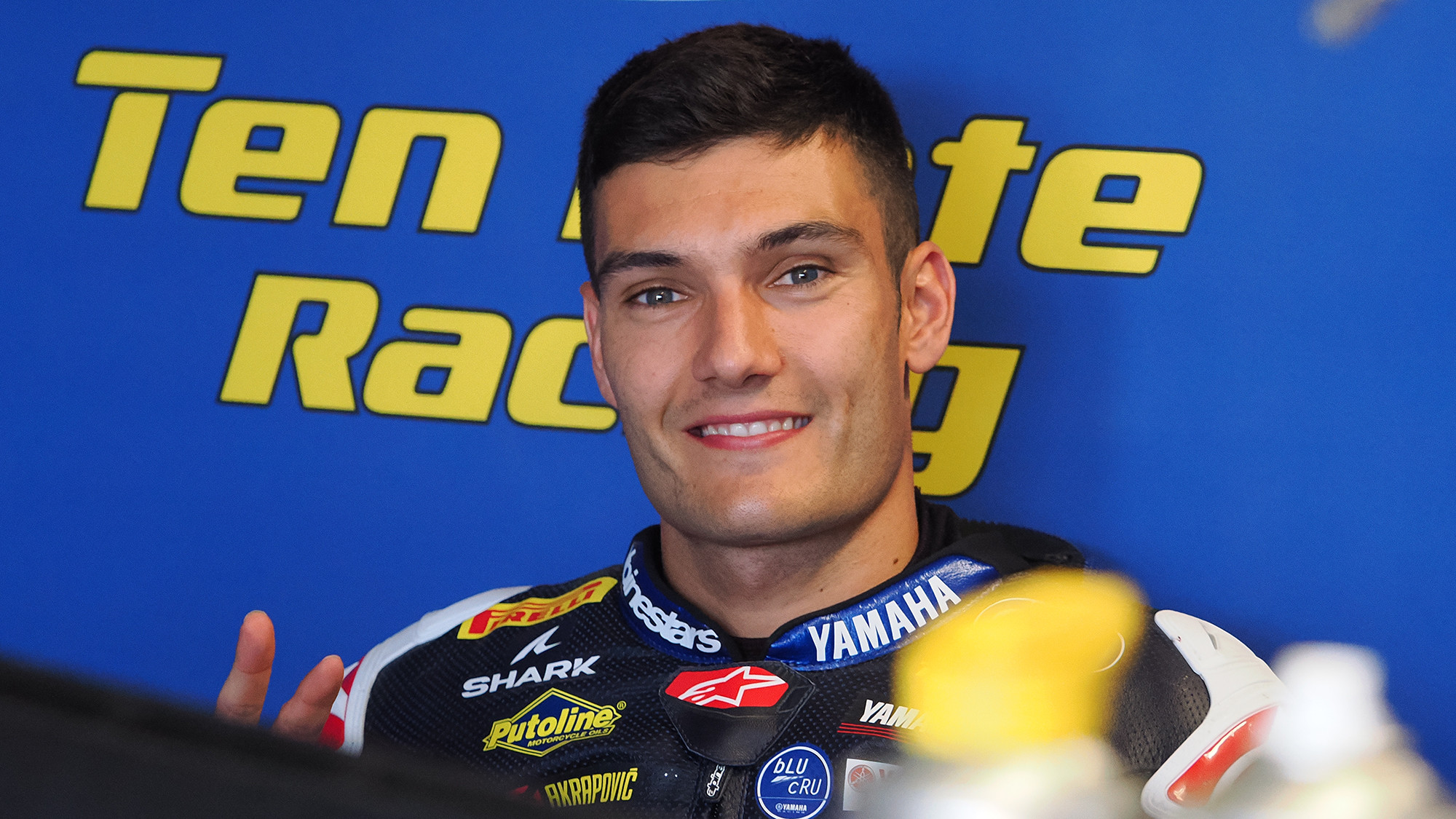 The Spanish WorldSSP rider, who underwent arm pump surgery last week and is yet to fully recover from a serious leg injury sustained last year, will be back on track this Saturday for a test at Donington Park with the Ten Kate Racing Team
After two challenging rounds in Australia and Indonesia to kickstart his FIM Supersport World Championship career, Jorge Navarro (Ten Kate Racing Team) has used the six-week break before Round 3 to make sure he'll be at full fitness for the start of the European season. The Spanish rider underwent arm pump surgery on his right forearm last week after seeking advice from Dr. Sánchez Alepuz, Head of Orthopaedic Surgery and Traumatology of the IMED Hospital of Valencia.
Navarro is now planning to jump back onto his Yamaha YZF R6 as soon as this Saturday 25th at Donington Park, in preparation for the Pirelli Dutch Round which will take place at the TT Circuit Assen, from April 21st to 23rd.
Arm pump syndrome – also known as Chronic Exertional Compartment Syndrome, a common issue for riders which causes pain, weakness and loss of feeling in one or both forearms – is just the latest setback for Navarro, who in Phillip Island and Mandalika had yet to fully recover from the broken femur he suffered in Moto2™ last season, at the Australian Grand Prix.
"I was already struggling in some races last year and had it in the back of my mind, but with the leg and knee injuries I opted to postpone it", Navarro explains about his recent surgery. "I didn't really remember until I started riding again; I had enough to think about with my leg. But in Australia I already started noticing the strain in my forearm. At first, I thought that it was because I was only using my arms for the changes of direction, because I had less strength in my legs. But the pain persisted and in Indonesia I was on the limit at the end of the race.
"I visited the doctor, and his opinion was that I needed the operation. It was all very fast; I saw him on Wednesday and got surgery on Friday. Now, after a couple of days, I feel much better. I'll ride the bike again on Saturday, because we have a test at Donington Park. I don't think I'll be in perfect condition but considering that it's just a test, I thought it was best to get the surgery done now so that I can have time to recover before the next round".
After Donington, the team led by Team Manager Kervin Bos will then head to Assen on April 3rd and 4th for another test. The plan is to arrive to the Pirelli Dutch Round, less than three weeks after, in good shape. And yet, Navarro is not fully recovered from his leg injuries and may yet need to go under the knife once more.
"I'm still struggling a bit from my femur injury. Last week I also got a check-up with my doctor for this, I may need another small operation to remove a couple of screws. They inserted four to fix the long needle in place, and it's very stiff. That makes the process slower. The callus is forming but it's still soft, that's why it still hurts when I apply pressure. That leg is a lot weaker than the other one, which means that I start the weekend in pain, and it only gets worse from there. It gets a lot worse from FP1 to the races. It's improved a lot in the last few months, but not as much as I would have hoped; so, we'll probably get the surgery after this first test to remove the two screws.
"I need a second opinion first, because I do feel like my leg is improving, but nowhere near as quickly as I expected", Navarro admits. "I hoped to be fine for Australia, but that wasn't the case. In Phillip Island I felt terrible; Indonesia was a bit better, there are more right turns and that helped me a bit. But my goal is to get to Assen without any issues. If I need surgery to achieve that, I'll do it".
Even with those setbacks, the 27-year-old's introduction to the WorldSSP scene was an encouraging one, with three top-10 finishes over a nine-day spell. Navarro looks back at those results in a positive light.
"I told myself that those first two rounds were all about damage limitation; I saw them like a test, since I couldn't train all winter and had no experience in the class. If you're not ready, you can't just arrive and win. I took it with that mindset, to grow and learn as much as possible every race, and I think I achieved that. I scored points in every race, which I'm sure will be key at the end of the year. For me it's positive, because I felt very limited during the test at Phillip Island and yet we came away with good results. Everything is still wide open, so right now I'm just focused on getting back to 100% and to being myself on the bike again. When I can be myself, the rest will follow".
The former Moto2™ rider can be confident about the backing he will receive when that does happen with the Ten Kate Racing Team, World Champions in 2021 and 2022 with Dominique Aegerter. Teammate Stefano Manzi is currently the leading Yamaha rider in the Championship, second in the standings after picking up two second-place finishes over four races.
"Yes, it's clear that I'm with a winning team and that my teammate is strong; but right now, I am my only rival. My fight right now is to get back to fitness, to enjoy riding again, because it's still more suffering than enjoyment. I'm convinced that when we get to that point, we can show our true potential, both the team's and mine. I hope that time can be from Assen onwards. I'm working hard to get there and eager for it to happen".
Navarro currently sits eighth in the Championship standings on 29 points, 48 behind leader Nicolo Bulega (Aruba Racing WorldSSP Team). Navarro is confident that they can fight with the Ducatis, the winning bike in three of this year's four races so far: "The Next Generation bikes seem to have made a step forward this year, you can see it when we're together on-track. It's a different bike. Ducati may have a bit extra; they can slow down more through corners and risk less because the engine then helps them on the straights. I hope the balance can be slightly more in our favour throughout the year. The level is very high, but both Ten Kate and Yamaha are working hard, and I'll also be giving it everything".
Watch all the action from WorldSSP throughout 2023 thanks to WorldSBK VideoPass!