Honda duo Vierge and Lecuona see positives after "tough" Sunday at Assen
Monday, 24 April 2023 08:48 GMT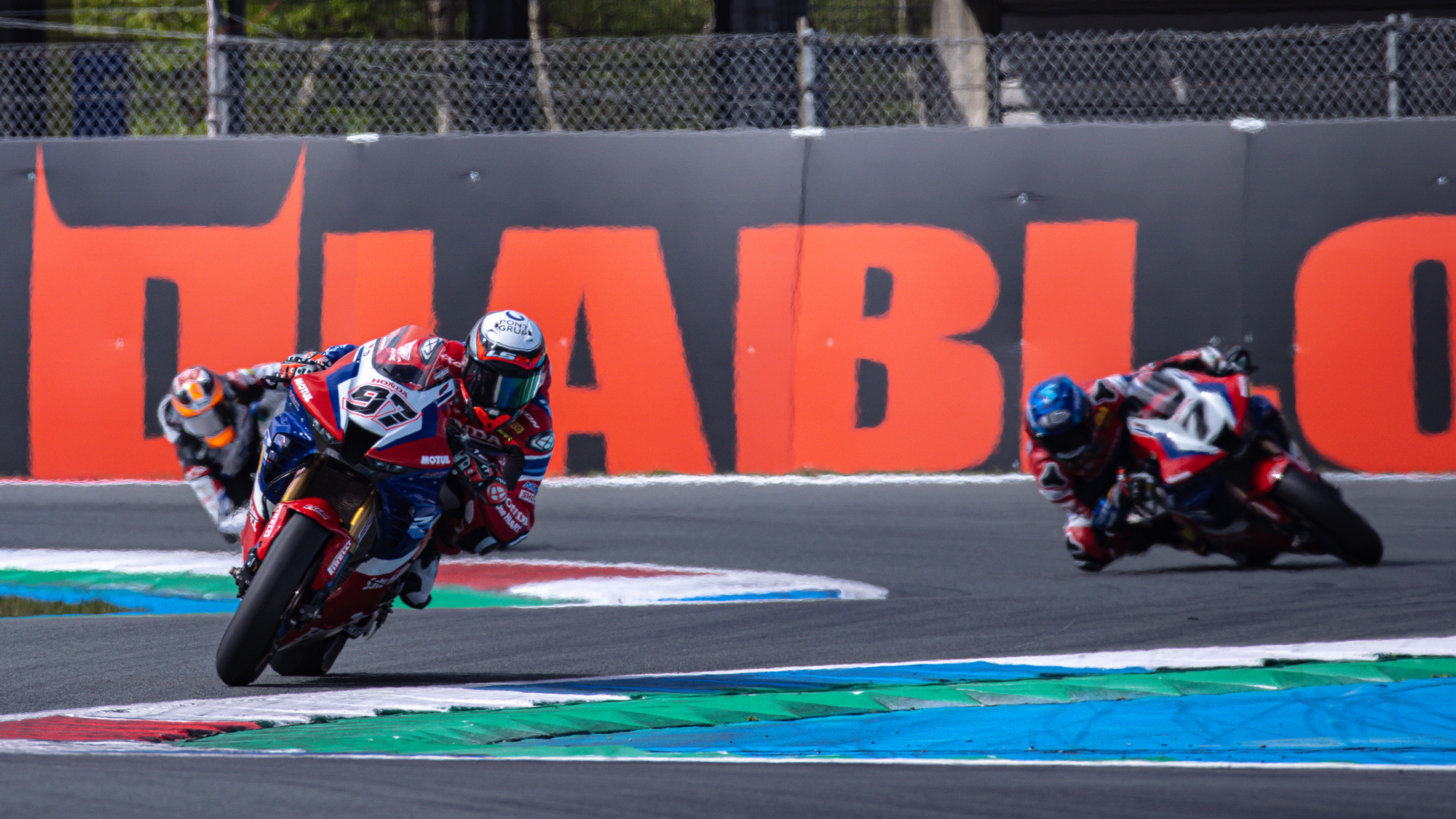 Both Team HRC riders crashed out in Race 2 at Assen while Lecuona also crashed out of Race 1 on Saturday in what proved to be a difficult weekend
The MOTUL FIM Superbike World Championship returned to action at the TT Circuit Assen for the Pirelli Dutch Round and Team HRC duo Iker Lecuona and Xavi Vierge would have been hoping to continue the step forward the team appeared to have made following two tests between the Indonesian and Dutch Rounds. However, it did not transpire like that, with the team's best result of the Dutch Round a ninth-place finish.
Team HRC had brought upgrades to tests at MotorLand Aragon and the Circuit de Barcelona-Catalunya which included new chassis bracing and a new exhaust. The chassis bracing had the aim of increasing stability while the exhaust was for power and torque, with Team HRC aiming to improve their CBR1000RR-R machine under acceleration. The upgrades were first on display at Aragon before the team confirmed them at the Barcelona test just a couple of weeks ago.
At Assen, a circuit where Lecuona scored his first WorldSBK podium at last year, Lecuona was the fastest of the two in Saturday's Tissot Superpole session as he took tenth on the grid, with Vierge two places further back. However, in races, it was Vierge who finished ahead after Lecuona crashed out of both Race 1 and Race 2, although Vierge also went down in Sunday's Race 2 when fighting inside the top ten. Despite the tough weekend with Honda scoring only eight points in the Manufacturers' Championship, both riders were able to see the positives from Assen.
Vierge took 11th place in Race 1 and ninth in the Superpole Race on Sunday morning, giving him a platform to fight inside the top ten during Race 2. However, a crash a Turn 1, which Vierge put down to a "mistake" forced him to retire from the race when he was running close to the top six after making progress from Saturday to Sunday on the CBR1000RR-R machine.
Speaking about the changes made, Vierge said: "I first want to apologise to the team for my mistake in Race 2. The team worked really hard between yesterday and today, making various changes to the bike. It wasn't easy to decide what to do following Warm Up, as we didn't have the right conditions to really check it, but we believed in our work and headed into the Superpole Race feeling confident. I was pleased with the way that race went as the bike allowed me to battle. I was able to finish top nine and that meant I gained a better grid position for Race 2. As that race got underway, I was feeling good and the feeling was there, allowing me to fight for the top six. Unfortunately, I made a small mistake through Turn 1 and lost the front, and that was the end of that. Not the end we were hoping for, but after a difficult weekend we did find something that allowed us to be up there fighting for a solid result. So, we need to take the positives and will now head to Barcelona, a track that can work better for us."
Lecuona was unable to convert his tenth-place start in either Race 1 or the Superpole Race into a top-ten finish. He crashed out of Race 1 at Turn 1 when running in eighth place and he could only manage 11th in Sunday's eight-lap Superpole Race. In Race 2, Lecuona had one again fought his way into the top ten but a Turn 4 spill put an end to his charge.
Lecuona reflected on Sunday's action, saying: "It was a tough day in general for me, the team and Honda, with me and Xavi both crashing in Race 2 and generally struggling at this track. We think we understood something about why the weekend developed as it did, so now it's time to remain cool and focused, checking all the data and really understanding which changes to make to the setup of the bike, both for the next round and for the subsequent testing session at Misano. It's true that last year I also had to save myself from some crashes, but this year we have crashed a lot. Having said that, thanks to the team, to Kuwata-san, Mori-san and everyone on the team for the trust they put in me. I trust them and the team and now we need to work and make the right choices."
Watch more WorldSBK action throughout 2023 using the WorldSBK VideoPass!