HOT HEADLINES FROM PORTIMAO: "Toprak is one of the toughest rivals I have ever fought with"
Tuesday, 3 October 2023 05:07 GMT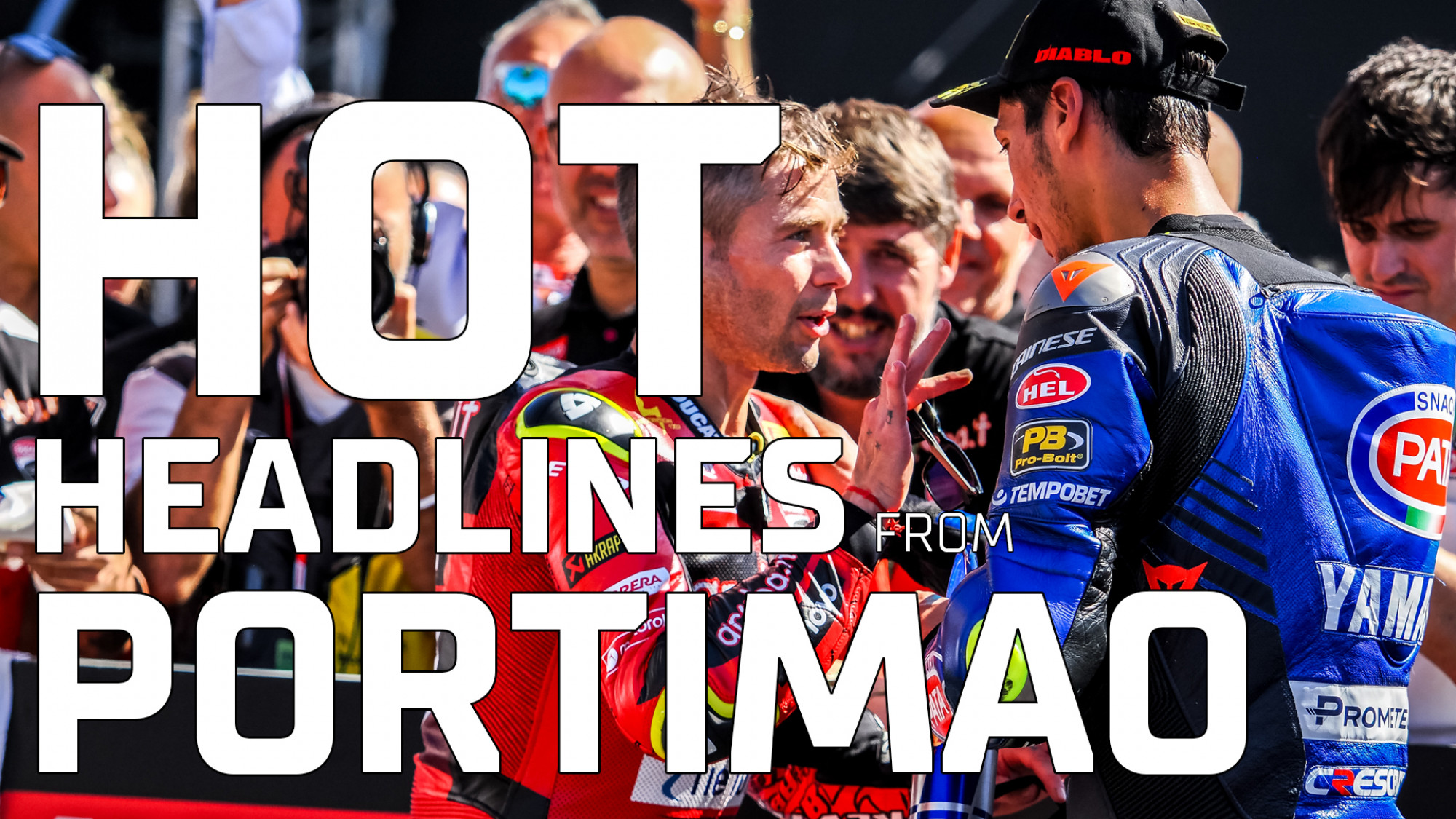 In the history books forever and undoubtedly spoken about for years, Portimao delivered in 2023
Where to start? The dust has settled from a titanic Pirelli Portuguese Round and the title race in 2023 MOTUL FIM Superbike World Championship remains mathematically alive. However, we witnessed one of the greatest WorldSBK races of all time on Sunday in Race 2 and that was grabbing the headlines in the media room post-race. All the emotions on show and clear in the quotes. Portimao's hot headlines are bombshells, more than the usual apimentadothroughout the rest of the year. In case you missed the thrilling Race 2 battle, check it out here!
Alvaro Bautista (Aruba.it Racing – Ducati): "The devil knows more being old than for being the devil… Toprak is one of the toughest rivals I have ever fought with"
Giving his own version of the epic Race 2 fight, Alvaro Bautista said: "Basically, Toprak had nothing to lose and he tried everything. Sometimes when I was behind, I tried for a couple of laps to not stay so close to him to cool down the front tyre. When you are too close, especially in the flowing section, the temperature comes up and you lose a bit of performance, so I wanted some space. I tried to close the doors a lot but he always put the bike inside! It's normal, I expected this from him. It was great because we saw a Toprak without anything more than that. He did his best in every moment and many times, I thought 'shit, if he crashes, I'll go down with him'. He entered on the limit and almost every time, I had to pick the bike up otherwise we'd touch. I enjoyed it; I didn't just stay in second until the end or try and get points for the title. I wanted to fight with him and beat him. It was like a normal race, not a race that can decide a lot of things.
"In Spain, we say 'the devil knows more for being old than for being the devil'. I expected this move from Toprak, he knew I'd try on the last corner on the inside and already, in the morning, I was on the outside but he was using all the kerbs and I changed the line! In Race 2, I kept the outside because I thought maybe he'll close the corner. Instead, I saw him not open more the gas more to stay inside, so then I said, 'he'll close the corner'. So, I went full throttle with the bike spinning a lot and I can carry more speed exiting on the outside."
Finally, talking about where Toprak stacks up in terms of Bautista's career rivals, he said: "I have had many, many riders. Marco Simoncelli, Valentino Rossi... maybe they weren't all direct for the title but also with Dani Pedrosa and Marc Marquez. These bikes are different to MotoGP™. It's not easy to fight with him as he's very aggressive and he can move the bike easily and make manoeuvres very on the limit whilst having a lot of control. Toprak is one of the toughest rivals I have fought with."
Toprak Razgatlioglu (Pata Yamaha Prometeon WorldSBK): "Everyone knows that Ducati is the best bike… it looks like BMW has more speed on the straight, maybe we have more chance"
Anger, disappointment and determination were just some of the emotions for Toprak Razgatlioglu, who gave it his all in a pulsating Race 2: "Normally, my character is not like this but I wasn't thinking good. I was just focused on winning. I saw the chequered flag and Bautista on the inside. I picked the bike up but my bike didn't accelerate, so he passed me on the outside easily. If my bike starts spinning, I have no acceleration. On the last lap, I did what I thought was a good line. pick the bike up and open the gas. This time, no acceleration."
Asked whether or not he thinks he'd have more chance aboard a Ducati and whether his switch to BMW would help, Razgatlioglu responded: "It's better that I don't talk. Everyone knows that the Ducati is the best bike; I am with Yamaha. It looks like BMW has more speed on the straight, so maybe we have more chance. If I adapt immediately, I think we have more chance of winning here and at many tracks.
Garrett Gerloff (Bonovo Action BMW): "I'm excited for what BMW has to bring"
Another stellar round for American Garrett Gerloff, who has found form with BMW: "I feel really good on the bike and we've made such a big step in general in the last few weekends. We've found a good window for the setup and we just move around within this. In the Superpole Race and Race 1, there were so many places where I felt stronger than the riders that I was trying to catch and pass, so I felt positive about that. Rinaldi was riding so well and once I passed Locatelli, I just couldn't get to his wheel. I'm excited for next year and for what BMW has to bring for improvements on the bike. I am happy that they've been able to listen to me and what I think can improve the bike. Even though the season is ending, it's nice to be ending in a strong place; I prefer to do this than start strong! I haven't heard any plans for testing but if we do have to wait until December, then we'll wait."
Talking about the top speed of the BMW vs the Ducati of Michael Ruben Rinaldi ahead of him, Gerloff said: "I was never really able to get close enough but it seems like their acceleration is very good but our top speed is similar. I'd say we need to improve acceleration and grip right off of the corner. I think we're not too bad in some places but with a bit more grip, I think it'd be good."
Jonathan Rea (Kawasaki Racing Team WorldSBK): "A day to forget… I made a f*****g mistake, I saw today as a chance to win my last race with Kawasaki"
A Superpole Race crash and a Race 2 collision, Jonathan Rea had a nightmare Sunday that left him thinking about what might have been: "A day to forget. Two big mistakes, with the first one being in the Superpole Race. I committed to pass Andrea but he was closing, so in order to not put him at risk, I entered the corner a little bit faster, touched the kerb and that was the end of my race. It had a huge knock-on effect for Race 2 then, starting from P10. I arrived at Turn 3 alongside Bassani, got squeezed and ran out of track a bit too fast. I was on the front brake, the rear brake, trying to slow down, but then I hit Xavi Vierge. I saw him straight after the race to try and apologise because I destroyed his race. Also Scott Redding as well. I made a f****g mistake in the Superpole Race but I saw today as a chance to win my last race with Kawasaki. I don't feel like at Jerez we have a chance. I was so pumped for the race and wanted to make it happen, but it wasn't to be."
Michael Ruben Rinaldi (Aruba.it Racing – Ducati): "Maybe these will be the last races of my career"
When asked whether there were team orders at Ducati to help teammate Bautista wrap up the title, Michael Ruben Rinaldi responded, before talking about 2024: "No, not at all. They said to me you can win if you want! We are not in the last race and the points between Alvaro and Toprak aren't big. You can't pass your teammate like crazy but it's always like that. I'd like to find a good solution for my future. It's strange that for a rider who scored podiums – nine this season - and the only rider to get a win in two years except the top three, someone proposed me a bike but without a salary. The mechanic gets a salary but I don't. I don't want a million euros like some riders or something crazy but at 27, with my results, I must have something that respects me. Let's see if I find a good deal, I'll race again next season and if not, then I don't. Maybe these will be the last races of my career."
Andrea Locatelli (Pata Yamaha Prometeon WorldSBK): "Bikes without wings don't push down… we lose speed between the finish line and braking"
Sharing his thoughts on another area where some bikes struggle, Andrea Locatelli spoke of aerodynamics: "We have a good bike and we try to be strong and recover in the corner. It's the one place where we can because in the straight we lose; It's clear when we watch it on the TV. We need to work and be faster in the corners to close the gap. This is my approach. It's important here too because onto the straight, we have the rise and for sure, the bikes without wings don't push down and we then lose speed between the finish line until the braking."
ONE ROUND REMAINS: the 2023 title is on the line; watch for €9.99 with the WorldSBK VideoPass!