HOT HEADLINES FROM MISANO: "Jonny is a legend; if he was my teammate, no problem"
Monday, 5 June 2023 10:45 GMT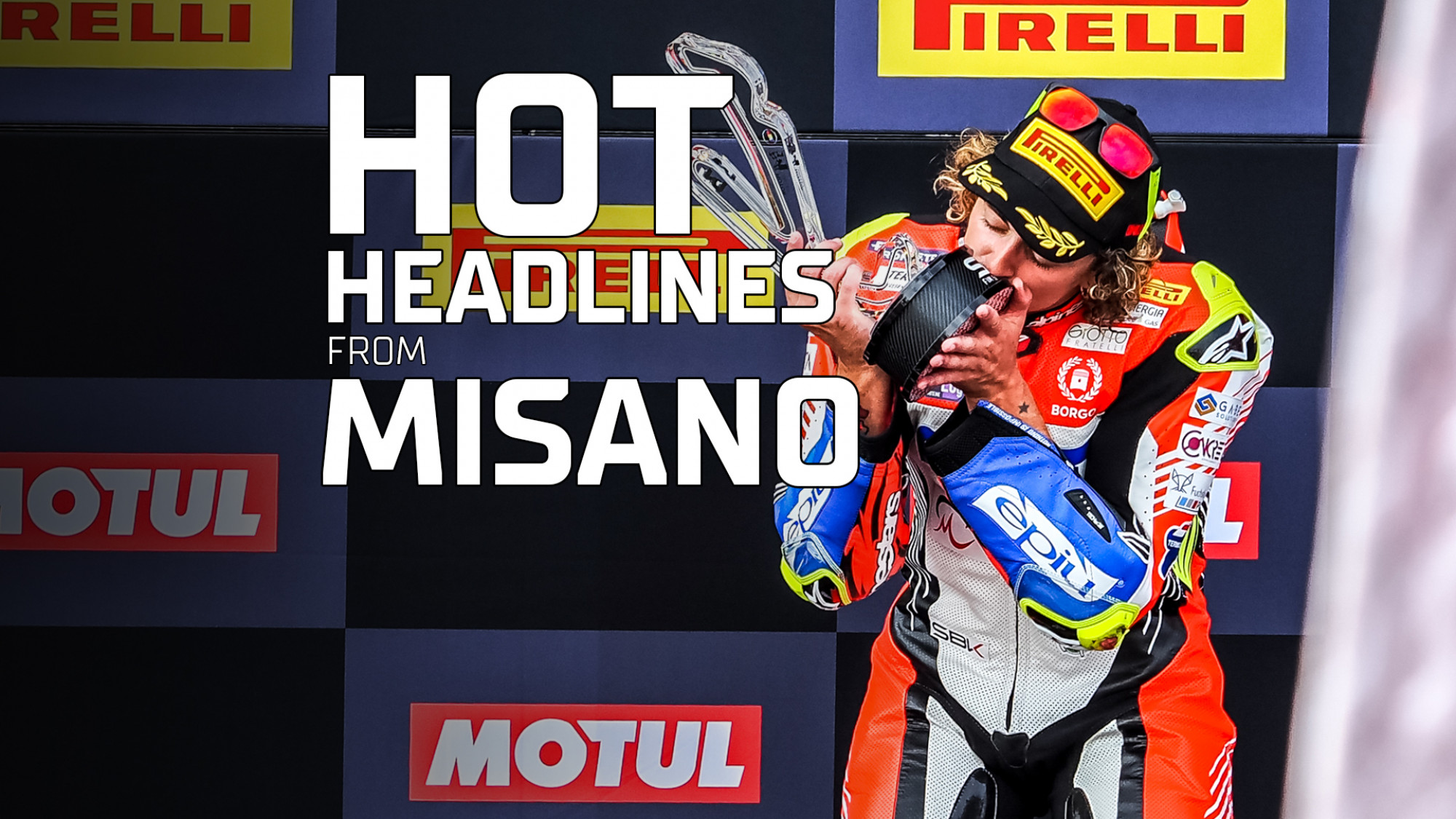 Transfer talk, valuable insight into racing at the highest level and unexpected struggles at Misano
The 2023 MOTUL FIM Superbike World Championship's fifth round is signed into the history books and it certainly will be one to remember as major history was made. However, the narratives emitting from the media scrums also gave plenty of insight, intrigue and perhaps, left us needing more question time than ever before. From potential moves and partnering up with WorldSBK royalty to going slower bringing more risk and the latest episode in a difficult year, Misano's Hot Headlines are rather speziato this week.
Alvaro Bautista (Aruba.it Racing – Ducati): "It's better to go close to the limit than relax and go four tenths slower"
Speaking about the interesting dynamic of needing to push to the limit and not relax as it's more likely a mistake is made, Bautista gave a detailed answer about his success on Sunday: "The result is a consequence of the hard work, the feeling, the confidence, I am so happy that we achieved this milestone, but the important thing is how we achieve it. I feel solid and confident, and it's important to stay this way. If you see my pace, I try to keep a consistent lap time. If I try and go three or four tenths slower, then it's like I'm risking more than if I go faster. It's strange, but it's the setup we have for the bike right now. The electronics work different, the stroke… at the end, it's better to go close to the limit than relax and go four tenths slower. For that, I tried to maybe not go 'limit, limit, limit' but pushing hard because otherwise, there's more risk, you're slower and there's less focus."
Two further topics from Bautista but from Saturday: the date of his MotoGP™ could be getting closer to becoming knowledge to the Spaniard: "I think, after this weekend, Ducati will tell me the date. I hope soon because otherwise, we will get to wintertime, and it'll be too cold for the other bike. I prefer the hot."
Toprak Razgatlioglu (Pata Yamaha Prometeon WorldSBK) "I am sorry for Michael… I felt him"
Try as he might, the luck just wasn't with Toprak to get back winning: "I finished in second but I am sorry for Michael, as he crashed at Turn 1. I am lucky today as I felt him, but I didn't crash. I tried hard braking into Turn 1 as I know the Ducati is very strong on the straight and I tried to stop more before leaning more. Maybe he didn't understand and tried to enter faster and made a mistake. I don't know. I am happy because I managed to get three podiums, one third place and two second places. It was bad luck in the Superpole Race, because I felt I could win as the level is similar. To finish the weekend, we didn't crash and took points but not important points as the gap is very bag."
Michael Ruben Rinaldi (Aruba.it Racing – Ducati): "It's the worst way to end; it sucks"
Discussing his Race 2 fall and the missed opportunity of a triple podium at home, Michael Ruben Rinaldi's dejection was clear: "Toprak overtook me and I saw on the board, that I have eight second to Bassani so I said, 'OK, if it goes wrong, I'll arrive in third, no problem'. Then we arrived at Turn 1 and for me, it was the first time behind a rider. I broke at the same point as the lap before where I had no slipstream. But Toprak's slipstream sucked me in; I was fast and Toprak brakes late, but when he brakes late, the bike stops a lot. I didn't expect either of these things, so my speed was too high and if I went to the inside, maybe I'll take him out, so I tried to go long, but unfortunately the front tyre touched his rear tyre. It was really unlucky, I didn't want to overtake Toprak or make a mistake, just do the same thing as the laps before, but with the slipstream, everything changed. After a strong weekend, it's the worst way to end; it sucks. Every weekend, there's something. At Phillip Island for example, two podiums on Sunday but rain on Saturday. I'm sad, because Race 2 was a podium 100%. It's racing; it's easy to give up but I won't, and at Donington Park, I will have more hunger than here and we'll prove that we can stay there. For sure, my potential is higher than my position in the Championship, but I've made mistakes."
Danilo Petrucci (Barni Spark Racing Team): "I don't think the Stewards have been so nice with me this year"
Speaking about his incident in the Superpole Race, Danilo Petrucci shared his thoughts on the decision of the FIM Stewards to hand him a Long Lap Penalty: "In the Superpole Race, I didn't have a good start but I was on the inside at Turn 2 unfortunately. Me and Domi… I was on the inside and he closed the door. It felt like somebody touched the rear end of my bike but for me the decision of the Stewards is not correct. Every time something happens on the first lap, they always say 'it's the first lap and it's difficult to judge'. Today they were so quick to give me a Long Lap. They didn't even listen to my opinion. They give me a Long Lap in the race, sending me to P10. I don't think the stewards have been so nice with me this year, always in this situation. At least we can talk and then give me a penalisation at the end of the race, don't give me a Long Lap on the second lap. For me, it's not right. On the inside, where can I go? I'm sorry for him and Remy. For me, the FIM Stewards' decision is absolutely wrong."
Axel Bassani (Motocorsa Racing): "Jonny is a legend; if he was my teammate, no problem"
Starting with a review of his first podium of 2023 and touching on his Superpole Race battle with Rinaldi, Axel was glad to be back on the box: "It's really, really special, like a victory. You feel the warmth of the fans, not only for the Italian riders but for all. I knew I was in P3 as I saw the crash, the yellow flag! I thought I was in P2, because it was Toprak and Michael but I was n P3. I tried to manage the position and the front tyre… I didn't feel good with the soft tyre. I tried to get to the end, stay calm and we arrived on the podium! In the Superpole Race, with Rinaldi, I did a normal overtake but he didn't do a normal overtake… it's Michael, it's OK!"
Asked directly about his perhaps one day, being teammates with long-time on-track sparring partner Jonathan Rea, Bassani welcomed the idea: "It's OK! Jonny has a lot of experience, he's a really good guy. For me, a legend and the best rider in WorldSBK. I'm happy to ride with him and when I beat him! If he was my teammate, then no problem. I have a lot of things to understand from him."
Jonathan Rea (Kawasaki Racing Team WorldSBK): "I had an issue with my brake adjuster… I ran into some arm-pump"
A brake lever problem hindered Rea throughout Race 2, but he took positives anyway: "I had an issue with my brake adjuster from the off, the lever was stuck so I basically didn't have a lot of brake force at some corners – Turn 4, Turn 8 and Turn 14. Braking with one finger, as it was stuck between fingers, I couldn't put a lot of pressure and then I ran into some arm-pump. With Axel, in the slipstream, the lever was overheating and coming back too much but out of the slipstream, it was manageable, but the lever was stuck in the same position all race. It stopped me fighting with him and I didn't feel safe to try and do anything behind him. When I had some space, I could just maintain my lap time.
"We closed the gap to Locatelli in the Championship, as much as that's a small win. We stayed upright all weekend, and we didn't test here and arrived quite far behind. Step by step, I went 5th, 5th, 4th. The gap to the front is too big… this is the situation. What we can't accept is be the same pace and race time as last year, we need to be better, and we weren't."
Andrea Locatelli (Pata Yamaha Prometeon WorldSBK): "Not the best weekend for us… this is the best we could do"
After a strong opening four rounds, Misano difficulties came again for Andrea Locatelli, but he improved to P6 in Sunday's Race 2: "Not the best weekend for us but we got some points for the Championship. We need to look forward and understand what we can do, especially at this track. It's a bit strange, especially in braking and the entry of the corners. It's not possible to brake and stop the bike. It was difficult, so in the end we need to be happy because we were fighting today in Race 2, the gap was a bit less and that's what we could do. I'd like to show more as we're in Italy, but this is the best that we could do."
Watch the 2023 season continue to unfold in dramatic fashion with the WorldSBK VideoPass!