HOT HEADLINES FROM MAGNY-COURS: "I think he'll do a good job with Yamaha"
Tuesday, 12 September 2023 05:32 GMT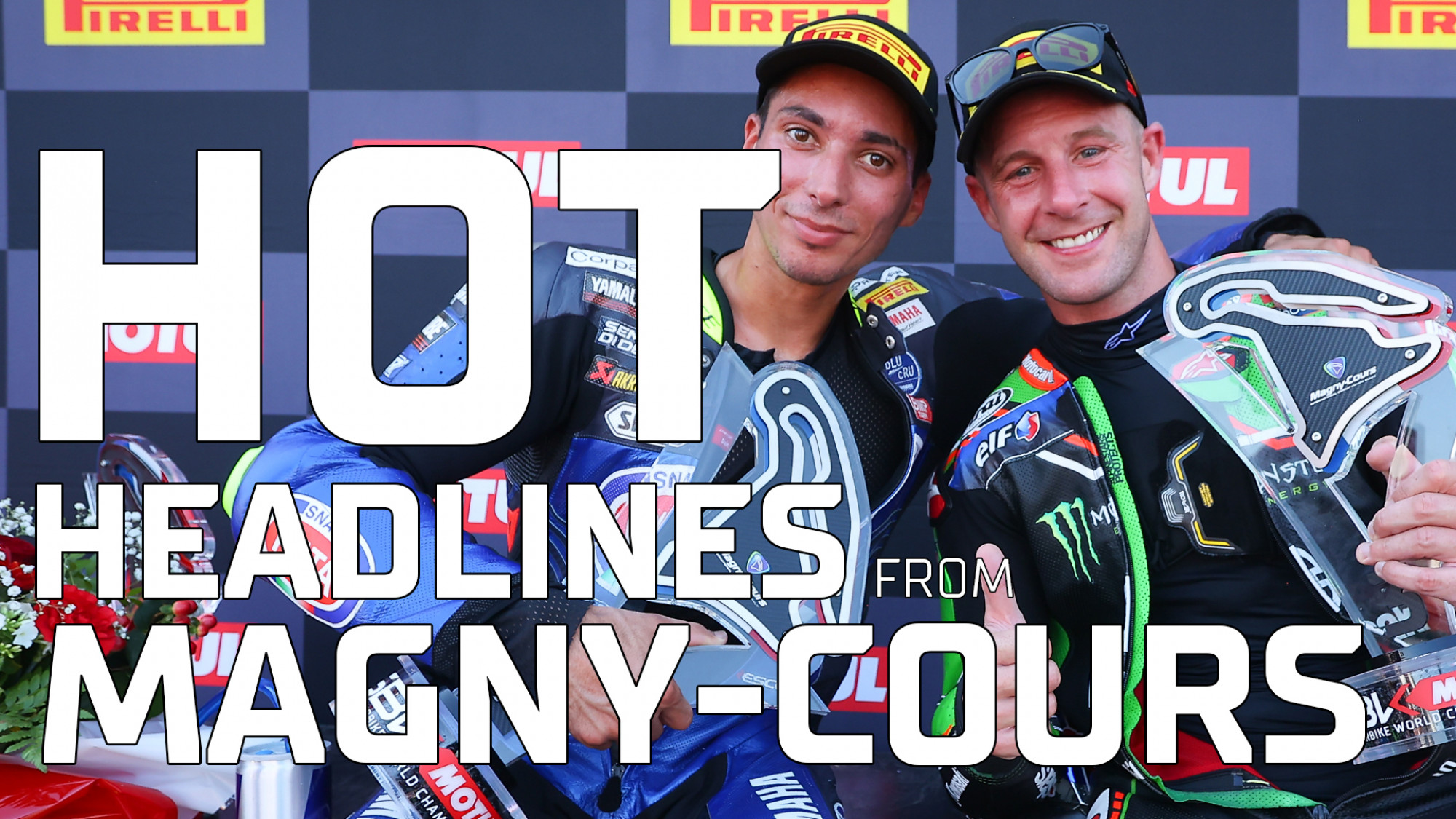 On-track, off-track, media debriefs and more – major stories were everywhere you looked as WorldSBK's final third of 2023 geared up
After a lengthy mid-season break, the 2023 MOTUL FIM Superbike World Championship fired back into life for the Pirelli French Round, the ninth round of the season. The Circuit de Nevers Magny-Cours had big news coming into the round, huge headlines during and plenty of fallout after, leaving our post-round dose of hot headlines rather epice. Check them all out below!
Alvaro Bautista (Aruba.it Racing – Ducati): "It means that the level of the riders from our generation is so high… let's see what happens at Sepang!"
Former MotoGP™ rivals, Alvaro Bautista lauded praise on Dani Pedrosa's double fourth place as a wildcard at Misano in MotoGP™, saying it's now on him to showcase the same at Sepang: "I didn't see the race! I'm happy for him because it means that the level of the riders from our generation is so high. Even with the young riders, he is pushing. Let's see what happens at Sepang! Right now, it's more pressure for me because I have to do what he did! I am happy because he's a nice guy and a great rider."
Bautista also spoke of the FIM WorldSBK Stewards' decision to not penalise him after he took out teammate Michael Ruben Rinaldi in the Superpole Race: "Sincerely, under my point of view, it was a racing incident. There wasn't space there, as I was on the inside. I can't go to the outside because Toprak is there and I was braking at my maximum. I couldn't stop the bike more. Michael was in front and I couldn't stop anymore. Race direction have their opinion; sometimes you agree and sometimes not, but in the end, in the past, I've had to accept their decision. They have many cameras to analyse what happened in reality. For sure, on TV, you can see one thing but, on the inside, it's not the same thing. Watching from the front isn't easy because you don't know how far we are one to another. It's not easy to decide just on that. Whatever they say, you have to accept whether you agree or not. Every incident is different, so you have to understand why it happened."
Paul Denning (Pata Yamaha Prometeon WorldSBK team principal): "We expected the regulation to be followed and it wasn't… it's tough because it's subjective"
Debriefing about launching a formal appeal against the lack of penalty for Bautista in his clash with Rinaldi, Pata Yamaha team boss Paul Denning explained: "We lodged a formal appeal which is a slightly strange thing in the regulations because, for example if someone jumps the start and has a ride-through penalty, you can't appeal, neither for a long lap penalty, as they're judged for a matter of fact. However, if there's not a sanction for something that a rider or team believe should be sanctioned, then you can appeal the lack of sanction. I sat down with the FIM WorldSBK appeal Stewards, they studied carefully after the race and sat in-line with the stewards that there was nothing more that Alvaro could have done.
"In our opinion, it's a fairly simple and straightforward position that regulations need to be followed and the regulation is riding in a responsible manner and not to endanger any of your competitors. If you're braking that late against Toprak, Michael was already wide, Alvaro was too fast and late on the brakes; he admitted that much in Parc Ferme. It wasn't deliberate, nor maybe his fault but it was one of those things. However, if riders are going to be penalised for error A, knocking a rider down, when it was a violent impact with Michael which could've resulted in injury, we expected the regulation to be followed and it wasn't. It's tough as its subjective and not as black or white as running a turbo charger on the engine and that being illegal. We were a little bit disappointed and surprised by the final decision."
Jonathan Rea (Kawasaki Racing Team WorldSBK): "There's no substitute for horsepower"
Reviewing his weekend, Jonathan Rea was happy with his fight with Toprak Razgatlioglu for P2, whilst also said the work that his team are doing to try and find more performance from the ZX-10RR: "On Sunday, my pace is OK! In the last part of Race 2, I could fight with Toprak and was enjoying it. I think it shows that this weekend, we had a positive trend. I could stop the bike quite well and had good mechanical traction but I had nothing for Alvaro and Ducati. They had an incredible race. The setup is so sharp and sometimes when we're trying to improve, we're going round and round because we don't really have anything new to try. There's nothing new coming on the chassis side. We're always trying to juggle the parts we have, even old ones we have had for many years. What do we need to be competitive? From a chassis perspective, we could look after the tyre a bit more and there's no substitute for horsepower. At Turn 1 and 2, I could take time out of Ducati, but by the time we're at Turn 5, I could lose two to three tenths. All that you gain, you lose it in areas that are free. We need power but then, come other problems. We need to improve for sure."
Toprak Razgatlioglu (Pata Yamaha Prometeon WorldSBK): "I respect him… I think he'll do a good job with Yamaha"
Speaking about his 2024 replacement during the weekend, Toprak Razgatlioglu commented on Jonathan Rea's switch to Yamaha: "I think for him, it's a new challenge. I respect him because it's many years riding for Kawasaki and now is the biggest change. I think good for him because sometimes you need to change and to mix and to have a new target. After he saw me, maybe he's thinking about a new challenge. He's a very good rider, a WorldSBK legend and I think he'll do a good job with Yamaha. We'll see next year!"
Michael Ruben Rinaldi (Aruba.it Racing – Ducati): "I really love to battle with Toprak… it was a good way to say 'thanks' to my team, we still have chances to make good memories"
Talking about his Race 1 battle on Saturday with Razgatlioglu, Michael Ruben Rinaldi stated: "I made a good start and tried to give 120% with the tyre; I used it a lot to stay with Toprak, as he was managing it a bit. It brought us out of a three-rider group. Unfortunately, Alvaro had some issues and we had a nice, nice battle with Toprak. At the end, my tyre was dead because I didn't manage it as well. It's OK because it's good for me but also a good way to say 'thanks' to my team, as at the end of the year, I will not be there but we still have chances to make good memories. I really love to battle with Toprak because it can be hard but inside the limit. When he overtook me, I just said 'OK, you can do that' as I did it; it's not a big problem. It was a really nice battle, I have huge respect for him and he had respect for me and at the end, he had something more."
Garrett Gerloff (Bonovo Action BMW): "There's no love lost…"
Analysing his Superpole Race crash with Scott Redding (ROKiT BMW Motorrad WorldSBK Team), Gerloff said it was a chain reaction from corners previous, before speaking of his best weekend of the year: "We were going through Turn 8 and I didn't feel like I was wide at all; in fact, I feel like I was more inside compared to most other laps. Then, before I knew it, I was on the ground with somebody else. It happened so fast for me… we were already crashing by the time I saw who it was. It's one of those things. I know he didn't mean to; there's no love lost and I shouldn't have even been in that situation anyway as I went straight through Turn 6. Had I been on my normal line through Turns 6 and 7 and just been doing my thing, then I wouldn't have even seen Scott, so it's hard to blame it 100% on him. This weekend has been the best I've felt in a really long time and I don't feel like I'm stretching myself, I'm just there and then I look up at the end of the session and I'm in the top two and top three. We've made a big step and I hope we can continue."
Axel Bassani (Motocorsa Racing): "I had a s**t weekend on Friday and Saturday"
Fighting for fourth overall in the Championship, it was a weekend to forget for Axel Bassani, who suffered a massive crash on Friday which had a knock-on effect for the whole weekend: "It's fun when you start at the front of the group and stay there! When you start at the back, it's a lot more stressful. At Aragon, I hope to start the weekend better. I destroyed my favourite bike; I had a shit weekend on Friday and Saturday but a good weekend on Sunday. I don't remember another weekend like this."
The season doesn't stop here, the title race is intensifying! Enjoy it all with 50% off the WorldSBK VideoPass!