HOT HEADLINES FROM ARAGON: "I want to bite my tongue… it gave me a hit of humility"
Monday, 25 September 2023 09:24 GMT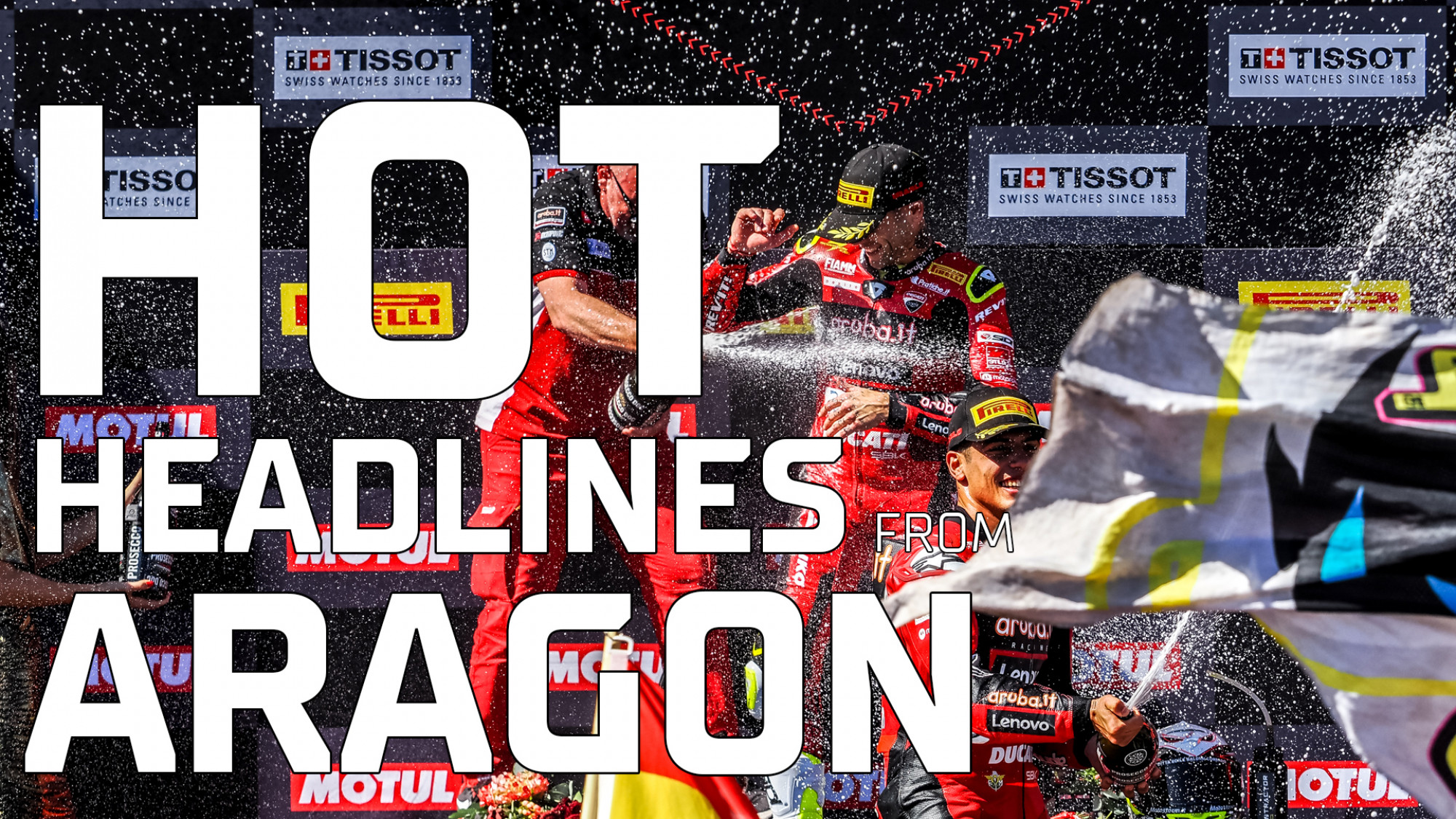 A massive weekend at MotorLand Aragon leaves plenty to digest from the media debriefs
The tenth round is ticked off, the sun is starting to set on the 2023 MOTUL FIM Superbike World Championship but certainly not on the title race. An incredibly unpredictable Tissot Aragon Round saw it all, with headlines starring on the track, off of it and before the round even got underway. Therefore, picking through the hot headlines of the weekend, they're rather picante from Alcaniz.
Alvaro Bautista (Aruba.it Racing – Ducati): "I learnt a lot this weekend, it gave me a hit of humility"
Ahead of Aragon, Championship leader Alvaro Bautista looked odds on for a triple, but it didn't start that way with Race 1, as the Spaniard reflected on his blunder: "I learnt a lot this weekend, it gave me a hit of humility, because even at a track which fits you very well, you can't have a lot of confidence. You have to be always focused and keep working and never, ever trust in anything else apart from the feeling you have with the bike. You have to do your best. We analysed the data and it was clear; in that corner, when you turn right, you have to push the front to change direction and you lose the front many times. In that moment, I lost a bit more. There wasn't a mistake because I entered one way or another but on Sunday, I paid more attention, I was more smooth to not have the same mistake."
Jonathan Rea (Kawasaki Racing Team WorldSBK): "I want to bite my tongue… it's very frustrating"
After setting a sensational lap record in Superpole, the races were a different story for Jonathan Rea: "I was disappointed with the outcome of Race 2; I didn't see us struggling that much to be honest, it was a bit of a curve ball. Overall though, it's been a positive weekend. I was really disappointed with the Superpole Race, after all the good work and the opportunity. I wanted to force Alvaro that way at the final corner so I could outbreak him but he came by so fast. When you can ride with that margin, it's a different race. There's different energy in the tyres, consumption... fair play, he played his cards and won the race. I didn't think he was playing because the lap times were incredibly fast. On the straight, I'm not sure! This is why I need mirrors to check. Every lap, I was getting +0.1 on the pit board but I didn't know the margin I was pulling in the first sectors and then how much he closed in the straight."
Rea then turned his attention to the next round at Portimao, where another long straight could prove detrimental: "At Portimao, you come onto the straight in fourth gear, so you can carry momentum but then over the rise it is fifth and sixth... I wish I could say more but I want to bite my tongue because it's very frustrating."
Michael Ruben Rinaldi (Aruba.it Racing – Ducati): "I have nothing to lose, I wish it was at the beginning of the season"
Talking about the smoke billowing out from ahead of him, Michael Ruben Rinaldi encountered Andrea Locatelli (Pata Yamaha Prometeon WorldSBK) right at the wrong point, before going on to state that he wishes this form was earlier in the year: "As soon as I had the possibility to overtake him, I did, because I only had four or five tenths to Toprak but it was very bad for four or five turns. I lost the opportunity to fight with Toprak for P2 but I am happy to jump on the podium. Toprak was pushing hard but chapeau to 'Loka', he did an amazing job and didn't deserve to end the race like that. I have nothing to lose but I wish it was at the beginning of the season. But it isn't and that's part of life; we live and we learn."
Toprak Razgatlioglu (Pata Yamaha Prometeon WorldSBK): "It's been a strange year! If I hadn't have crashed twice, everything is different!"
Reflecting on taking points out of Bautista's title advantage and what could've been if he hadn't crashed earlier in the year, Toprak Razgatlioglu said: "It's the first time I've been second here, and it was twice this weekend. It's been a strange year! Every weekend it's changing. If I hadn't crashed twice, everything is different. Here, the bike is completely different and this year, I feel a little bit strange with the engine brake. Every race weekend, we're trying to improve it and sometimes it feels good, sometimes it doesn't. In Race 1 and the Superpole Race, I felt very good. In Race 2, we tried a different setup for turning and the bike completely changed. I needed a bike that turns, we tried to soften the front fork. Sometimes it's good, sometimes it's not."
Axel Bassani (Motocorsa Racing): "Without my crew chief, it was difficult to work"
Without crew chief Simone Corsini this weekend, who was at home for personal reasons, Axel Bassani came from the depths of despair on Friday to a solid P5 on Sunday: "It was impossible for me to have a good feeling with the bike, I had no feeling with the front on corner entry, it was closing every time. In Race 2, I tried to arrive to the end to get good points from the Championship. We tried a lot of things. After a weekend like this, it's a really good result but I want to battle for the podium, not the top five. Without my crew chief, it was difficult to work and I missed a really important person in my box, maybe the most important person in the box. It was difficult to explain to the guys in the box what I feel. I hope he's with us at Portimao and we work normally. This weekend wasn't a normal one as we didn't do the test, this track isn't my best and we were without a chief engineer."
Iker Lecuona (Team HRC): "We improved a lot!"
A return to the top six for Iker Lecuona, who made it two P6 finishes on Sunday after a top ten on Saturday: "We expected this weekend that this is our level but at the test, Yamaha weren't there, so for sure, Toprak and Andrea would be ahead. I'm still really happy, we improved a lot, I worked hard alone to have a good pace and in the end, Race 2 was good. I recovered nearly two seconds to Bassani but I couldn't fight with the Ducati right now, so I just wanted to finish the race."
Philipp Oettl (Team GoEleven): "I don't have a job for next year… main target to stay in WorldSBK"
Despite a strong weekend at Aragon, Philipp Oettl confirmed he's not got a ride for 2024: "After the summer break, we had three top ten finishes and now we just work calmly. I have a lot of pressure because I don't have a job for next year. I feel very free because I will find something good. It's a very interesting period because it's very late in the season to have nothing. There's a lot of talk but there's nothing. I don't know where I go. On one side, you can say it's a very unsure future but in the summer break I was thinking a lot about the mindset, and I think I found something that helped me. For me, it was clear there was a rider change for next year. I understand them and now I focus on myself. I'll try to get results to try and be interesting to some other adventure or teams. My main target is to stay in WorldSBK and I would like to find a competitive seat."
2023's title race is unmissable; enjoy it for just €9.99 with the WorldSBK VideoPass!