FULL SCHEDULE: all the key times as WorldSBK descends on Portugal for Round 11!
Friday, 29 September 2023 05:17 GMT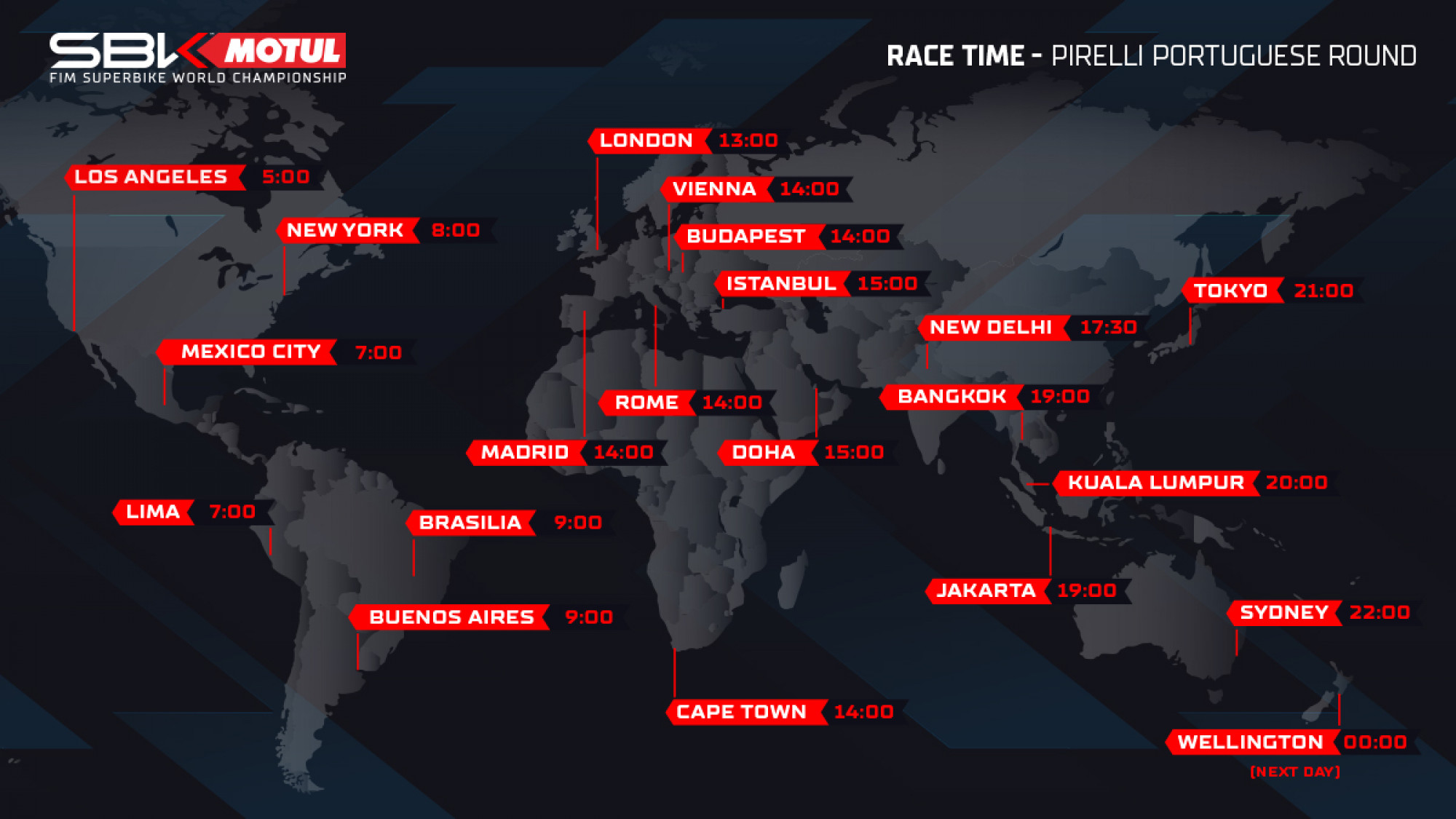 The penultimate round of the season is here with everything still to play for, don't miss out on any crucial action from Portimao
The MOTUL FIM Superbike World Championship heads to the Autodromo Internacional do Algarve for the 11th and penultimate round of the season. The Pirelli Portuguese Round could be the decider and you won't want to miss anything from the 'rollercoaster'. Action starts on Friday at 10:30 Local Time (GMT+1) with WorldSBK FP1 before WorldSSP300 at 11:30 and WorldSSP at 12:10. In the afternoon, WorldSSP300 FP2 starts at 14:15 with WorldSBK at 15:00 and WorldSSP at 16:00. Saturday starts with WorldSBK FP3 at 09:00 before the three Tissot Superpole sessions. WorldSSP300 is at 09:45, WorldSSP at 10:25 and WorldSBK at 11:10. Then, it's time to race. WorldSSP300 Race 1 is at 12:40 before WorldSBK at 14:00. WorldSSP Race 1 concludes Saturday's action at 15:15. On Sunday, the three Warm Up sessions start at 09:00 before jumping straight into racing. The Tissot Superpole Race is at 11:00 before WorldSSP Race 2 at 12:30. WorldSBK Race 2 is at 14:00 before WorldSSP300 Race 2 ends the weekend at 15:15.
Watch every single moment LIVE and UNINTERRUPTED using the WorldSBK VideoPass for only €9.99!
Friday, 29th September (all times Local Time, GMT+1)
10:30-11:15 – WorldSBK Free Practice 1
11:30-12:00 – WorldSSP300 Free Practice 1
12:10-12:55 – WorldSSP Free Practice 1
14:15-14:45 – WorldSSP300 Free Practice 2
15:00-15:45 – WorldSBK Free Practice 2
16:00-16:45 – WorldSSP Free Practice 2
Saturday, 30th September
09:00-09:30 – WorldSBK Free Practice 3
09:45-10:05 – WorldSSP300 Tissot Superpole
10:25-10:45 – WorldSSP Tissot Superpole
11:10-11:25 – WorldSBK Tissot Superpole
12:40 – WorldSSP300 Race 1 (13 laps)
14:00 – WorldSBK Race 1 (20 laps)
15:15 – WorldSSP Race 1 (17 laps)
Sunday, 1st October
09:00-09:15 – WorldSBK Warm Up
09:25-09:40 – WorldSSP Warm Up
09:50-10:05 – WorldSSP300 Warm Up
11:00 – WorldSBK Tissot Superpole Race (10 laps)
12:30 – WorldSSP Race 2 (17 laps)
14:00 – WorldSBK Race 2 (20 laps)
15:15 – WorldSSP300 Race 2 (13 laps)