Ercolani and Mahendra make it happen in Misano with a victory each
Saturday, 3 June 2023 19:58 GMT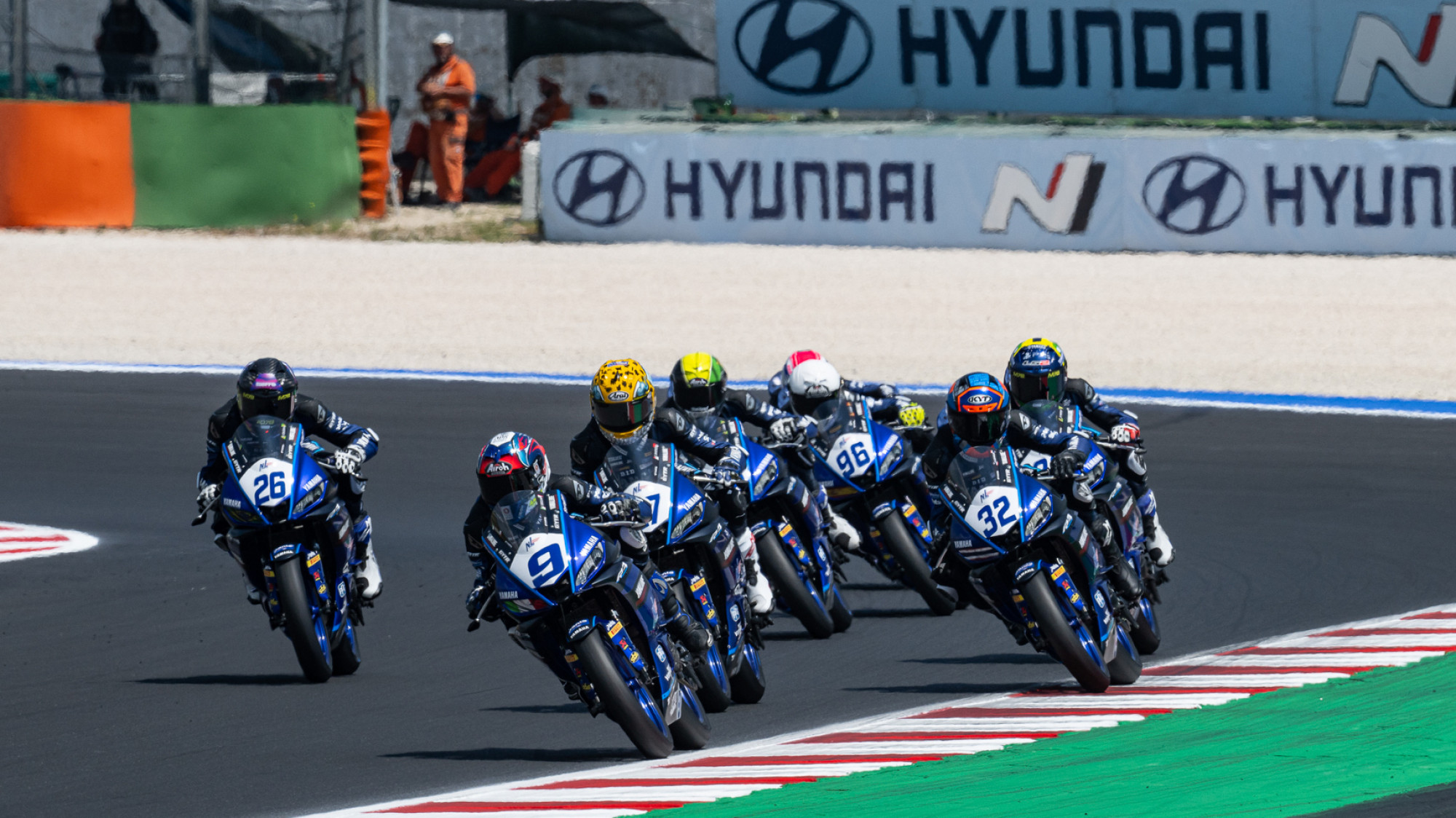 The wins were shared in the Yamaha R3 bLU cRU European Championship at Misano as Ercolani and Mahendra claimed pole
Italy's Emiliano Ercolani took a spectacular victory in Race 1 on home turf at Misano World Circuit "Marco Simoncelli", while Aldi Satya Mahendra took a first ever win for Indonesia in the R3 bLU cRU European Championship in a thrilling Race 2.
The opening race of the day saw Mahendra take the holeshot, leading the field of 21 riders into the first corners of the Italian circuit. Before the race could settle into a rhythm there was a dramatic crash between Mert Konuk, Christian Stringhetti and Apostolos Kamzelis. All three riders emerged uninjured but Konuk would have to serve a double long lap penalty in Race 2 for his part in the incident. After this the riders broke into two groups, but the action remained intense.
Mahendra and Ercolani swopped places countless times, but they also had to watch out for the advances of Krittapat Keankum, pole-sitter Kevin Fontainha and Marc Vich. With the home crowd on his side, Ercolani displayed his usual impressive determination to keep returning to the head of the pack. The Italian finished victorious in front of his adoring fan club, increasing his title lead in the process. Keankum took second, and Mahendra third.
Saturday afternoon brought scorching track temperatures, providing perfect grip for the 10-lap dash of Race 2. Mahendra shot to the front once again, but he found himself heading an enormous lead group of 12 riders for the entire race. More than five riders had a go at hitting the front as the freight train spread across the track. Brazil's Gustavo Manzo was ready to take the fight to Mahendra, but the huge battle culminated in the Indonesian holding firm and becoming the first rider from his country to win in R3, following in the footsteps of his brother, Galang Hendra Pratama who is a double winner in the WorldSSP300 class. Vich, fresh from his experience at the Master Camp displayed impressive skills to finish second, while Ercolani got a solid third.
Brazilian star Eduardo Burr was unlucky to suffer a mechanical issue which ruled him out of contention in the second race. Greek wildcard rider Kamzelis unfortunately crashed out of both races.
View the results of Race 1 here and Race 2 here.
After winning Race 1, Ercolani said: "I'm very happy to win here in front of my fans and my family, their support has been a fantastic motivation for me. The race was difficult with so many fast riders, but I really wanted to win at home, and I've achieved that! I live in Misano Adriatico, so this is a true home race, it feels amazing!"
Aldi Satya Mahendra said after his Race 2 victory: "I feel so happy, it's a really great feeling to get my first win in the R3 bLU cRU European Championship in only my first season, and I'm also the first rider from Indonesia to do it. I just want to say a big thank you to everyone who helped me to get here: my team, my sponsors, my family and especially my brother".