BAUTISTA CHAMPION INTERVIEW: "I think I will have a place in Ducati history forever"
Tuesday, 13 December 2022 16:12 GMT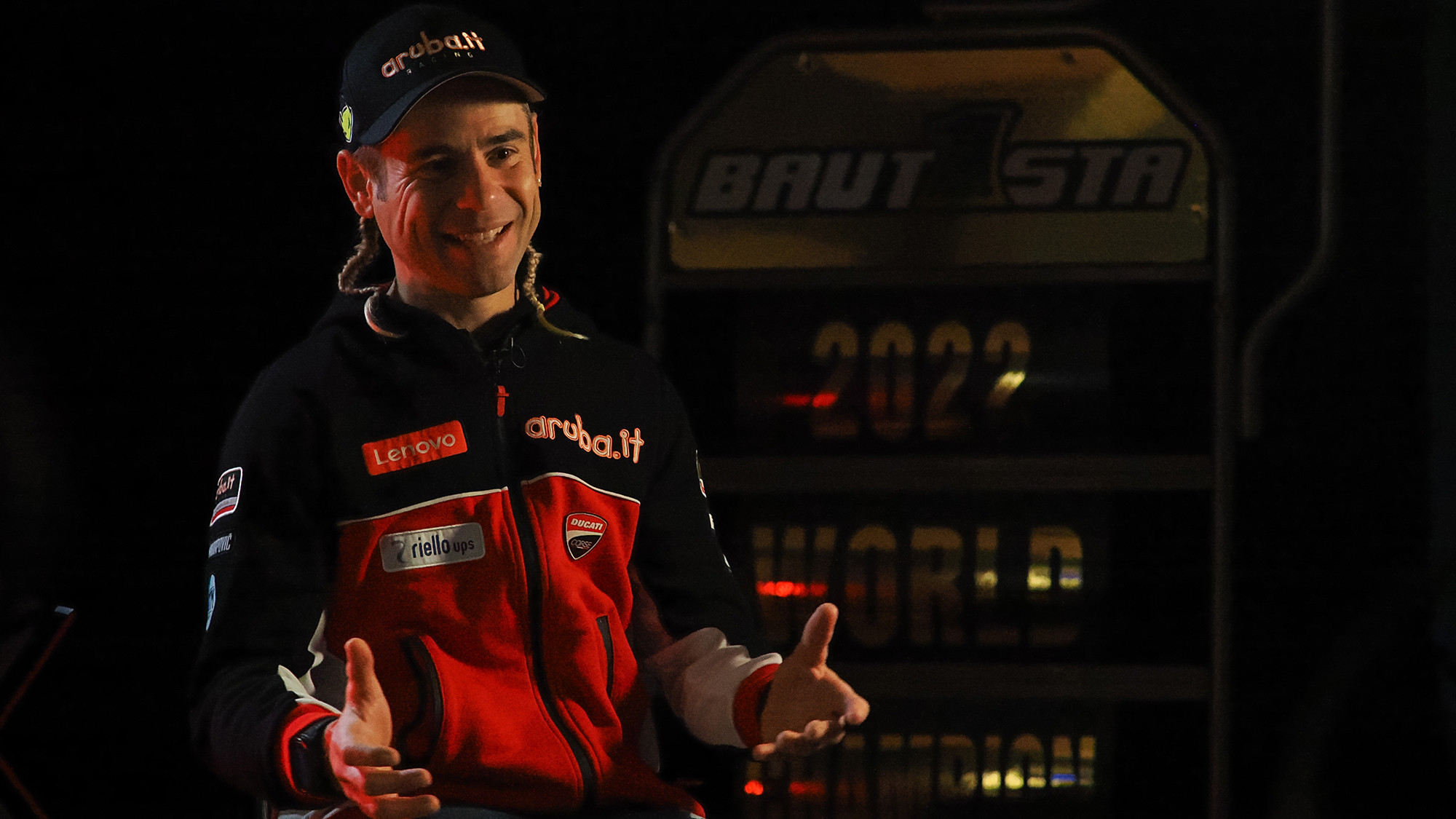 The 2022 World Champion reflected on his incredible success in WorldSBK as he took Ducati's first title since 2011
After a year-long fight his rivals, Alvaro Bautista (Aruba.it Racing – Ducati) was able to claim the 2022 MOTUL FIM Superbike World Championship after a thrilling battle with Toprak Razgatlioglu (Pata Yamaha with Brixx WorldSBK) and Jonathan Rea (Kawasaki Racing Team WorldSBK). Bautista wrapped up the title with a round to spare, securing it in Race 2 at the Pertamina Mandalika International Street Circuit in Indonesia.
BECOMING CHAMPION: all the emotions from Bautista after #TheReturn
After wrapping up the title in Indonesia, Bautista's emotions were on display for all to see through his celebrations and immediate interviews. Later on, in this special sit down interview, conducted between the Indonesian and Australian Rounds, Bautista opened up even further on the emotional side of winning the Championship; from his friends and family, the first phone call he made, the nerves before the title-deciding race and even how leading Race 2 in Indonesia meant he was making mistakes.
He said: "World Champion 2022 sounds really good. When you get back home and see your family and friends, that's when you will say: "I know what I got, what I achieved and now it's time to enjoy it". I think the hashtag I was using this season, #TheReturn, can mean many, many things. The return to Ducati. The return to be a competitive rider. The first day we started to work together, I was a bit nervous. I knew that I could be fast and competitive but, before you jump on the bike, simply I had a doubt but when I did the first laps on the bike, the doubt disappeared. I was smiling because I felt the bike was mine."
THE PRESSURE: one race added more than the others…
With the title coming down to Race 2 in Indonesia, the odds were stacked in Bautista's favour as he needed just a podium finish to secure the title with one round and three races to spare. He duly did so, with second place, but not before he felt extra pressure on the grid. Bautista spoke about this and also revealed the emotions he had when calling his family and seeing them in person for the first time after taking the title.
Bautista said: "I always tried to be focused but, believe me, in Race 2 I started to feel more pressure than all the season. When I was leading at that moment, I was too nervous. I didn't want to make a mistake and, maybe because of that, I was making a lot of mistakes. My target was trying to win the Championship, not the race, so it was different from other races! After the race, when I stopped to celebrate and to put the #1 on my bike, at that moment I wanted to celebrate. But, at the same time, I couldn't because I didn't have energy. The first phone call I made was to my wife because I want to see her and see my daughters. It's funny because, when I arrive home, I always show the trophies to my daughters, especially the big one, as they're starting to understand more things. Imagine when I arrive with the World Champion trophy and give it to her… for me, that will be more emotional than everything."
HISTORY MADE: Ducati's long wait is over
Ducati's last Riders' Championship came in 2011 when Carlos Checa won the title on an Independent Ducati, and, despite coming close to glory, the Italian manufacturer had to wait until 2022 for their next title when Bautista took the honours. 2022 was also a year for Ducati's Manufacturers' Championship drought to end as they took that title for the first time since 2011 as well to add to their illustrious history.
Discussing his Ducati title, Bautista said: "Everybody in the past told me I have to be a Champion with Ducati. It's something different. You don't realise that until you do it. It's true. I remember here in WorldSBK, three years ago, when I won the first race with Ducati. It was very special. Many people become crazy! I feel I will have a space in Ducati history forever."
HIGHS AND LOWS: proving people wrong, the ups and downs…
In a season of incredible consistency for Bautista, where he racked up 31 podiums in 36 races, including 16 wins, picking out high moments could have proven to be difficult, but the 38-year-old was able to do so, identifying two rounds as 'perfect' and 'even better'. He also outlined his worst moment of the season but also turned that into a positive as he bounced back in style the following day.
Bautista said: "The Misano round was very important. I remember that weekend, I was so focused and concentrated so much. I just wanted to do a perfect job and the feeling of the bike was amazing. Finishing in front of Jonathan, who, at that moment, was the main rival in the classification made it one of the best weekends of the season. If I say the Misano round was a perfect weekend, I think Catalunya was even better! Especially coming from Magny-Cours. The best was the feeling I had with the bike was amazing. I enjoyed all the races and all the practices. I think the best weekend of the season. My worst thing was when I crashed at Donington. It was my fault, my mistake. But many people thought 'now he starts to feel the pressure and it starts to be like 2019 and he starts making mistakes.' I was really, really calm because I knew what the problem was. In Race 2, I showed myself and all the people that I made a mistake, but this year is different from three years ago."
Re-watch some of Bautista's incredible title-winning campaign using the WorldSBK VideoPass!