WorldSSP300's newest winner: Vannucci reacts to "special" Misano victory
Thursday, 16 June 2022 07:36 GMT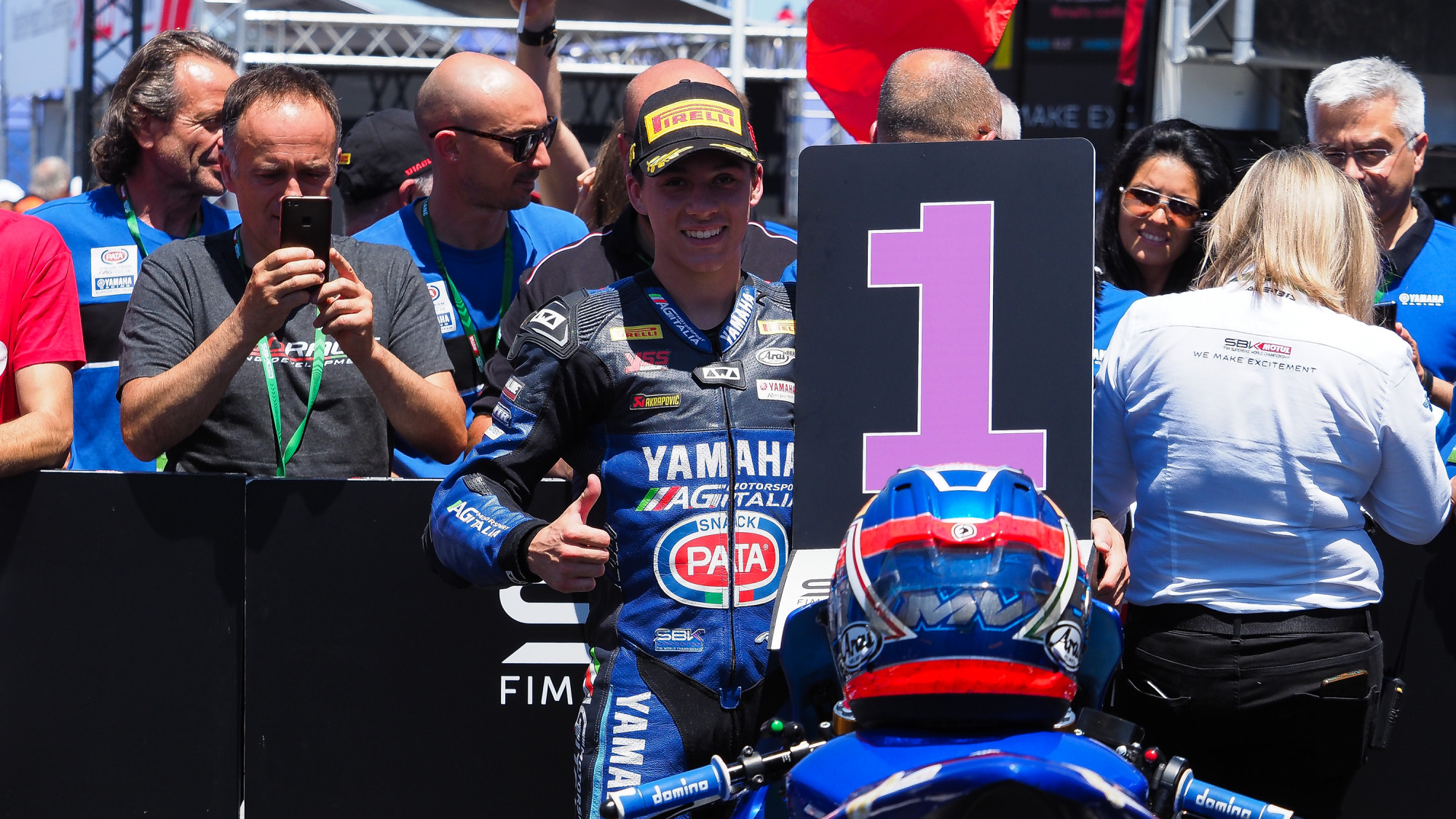 The Italian rider claimed a home victory at Misano by just 0.020s in Race 1 for his first win in the World Championship
There was a home winner at the Misano World Circuit "Marco Simoncelli" as Italian rider Matteo Vannucci (AG Motorsport Italia Yamaha) claimed Race 1 victory during the Pirelli Emilia-Romagna Round as the FIM Supersport 300 World Championship visited Italy. Vannucci, a rookie in the Championship, took his first win in the Championship in Race 1 by just 0.020s ahead of Championship contender Alvaro Diaz (Arco Motor University Team).
Vannucci claimed pole position in Saturday's Tissot Superpole session for his best grid position in the Championship so far, the 21st different rider to claim a pole position in the Championship. In that session, he was able to lap alone and still post fast lap times before grabbing a slipstream at the end of the session to smash the lap record with a 1'48.501s, around half-a-second under the previous lap record.
In Race 1, Vannucci fell down to third place at the end of the opening lap but re-took the lead on Lap 2 of 15. At the end of every lap after re-taking the lead, Vannucci was recorded as leading but it was a dramatic and unpredictable race in WorldSSP300. Diaz got ahead on the final lap at Turn 11, before Vannucci tried to respond at Turn 14. Diaz was able to get back under the Italian but with the slipstream to the line, Vannucci was able to pass Diaz to claim victory by just 0.020s; the ninth-closest finish in WorldSSP300 history.
Vannucci discussed his Race 1 win, saying: "It's a special day for me because I'm at the home track. It's a special win. In the race, I tried to push in the first laps and the whole race. At the finish, I won by a little. The tyre went down so fast and I tried to manage the bike because I was sliding in a lot of turns."
On Sunday, Vannucci was involved in a Warm Up crash at Turn 3 with the Italian rider taken to the medical centre following the incident. He was diagnosed with thoracic trauma and a back injury. He was taken to hospital for medical assessments and was subsequently discharged from hospital with no severe injuries detected, but, due to the crash, was declared unfit for Race 2.
Watch the WorldSSP300 season unfold in style using the WorldSBK VideoPass!