WorldSSP300's incredible fight heads to Estoril and Portugal for more dramatic action
Wednesday, 18 May 2022 05:16 GMT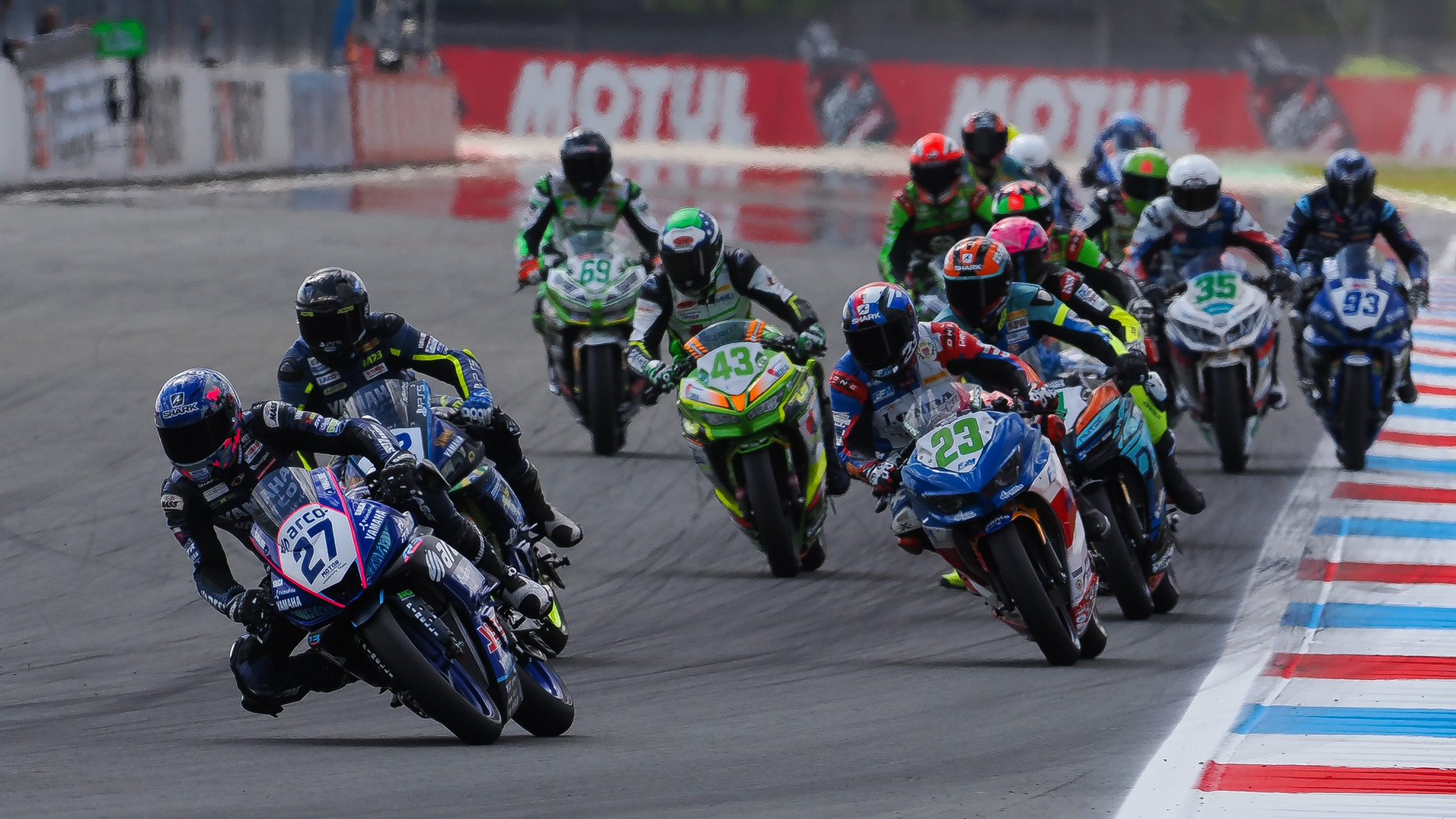 The Circuito Estoril hosts the third round of the 2022 WorldSSP300 season with more action and thrilling battles guaranteed
After not going to the Circuito Estoril in 2021, the FIM Supersport 300 World Championship heads to Estoril for the 2022 Estoril Round and the third round of the campaign with plenty up for grabs. With a raging title battle ongoing and an ever-competitive field in WorldSSP300, Estoril is sure to be another thrilling spectacle with plenty to play for up and down the grid.
LOOKING FOR THEIR BEST ESTORIL RESULT: top two in the Championship aiming high
Alvaro Diaz (Arco Motor University Team) and Marc Garcia (Yamaha MS Racing) are currently fighting at the top of the standings in WorldSSP300 but will be hoping to improve on their previous best Estoril results. Diaz scored a pair of 18th-place finishes in 2020, while Garcia claimed a best of 12th in the same year, with WorldSSP300 not visiting Estoril in 2021. Can the pair continue their fine form and maintain their place at the top of the standings?
A NEW ESTORIL WINNER GUARANTEED: no one on the grid has won at Estoril
WorldSSP300 has visited Estoril just once, in 2020, and both winners from that year have moved on to new adventures. Mika Perez and Koen Meuffels were the victors back in 2020 as the WorldSSP300 campaign concluded, but with neither on the 2022 grid there will be a new winner guaranteed. Fresh from their wins last time out at Assen, Victor Steeman (MTM Kawasaki) and Hugo De Cancellis (Prodina Racing WorldSSP300) will be looking to repeat that with the aim of closing the gap in the standings to Diaz and Garcia.
LEHMANN HOPING TO AVOID ANOTHER COMEBACK: can he claim a first win?
Lennox Lehmann's (Freudenberg KTM – Paligo Racing) season has been defined by his epic comebacks in races so far, having done so at both Aragon and Assen. For the third round of the season, the German rookie will be hoping to avoid such a spectacular battle through the field to claim his maiden win in the Championship. Steeman, Lehmann and De Cancellis are part of a seven-rider group separated by just seven points which extends from third in the Championship to ninth.
MOVING ON UP: one strong result can change the complexion of the Championship…
With such a tightly packed field inside the top ten, one big result for any of these riders could change the make up of the Championship standings. After taking his first podium at Assen, Mirko Gennai (Team BrCorse) will be looking to repeat that success and jump even further up the order. He is four points ahead of both Samuel Di Sora (Leader Team Flembbo) and Yuta Okaya (MTM Kawasaki), on 40 points, with Okaya also looking to repeat his podium success from Assen. Bruno Ieraci (Prodina Racing WorldSSP300) is still looking for his first rostrum visit since 2019, but has two fourth-place finishes to his name this season; can the Italian go one step further at Estoril; a circuit he took fourth place at in 2020?
WorldSSP300 HOUSEKEEPING: two Portuguese wildcards on track
Two riders from Portugal will compete in the Estoril Round as wildcard riders. Tomas Alonso (Quaresma Racing Team) once again returns to the Championship as a wildcard, having done so in 2019, 2020 and 2021. He also took part in eight races of the 2018 season, although this will be his first time racing at Estoril with WorldSSP300; he did take part in the 2020 Estoril Round, but did not qualify for the races. He will be joined by Dinis Borges (Rame Moto Racing) who, like Alonso, competed as a wildcard at Portimao last year which was his first appearance in WorldSSP300.
Petr Svoboda (Accolade Smrz Racing) will continue substituting for the still-recovering Jose Luis Perez Gonzales, with the Czech rider now taking part in the first three rounds of the season. Three riders will need to undergo medical checks ahead of the Estoril Round with Dirk Geiger (Fusport – RT Motorsports by SKM – Kawasaki), Ton Kawakami (AD78 Team Brasil by MS Racing) and Alex Millan (SMW Racing) all declared unfit at Assen or Aragon.
Watch every single moment of WorldSSP300 action throughout 2022 using the WorldSBK VideoPass!