WorldSBK's media shed light on "best three-way battle we've ever seen" in 2022
Tuesday, 5 July 2022 08:32 GMT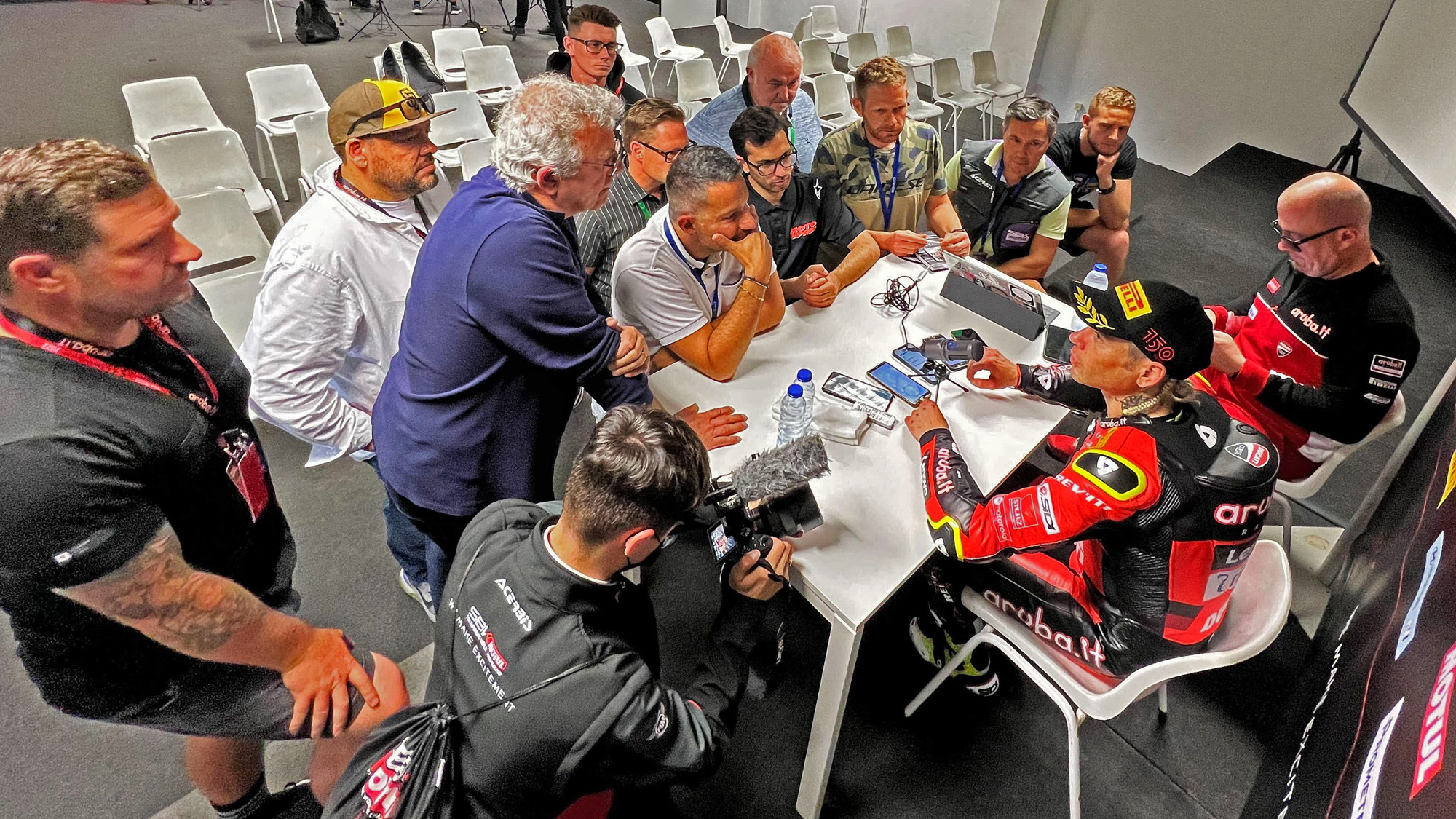 From pitlane and grid reporters to renowned website editors and more, the press room at each WorldSBK round in 2022 has been a hive of activity…
The 2022 MOTUL FIM Superbike World Championship has been electric so far this season and the Championship battle is heating up. Alvaro Bautista (Aruba.it Racing – Ducati), Jonathan Rea (Kawasaki Racing Team WorldSBK) and reigning World Champion Toprak Razgatlioglu (Pata Yamaha with Brixx WorldSBK) are all right in the mix and putting on a phenomenal show at the front and some of the best of WorldSBK's media agree. We caught up with some of those journalists, to look in-depth at the season so far and the shape and standing of World Superbike right now.
Gordon Ritchie: "A big gamble is so far paying off"
WorldSBK's Official Programme writer and editor Gordon Ritchie spoke of the battle at the front and the bold decision for Team HRC to take two rookies for the 2022 campaign: "Take any one of those three guys and we've definitely got a big three and they're pushing each other onto the point whereby other riders can't compete with them. When you look at what's going on underneath it, the fights are close, combative, real action all the way through, real high-quality racing. The choice of Honda to have two rookies, which was a big gamble in the winter, so far is paying off. They've got a podium already, even if it was a lucky one, a podium is a podium. As starts go, for two riders in WorldSBK, with this level of competition with a bike that was tricky even for people like Bautista. Obviously, lots of technical changes over the winter, it's still very impressive."
Charlie Hiscott: "This is the best three-way battle we've ever had in WorldSBK"
Eurosport broadcaster and ex-national Supersport rider Charlie Hiscott was in high praise of the 2022 title battle: "Without exception, this is the best three-way battle we've ever had in WorldSBK, certainly since I've been here for the last 20 years anyway. Testament to that was the Misano weekend with a massive crowd, lots of people from Ducati and MotoGP™ stars, this is where the emphasis is in motorcycle racing is now. We're growing in popularity, quite quickly actually. What the racing did last year between Toprak and Jonny was that it made it a much more viable option. The beauty of having three bikes at the front for me is that you've got a rider like Jonathan Rea, who is so successful and who is one of the best riders on the planet right now, is having to put his full armoury on display as how he fights with Bautista is different to how he has to fight with Razgatlioglu. We've been saying for a few years that there's nothing better than Jonathan Rea being on the backfoot and he has been for a year, and he is a little bit now, but it brings the best out in him, and we see what a diverse rider he is."
Carlo Baldi: "The rivalry between Jonny and Toprak has raised the bar"
Moto.it's Carlo Baldi commenting on Jonathan Rea and Toprak Razgatlioglu's rivalry, saying how it has pushed them both on: "No doubt the rivalry between Jonny and Toprak has raised the bar for both. Although Bautista is at the top of the standings, Rea still considers the Turk as his main rival. The two esteem each other very much and consider themselves, rightly, two Champions, superior to all the others. Jonny knows that if he can get past Toprak then he will be the strongest. Jonny worked hard last season but was damaged by a bike that was having problems. This year, the Ninja has improved a lot and Rea can again demonstrate all the great skills. Kawasaki has improved a lot compared to last year, but it is a step below Ducati, as is the Yamaha which needs to improve the most out of the three bikes at the moment."
Ivo Schutzbach: "BMW are absolutely capable of preparing a winning machine"
Commenting on German manufacturer BMW, Speedweek.com's Ivo Schutzbach was confident of a brighter future: "BMW came back in 2019 with a proper factory team and I can tell you honestly that they make big, big investments, which we can see with the M1000RR. They have very successful riders from the past with Scott Redding and Michael van der Mark; the biggest problem is still that it's a lack of testing and they need a lot of time to correct things for the bike. I think they're absolutely capable of preparing a winning machine like they have in the past, when they nearly won the Championship with Marco Melandri. This year they had a lot of bad luck with the bad start to the season for Redding and with the injury for van der Mark, who should be the benchmark for BMW. So, I think if they can sort out everything and if they make the correct decisions in Munich and give enough support to World Superbike, to have success, then they will succeed."
He continued, talking about what's different for Alvaro Bautista from 2019 to 2022: "The biggest difference between 2019 and 2022 for Alvaro is that he's not over pushing, he's using the maximum of the bike. If that means he is second, third or even fifth in a race, then he'll take the points instead of crashing like in the past. I think in the rest of the season we will have a couple of tracks where Alvaro and Ducati will be super strong, and on other ones where Toprak or Jonathan will be stronger. In the end, the Championship will be decided by who is doing less mistakes and who is making the right move at the right time. The chances from Bautista to win the Championship this year is much bigger than three years ago, and I think you can bet some money that we'll see the first Ducati Champion since 2011 with Checa."
Riccardo Gugliemetti: "This year, the level is incredible; for the show, it's fantastic!"
GPOne reporter Riccardo Gugliemetti hailed the level of WorldSBK, as well as shining a light on the next generation: "Bautista and Ducati are a perfect connection for me because Alvaro showed the real potential of this bike, just like in 2019 but maybe this year he improved a lot about managing the situation. We saw Yamaha with Toprak, who I think is the biggest star. I think Jonny is fantastic, we know very well his talent, but I'm always impressed by his consistency and his mentality. I think in this Championship, with have three Champions. Alvaro, Toprak and Jonny and it's interesting because every race, they battle. For the show, it's fantastic. I think the riders, the bikes and also, very interesting, the young riders like Gerloff, Iker Lecuona surprised a lot this year. I think this year the level is incredible."
Mirko Colombi: "We are talking about the three best riders in the world"
Renowned WorldSBK and MotoGP™ journalist Mirko Colombi, from Motosprint, stated that the three title contenders aren't just the best in WorldSBK but the best in the world: "It's the same fun to try to predict who will win, it's not easy to do. It's so interesting that I think this situation will be until the end of the Championship. I can't predict who will win the Championship and I don't want to! We are talking about the three best riders in the world, in WorldSBK but not only in this Championship, because I'm pretty sure that Toprak, Jonny and Alvaro with a good MotoGP™ bike could score good results. It's amazing."
Watch the 2022 season continue with the WorldSBK VideoPass!