Top 10… last lap showdowns in WorldSBK history: Part 2
Thursday, 2 June 2022 08:00 GMT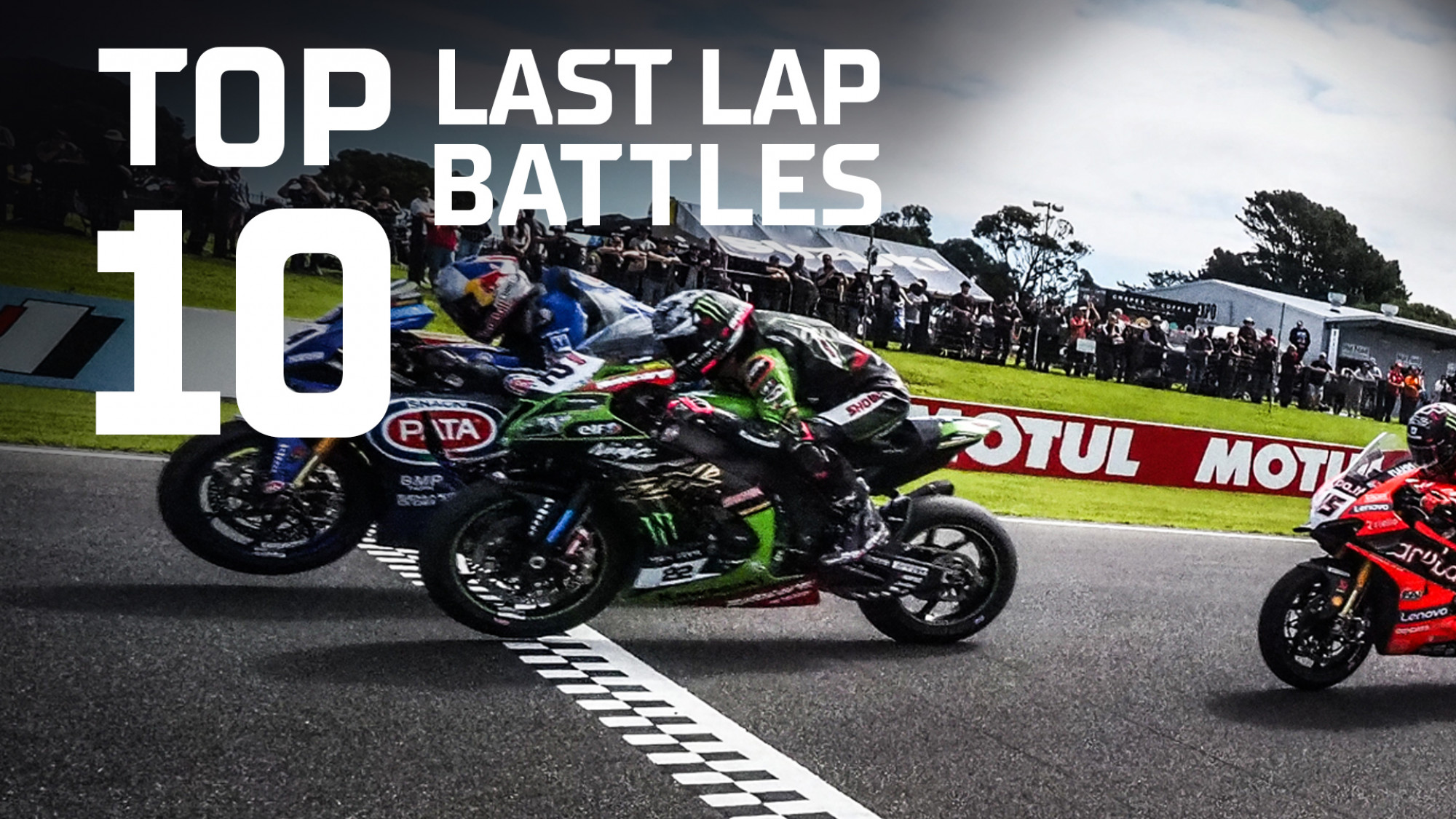 Modern classics to retro rivalries and more, the countdown is on to number 1
Following a stunning start to the 2022 MOTUL FIM Superbike World Championship and the multiple last lap battles that we've seen in the opening rounds, we're going through the archives to put the top ten last lap battles in WorldSBK history in one place. Again, we're not including title-deciders, so it's all battles for victory and just that – Part 2 is below but Part 1 can be enjoyed here!
5. The showdown we'd been waiting for: Estoril Race 2, 2022
The latest race on this list, Estoril's Race 2 was an absolute blinder as Kawasaki's Jonathan Rea and Ducati's Alvaro Bautista had their third final lap showdown of the season and indeed of their rivalry. Bautista led onto the last lap, with the straight line speed of the Ducati being pivotal. However, Rea got a good run on the exit of Turn 6 and got through at Turn 7. He ran wide, with Bautista coming under him before Rea fired back ahead at the chicane. Leading through the final corner, he held on despite a huge moment, overcoming the top speed of Bautista. A thriller at Estoril.
4. A debut to remember: Phillip Island Race 1, 2020
Whilst 2020 may have been known for different reasons, the season started in spectacular fashion with a stunning season-opener at Phillip Island. With Jonathan Rea out after a crash early on, it was Toprak Razgatlioglu on his Yamaha debut who led ahead of Kawasaki's new recruit Alex Lowes and Ducati's rookie Scott Redding. Michael van der Mark was there for Yamaha too, but was shuffled back at the final corner as Alex Lowes came through before Redding snatched third, whilst Razgatlioglu held on to win on his Yamaha debut, with the second-closest WorldSBK podium ever.
3. The closest finish of all time: Phillip Island Race 1, 2010
The closest finish in WorldSBK history, Phillip Island's Race 1 from 2010 was an absolute treat. Leon Haslam led onto the last lap for Alstare Suzuki, with the Xerox Ducatis of Michel Fabrizio and Noriyuki Haga right on his tail. Coming out of the final corner, Fabrizio got a superb run and as they crossed the line, it really was too close to call. Originally, timing gave Fabrizio the verdict but then, it was given to Haslam, with the margin being just 0.004s. It's a record that still stands today… for now!
2. Haga vs Neukirchner vs Kiyonari: Monza Race 2, 2008
A three-way fight for the ages in 2008 as Monza hosted a classic, although this time, it was three unlikely rivals. Noriyuki Haga and Yamaha led onto the final lap with Ryuichi Kiyonari on his Ten Kate Honda in second and Max Neukirchner on the Alstare Suzuki in third. It was a battle between the Japanese, with Kiyonari hitting the front into Ascari, with Haga and Neukirchner in pursuit. Into the last corner, Kiyonari ran wide and Haga got under him, but both were sliding sideways; Neukirchner closed in whilst Haga blocked 'Kiyo', with the #41 beating Neukirchner, whilst Kiyonari took a first podium in third.
1. The best of them all: Hockenheimring Race 2, 1996
We love the archives in WorldSBK, but the classic Hockenheimring in 1996 really did serve up one of the greatest races of all time. John Kocinski led onto the final lap and held on against the Castrol Hondas of Aaron Slight and Carl Fogarty down the straights, but through the chicanes, the Hondas were fast. Coming through the fast right-hander, the Ost-Kurve, both got a mega drive and got ahead of Kocinski. It was now a Honda head-to-head with Slight leading, but Fogarty bounced up the inside on the brakes into the stadium section. Slight tried to fight back but Fogarty, whose switch to Honda had been unsuccessful to this point without a single podium, was on his way and took the chequered flag by 0.030s. A race fondly remembered by everyone today, it was a thriller.
Watch the action from now and watch it all again from back then with the WorldSBK VideoPass!